Tennessee's Start Up Facility Appears To Give Vols The Edge
The University of Tennessee's facility has added a new element for campus athletes.  The University has chosen HydroWorx to provide four pools for their new facility.  A 7500 sq ft athletic training room and 3500 sq ft hydrotherapy space were built with one thing in mind: allowing their athletes to return to their respective sports faster than ever.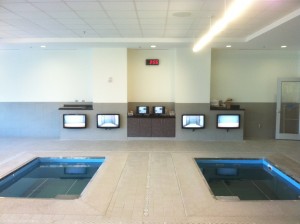 The hydrotherapy room includes 2 HydroWorx 1200's with dual flat screen monitors on each, HydroWorx PolarPlunge and ThermalPlunge pools with heaters and chillers.  There will also be a 45 ft lane pool which will include 2 sets of steps, a 4 ft and a 5 ft lane, and a deep 7 ft well at the end.  This well will allow non-weightbearing activities while the user's body is submerged in water.  All 5 units include technology for auto-fill, auto-chem, and UV light.  The entire floor below is reserved for maintenance access to the pools within.
The athletic training room includes a separate space for treatment, rehab, and taping.  There is also a physicians suite, conference room, storage room, 6 offices, as well as a 5 person work station for graduate assistants.
 Treatment area includes – 10 Chattanooga Adapta hi-low tables, all new modalities, hausman mega carts, under counter freezer and under counter ice maker
Rehab area includes – Proprio 5000 balance unit, MRS Functional Squat machine, new Biodex System 4 PRO, new Alter G, new React Quadmill, new Woodway treadmill, 3 new Lifefitness 95e Bikes, 2 new Scifit UBE's, new Cybex Arc trainer, new MR Cube,  and new Chattanooga DTS traction unit.
Physicians area includes – 2 exams rooms equipped with xray view boxes, overhead exam lights, and desktop PC's for MRI viewing; Fuji FCR Go2 Xray unit, Sonosite Diagnostic Ultrasound, Welch Allyn ECG labtop, State licensed Pharmacy, Medical records room with high density storage, drug testing room, 2 offices
Jason McVeigh, University Director of Sports Medicine, is amazed by the new facility… especially the four HydroWorx pools.
"Our new sports medicine facility will include many new state-of-the-art evaluation, treatment, and rehabilitation tools which will increase our efficiency and effectiveness of returning our student-athletes to optimum health in a timely manner.  We are excited at the opportunity to add four new HydroWorx units to our facility, and we anticipate that they will greatly enhance our ability to meet our student-athletes recovery and rehabilitation needs."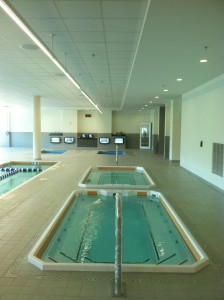 The HydroWorx family is extremely excited about the new facility.  We all feel honored to be a part of a University with such a rich history of excellence.  We look forward to hearing the stories of their athletes that benefit from faster recovery from injury and improved performance on the field!  We wish the best of luck to all of the Vols athletes and teams moving forward!