Minnesota's Athletes Village and the Philadelphia Eagles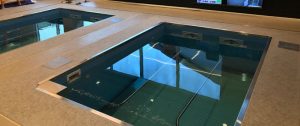 The University of Minnesota's new $166 million Athletes Village just opened last month. The Philadelphia Eagles will practice for the big game at the new indoor facility, which is part of the new athletic complex.
Athletes Village is a sprawling complex with a 16,000 square-foot weight room, a mammoth 400-by-200 square foot indoor football practice facility and is home to no less than 10 HydroWorx pools. The Eagles utilize the same type of HydroWorx pools at their own training center in Philly.
Thermal Plunge, PolarPlunge and 2000 Series
The Eagles and Gophers have both incorporate the ThermalPlunge, PolarPlunge, and HydroWorx 2000 models for recovery and rehabilitation. The cold plunge pools help control joint inflammation and enhance muscle recovery while the warm water units relax tight muscles, stimulate release of endorphins and allow deep tissue therapy.
The floor of the 2000 Series is an 8-foot-by-12-foot treadmill that rises to floor level which provides easy access for injured players. It can be adjusted to any depth of up to six feet and runs at speeds of up to eight miles per hour.  This underwater treadmill has allowed athletes to begin walking, then jogging, at a much earlier stage of rehab than with land rehab alone.  Underwater cameras allow athletic trainers to observe movements and diagnose any gait irregularities.
With their bodies up to 90% unweighted, an injured athlete can walk or run without over-taxing the joint, resulting in a speedier recovery while maintaining cardiovascular endurance.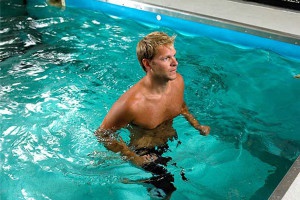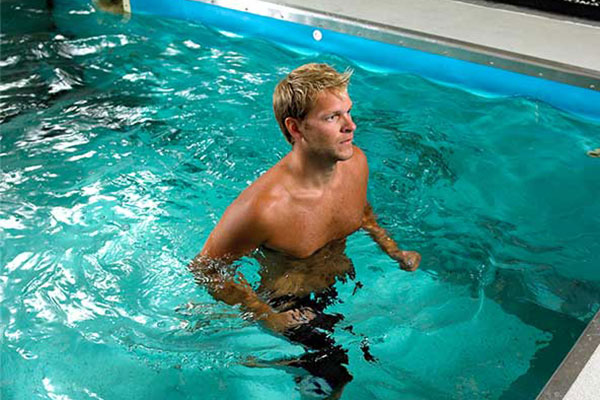 Helping Eagles' athletes for decades
A large percentage of football training rooms use HydroWorx products in their recovery and rehab efforts. Rick Burkholder, ATC, renowned Kansas City Chiefs athletic trainer and former Eagles head athletic trainer, utilized the Eagles' HydroWorx 2000 almost exclusively as he developed an aggressive rehabilitation program for wide receiver Terrell Owens to rehab his surgically-repaired ankle in seven weeks, then return for the championship in 2005. Quarterback Donovan McNabb also anchored his 2002 fractured fibula rehab in the unweighted environment of the same pool.
"Our large athletes need to perform sports-specific activities in unweighted or semi-weighted conditions. HydroWorx makes this happen," said Burkholder, now with the Chiefs.
"The HydroWorx pools without a doubt are the most versatile pieces of equipment that we have in our training room," stated another athletic trainer. "The applications are virtually limitless."
University of Minnesota, back on par with Big 10 peers
According to the Daily Gopher, Athletes Village puts Minnesota back on par with its conference peers, many of whom also utilize HydroWorx technology in their athletic training rooms.
"It's a huge boost for recruiting and creates facilities that directly impact the football and basketball programs (both men's and women's) in a positive way on a day to day basis."
Gopher coaches and athletic trainers agree that the upgrades will enhance recruiting and change the lives of student-athletes. Until now, the Lady Gophers basketball team practiced at Williams Arena, lifted weights across the street, and ate at Bierman Athletic Building which was built in 1972 before the Gophers had a single women's sport program.
The new facilities are designed to prepare all Gopher student-athletes for a lifetime of leadership and community involvement. An academic center features more study and tutoring areas, increased classroom space and a state-of-the-art technology lab. The new sports medicine area benefits Gopher student-athletes with the latest injury prevention technology and practices. Meeting rooms, recruiting rooms, and scores of other upgrades will provide a supportive environment for academic and athletic success.
For an interactive and detailed breakdown of the new complex, visit http://www.startribune.com/go-inside-athletes-village-the-gophers-game-changer/469617143/