Minnesota Vikings New Performance Center
The following blog post has been summarized from the recent article on vikings.com, "1st Look at TCO's Enhanced Locker, Training and Weight Rooms."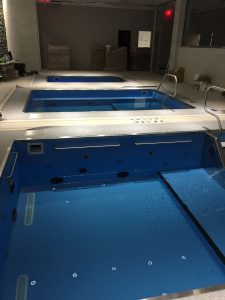 More space. Upgraded amenities. Taking care of athletes.
This is a common story among college and professional teams alike, and finally the Minnesota Vikings are getting their long awaited new state-of-the-art facility. And it doesn't disappoint. View the tour here>>
The Vikings had been at their previous facility for over 35 years. The entire Twin Cities Orthopedics (TCO) Center is top notch and looks amazing, from the entryway to the locker room. Just the increase in space is enough to impress the team, but management really made sure they spared no expense in taking care of their players, with high tech amenities like air ventilated lockers, electronic cryotherapy room, custom hydrotherapy pools and a garage door that opens from the weight room onto the practice field.
Eric Sugarman, Director of Sports Medicine/Head Athletic Trainer, "The hydrotherapy area is probably the showpiece of our athletic training room. We have a hot tub, a cold tub and an underwater treadmill. The hot tub and the cold tub are in-ground … they can fit 15 guys in each."
Regarding the underewater treadmill, Sugarman describes, "The whole floor is a treadmill and you can get six players in at once. It goes up to 8.5 MPH with resistance. It's a pretty cool room."
A lot of thought and consideration was put into creating a space that would impress, but more importantly benefit the athletes, whether it be to help them save time or to improve their athletic performance. Their customized hydrotherapy room is no exception. Sugarman identified specific needs for his players and worked with HydroWorx to create a solution for his team with two custom hot and cold plunge pools, with multiple depths and plenty of space. These pools can accommodate a large number of players of varying heights at one time.
Take a look at the entire new TCO Performance Center>>