Kansas State Boasts Sharp New Football Stadium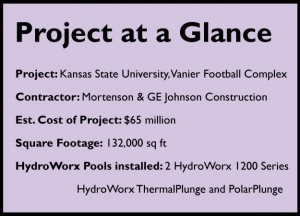 Kansas State University is nearing the end of a $125 million athletic facilities upgrade.
A large part of that upgrade is a brand new football stadium, which is amazing! As you can imagine with any brand new Division I football facility, it features the latest and greatest of just about everything, including multiple HydroWorx therapy pools.
With this new Football Complex, the Wildcats will more than double the amount of space for student-athletes and coaches, providing access to world-class equipment and facilities and creating a more efficient experience to train, study and compete.
Their new strength and conditioning center is more than double the size of their current weight room, giving their athletes the best experience for training. An all-new athletic training center features a state-of-the-art hydrotherapy room with two HydroWorx 1200 Series pools and two Plunge pools. This football stadium is now the second location on the Wildcats campus that features HydroWorx therapy pools. They currently have a HydroWorx 2000 Series and a Plunge pool in their basketball arena.
"K-State Athletics is extremely proud of our relationship with HydroWorx and its state-of-the-art hydrotherapy products.  Our new facility provides our Sports Medicine staff with the resources to assist our student-athletes during their rehabilitation and physically challenge them in a less strenuous environment." – Matt Thomason, MS, ATC, LAT, Director of Sports Medicine
In addition to the new pools, athletic training facility and strength and conditioning area, this new stadium will feature a team theater watching game film or movies, and student-athlete lounges and meeting rooms.
Below are a few photos of the new space. To see more photos of this new stadium and to learn more click here.
View this FREE On-Demand Webinar: Torn Achilles Tendon: An Aquatic Therapy Case Review
View this on-demand webinar entitled, "Torn Achilles Tendon: An Aquatic Therapy Case Review" presented by Katherine Lorens, Assistant Athletic Trainer from the University of Utah. Katherine will present a case study of the rehabilitation of a Division I gymnast's torn Achilles tendon using aquatic therapy. Download this webinar here.