HydroWorx Technology, An Essential Part to a Premier League Club's Success
Last month, BBC Sports did a special feature on the Premier Soccer League team, West Bromwich Albion. This was not just an ordinary news feature, this special was highlighting the teams'  use of the HydroWorx exercise therapy pool!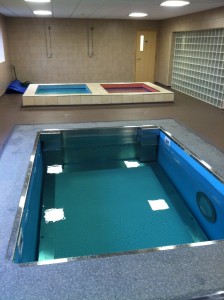 More and more we are beginning to see highly competitive athletic programs turning to new innovative technology and equipment for training. The West Bromwich Club is included in the elite list of athletic organizations that have added the HydroWorx technology to their facilities. Steven Reid, star defender for West Bromwich, unfortunately suffered a minor hamstring injury in a game a few weeks ago resulting in the need for HydroWorx aquatic therapy. Reid, a huge advocate for hydrotherapy, is no stranger to the pool's healing powers. He has utilized the pool previously for rehabilitation as well as fitness training.
Head of Medical Services for the team, Mark Gilett, discusses why aquatic therapy is beneficial for their program. He shares with BBC Sports that for players, such as Steven Reid, who have small muscle injuries, the pool allows players to remain mobile and active unlike waiting a day or two to begin land rehabilitation. Reid made use of the pool as soon as he suffered the hamstring injury, allowing him to get back to the playing field faster.
Gilett, who understands the importance of recovery, explains that for a majority of their players, they aim to give them a day or two of 'rest'. On these days, the athletes will use the pool for recovery, while still getting a light workout in. This allows the athlete to stay in shape, maintain their fitness level, while recovering and not bearing any weight on their legs. Steven Reid also discusses why HydroWorx's aquatic therapy pools are beneficial for him.The elite athlete has suffered numerous injuries in the past, where he used the pool for rehabilitation and recovery in order to get back on the field faster. Reid, the passionate HydroWorx user continues to discuss the impact that the therapy pool has made on his
performance and rehabilitation
 by stating,
"Looking back now, you're not sure how you got through some of those injuries without it [HydroWorx Therapy Pool]"
At the time of the news special, West Bromwich was ranked 3rd, unbeaten in the Premier League and attributing a lot of their success to the HydroWorx pool. As of now, they remain in the top 5 and they are gearing up for their game against Wigan this Saturday November 10th.