HydroWorx, a proud supporter of MLS and International Football Clubs
HydroWorx strongly believes in the power of education. We strive to provide the most current resources, information and training for all who are interested in learning more about the value of water. Additionally, we attend many events throughout the year that also help us spread the word about water therapy, conditioning and recovery.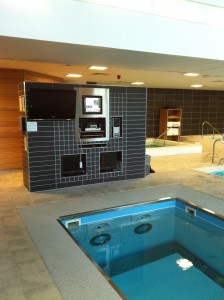 One upcoming educational event we will be attending is the Hospital for Special Surgery's Major League Soccer Medical Symposium on January 10th in Fort Lauderdale, FL. This course covers injury identification, prevention and treatment techniques pertaining to soccer-specific injuries such as hamstring injuries, extra-articular hip injuries, spinal conditions and more. HydroWorx is a proud supporter of the MLS, and a handful of teams utilize HydroWorx technology for rehabilitation, training and recovery such as Houston Dynamo, Chicago Fire, Sporting Kansas City and more. In addition to the MLS, HydroWorx technology is being used by many international football clubs across the globe including, Chelsea FC, Manchester United, Aston Villa FC, Manchester City and more.
Manchester United, in the UK, is one of the most popular and successful sports teams in the world. Manchester United has been a formalized team for 136 years and during that time they have collected 62 trophies, including a record 20 English League titles. The 20th English League title happened at the close of the 2012-2013 season. HydroWorx happened to be visiting the club around this time and sat down with John Davin, one of the club's physiotherapists, the day after the team secured their 20th title.
The HydroWorx aquatic therapy pool with underwater treadmill is frequently used by members of the Manchester United club. Davin shares that he tries to get athletes in the water as soon as possible following an injury. This allows for increased range of motion and decreased swelling, and it allows the athletes to correct their gait imperfections immediately. This is important as it prevents the athletes from overcompensating for their injury and subsequently developing a limp. Davin adds that working in an aquatic environment is beneficial for his athletes because walking on the underwater treadmill mimics the same gait pattern used when walking on land, but without the added pressure on the joints. Additionally, swelling is often reduced as a result of the water's natural hydrostatic pressure.
"We have noticed that if we spend a good amount of time, 30 to 40 minutes of work in the water, any swollen knees or ankles have significantly reduced when we take them out again."
In addition to using their HydroWorx pool for rehabilitation and therapy, the team also uses the pool for conditioning and training workouts. Because of water's added resistance the athletes are able to get an intense cardiovascular workout in the pool while being unloaded.
Watch the full interview with Manchester United's John Davin here:

Are you interested in learning more about how aquatic therapy can enhance rehabilitation? Download the full case study of the England Senior Men's Team's physiotherapist today.