Facility Spotlight: Valdosta State University
Valdosta State University, located in sunny South Georgia, is home to many exciting programs and opportunities. "Valdosta State University offers the best of both worlds- the extensive academic, cultural and social opportunities of a major university, and the small classes and close personal attention found at smaller institutions." Valdosta offers numerous ways and experiences for students to learn both in and out of the classroom with many study abroad programs for both graduate and undergraduates.
Another very significant and important part of this University is their athletic program. The Blazers recently became HydroWorx customers and shared a little bit about their exciting new addition to the facility. An article posted on their athletic page titled, "State of the Art HydroWorx Therapy Pool Installed This Week," highlights their newest feature of the program, an aquatic therapy pool.
"The Valdosta State Athletic Department is proud to announce the addition of a new, state-of-the-art HydroWorx therapy and rehabilitation pool which has been installed in the athletic training room of the Blazer Athletic Field house. Installation was completed this week (August 9th) and the VSU Athletic Training Staff plans to make use of the pool this fall."
The Blazers are now proud owners of a HydroWorx 750 Series pool which features an underwater treadmill, resistance therapy jet technology and an underwater video monitoring system. We are proud to be a part of the Blazer's athletic program and wish them the best of luck in their upcoming seasons.
Here are a few images from the Valdosta State University's HydroWorx pool installation process: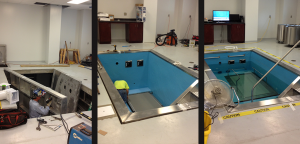 Learn more about how aquatic therapy can enhance performance and decrease recovery time.