Facility Spotlight: Utah State University
Those who have visited or are familiar with Utah State University are very aware of the beauty this campus holds. Located in Logan, Utah  just 15 minutes away from two mountain ranges, this University is breathtaking. In addition to the landscape, building structure and geographic location, USU, provides "top-notch academics, nationally recognized research, Division I athletics and more than 200 student clubs and organizations- all on the oldest residential campus in the state."
Not only is it home to all of the above, but USU elected to construct one of the most advanced and effective collegiate training facilities in the country, including two HydroWorx pools (500 Series and 2000 Series pool) and a cold PlungePool.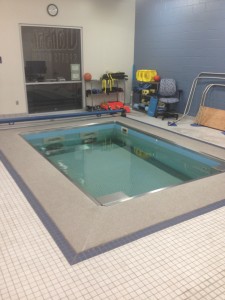 Take a minute and watch the facility tour ofUtah State's 'State-of- the-Art' athletic facility. In the second video, Head Athletic Trainer, Dale Mildenberger explains more about the facility and everything that went into this spectacular complex.
In addition to this breathtaking athletic facility, Utah State is also home to the Utah State Research Lab where numerous studies of all subject matters have been conducted. One study in particular that was done in the Research Lab is titled, "Underwater Treadmill Exercise as a Potential Treatment for Adults with Osteoarthritis", that was conducted and performed by William M. Denning, Eadric Bressel, and Dennis G. Dolny.
This study, conducted at Utah State University, examined the levels of perceived pain and mobility in osteoarthritis patients after using underwater and traditional land treadmills exercise. Nineteen patients, diagnosed with osteoarthritis in the knee, hip or ankle participated in the study. Each individual performed three consecutive exercise sessions on a HydroWorx treadmill and a land treadmill. Each exercise period was 20 minutes and consisted of four- five minute stages. Joint pain was measured immediately before and after each exercise session.
At the end of the study, patients diagnosed with osteoarthritis may receive the same aerobic conditioning with less joint pain and greater improvements in mobility by utilizing underwater treadmills as opposed to land treadmills. Patients also revealed that pain was 140% greater during land treadmill exercise sessions than during underwater treadmill exercise sessions.
To learn more about this research study and to view more completed studies, visit our Research and Education page on our website!