Facility Spotlight: Coastal Carolina University
Have you ever been to Coastal Carolina University?
This University is lively, dynamic and beautiful all wrapped into one. Founded as an independent university in 1993 (originally founded in 1954 as a junior college) is located in Conway, SC just minutes from the resort area of Myrtle Beach, SC. Coastal Carolina offers 65 areas of study toward the baccalaureate degree and seven master's degree programs in accountancy, business administration, education, marine and wetland studies, and writing.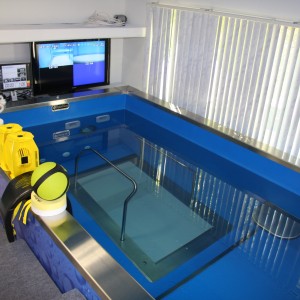 "More than 9,300 students from across the country and the world interact with a world-class faculty, and enjoy a nationally competitive NCAA I athletic program, an inspiring cultural calendar, and a tradition of community interaction that is fueled by more than 120 student clubs and organizations."
One of the many spectacular buildings on campus is the Ward Sports Performance Center. The Ward Sports Performance Center opened in September 2011 and has been "a critical tool in the success of Coastal Carolina student-athletes. Named in honor of longtime team physician Richard Ward, M.D., the Ward Sports Performance Center is the main athletic training complex utilized by every Chanticleer student-athlete who sustains an injury on the field of play."
A HydroWorx InstaFit Series pool is one of the many featured amenities that lies in the 4,000 square foot facility, fully equipped with an underwater treadmill and video/camera system which provides instant feedback for the student-athletes. Additionally, the facility is home to a PolarPlunge and ThermalPlunge pool, making it the ultimate triple threat.  This facility is also home to the entire Coastal Carolina University's athletic training staff and ample space for supplies and room to treat athletes. "The specialized equipment allows athletic trainers and physical therapists to design movement based and sport specific rehabilitation programs tailored to each individual student-athlete. These individualized rehabilitation programs also provide a seamless transition between the staff at the Ward Sports Performance Center and the strength and conditioning coaches at the Watson Strength and Conditioning Center."
Watch the facility tour of Ward Sports Performance Center here to see all of their state-of-the-art performance and training equipment.