Exclusive Sneak Peak at University of Kansas' Massive Athletic Facility
Murphy Grant, Director of Sports Medicine at the University of Kansas, is a well-respected advocate of aquatic modalities for regeneration, recovery and rehabilitation, and he's authored multiple articles and lectured widely on the subject.  Now, Murphy is giving all our readers an exclusive behind-the-scenes tour of the University's world-class athletic training facility.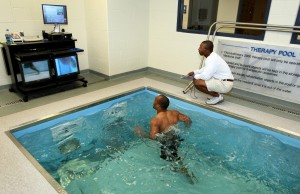 Though the University of Kansas now has 10 HydroWorx pools, the school built their hydrotherapy options pragmatically, starting with three pools in their aquatic rehab center: a ThermalPlunge pool, PolarPlunge pool and HydroWorx 500 series therapy pool.  Today, each of their therapy pools and plunge pools offer athletes the opportunity to improve their performances and reduce the risk of injury.  For those who do suffer chronic or unexpected physical ailments, the water provides the ideal environment for rapid, safe rehab.
Some of the considerations that Grant and his team at the University of Kansas kept in mind when building and designing their new facilities included:
Accessibility – As you will see in the sneak peak video, all the therapy pools are made to be used as much as possible. They're easily accessible for individuals who need them, as well as for athletic trainers and coaches.
Versatility – By offering a multitude of water-based therapy and exercise options, every student athlete from the football linebacker to the baseball pitcher to the basketball forward can make the most of the pools. As Murphy has noted in past HydroWorx webinars, the only limit to how aquatics can be used is the athletic training professional's imagination.  In fact, he and his staff have used their therapy pools to work every part of the body, not just lower extremities.
Maintenance – Sometimes, what isn't seen is just as important as what is seen! In the case of the pools at University of Kansas, there are special pump and chiller areas that allow for simpler maintenance of each of the units.
The next time you're watching the University of Kansas play, think of all the time the athletes on the field or court spend taking advantage of the benefits of aquatics.  From hot and cold plunge recovery and regeneration, to unloading the forces of gravity while intensely sprinting in the HydroWorx 2000 Series with treadmill floor, this is athletic facility offers several ways to improve the health and performance of student athletes. .
Check out the exclusive behind the scenes tour of the University of Kansas' Athletic Facilities!