Behind the Scenes Look of Combine Training at EXOS
Athletes are always looking for ways to get to that next level, to recover faster and perform better 100% of the time. This holds true for football draft prospects, Jadeveon Clowney, Eric Ebron, and Aaron Murray. These three athletes, who train out of EXOS (formerly Athlete's Performance), were featured in a new Gillette Deodorant web series highlighting their Combine and Draft preparations. Rarely are we allowed into the behind the scenes training for an event such as the Combine, but this series captures the tough workouts as well as the mental battles each athlete faces.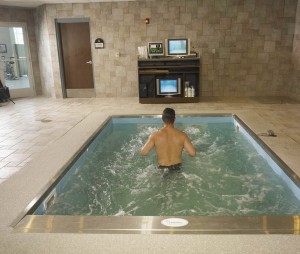 Following Jadeveon Clowney, DE, South Carolina, Eric Ebron, TE, North Carolina, and Aaron Murray, QB, Georgia, the series showcases the physical and mental preparations for the biggest job interview of their lives and the pressure that comes with being a top prospect.
Athlete's Performance, now EXOS,  is home to a HydroWorx pool equipped with an underwater treadmill and resistance jets. This pool has be utilized time and time again for athletes preparing for competition as well as recovering from an injury, surgery or a tough workout. In episode two of "Pressure Points: The Evolution of an NFL Draft Pick," the HydroWorx pool is utilized by QB Aaron Murray who is recovering from an ACL tear and reconstructive knee surgery. Using aquatic therapy for an ACL recovery can greatly enhance the overall rehabilitation due to the reduction of stress on the athletes' joints as well as the safe and therapeutic environment that a warm water therapy pool can provide. 
Let's learn more about these top draft prospects
1. Jadeveon Clowney, DE, South Carolina
Projected as possible #1 overall #1 draft pick
24 Career Sacks
Hendricks Award Winner
2012 Consensus All-American
Combine Results:

Impressive time of 4.53 seconds in the 4-=yard dash
21 reps of 225 lb. bench press
2. Eric Ebron, TE, North Carolina
Projected to be 1st Tight End draft pick
2013 First Team All ACC
Set ACC record for most receiving yards by TE
Set school records for receptions and receiving yards
Combine Results:

Pulled his hamstring in the first run of the 40 yard dash so was out for the rest of the evaluations
24 reps of 225 lb. bench press
3. Aaron Murray, QB, Georgia
Set SEC records with

13,166 passing yards
121 touchdowns
13,562 total offensive yards
921 completions

Tore ACL November 23, 2013 and underwent constructive knee surgery

Was not ready for physical testing at combine
Murray had surgery to repair a torn ACL only five months ago, a surgery which normally takes well over six months to heal from and was able to participate in pro day.
Murray, who starred for four seasons at Georgia, worked out for former NFL coach Jon Gruden at Gruden's QB camp, and left quite an impression.
"I just can't tell you how amazing it is — his knee is almost completely healed," Gruden said. "He's going to be ready to go for training camp. I don't think there's any question."
The "Pressure Points" mini-series has aired four episodes so far and will resume the week leading up to the Draft on Thursday, May 8. Episodes will air each Wednesday through May 14. The first episode will follow Clowney, Ebron, and Murray as they arrive at EXOS Athletes' Performance Institute in Gulf Breeze, Fla., and begin training. "Pressure Points" will air on www.NFL.comGillette.com.
Watch Episode Two of "Pressure Points: The Evolution of an NFL Draft Pick."
Aquatic therapy is being harnessed to help generate remarkable rehabilitation breakthroughs previously thought 'impossible' by traditional standards. Learn how water enhances rehabilitation for an ACL recovery. Download the ACL Recovery Tip Sheet today!