A Look at Fortius Sport & Health Facility in Vancouver, Canada
With a population that is both aging and more health-conscious than ever, the market for professional sports medicine and rehab clinics in Canada and the US is growing every day. Smart entrepreneurs are taking advantage of this trend by opening expansive, multi-million dollar facilities that serve a wide customer base efficiently and effectively.
Going big doesn't necessarily mean skimping on service, however. A vibrant sub-section of these larger clinics deliver a more upscale experience, offering specialized treatment options including chiropractics, massage, performance conditioning, sports psychology and, of course, hydrotherapy. Some of the most successful of these types of clinics are those offering all of these services under one roof.
Take, for example, the recently opened Fortius Sport & Health Facility in Vancouver, BC. The clinic has already seen a vast array of clientele since its soft launch in the summer and its official grand opening at the end of September. We were able to learn a bit more about the facility from Caleb Cousens at Fortius. See what he has to say:
Most of the $61 million facility is now fully-operational, including the first HydroWorx 2000 Series pool with an underwater treadmill in western Canada. In addition to the Fortius Institute integrated sport & exercise medicine team that is at its heart, Fortius Sport & Health also features amenities such as Fortius Performance Health (fitness and conditioning center), the Fortius Pitch (FIFA standard soccer turf), Fortius Gymnasium (NBA sized double gymnasium), Fortius Lodge (60-room athlete and client accommodation) and the Fortius Atrium, which includes Starbucks, Pharmasave Health Centre, FitFirst Footwear and SportMed retail store.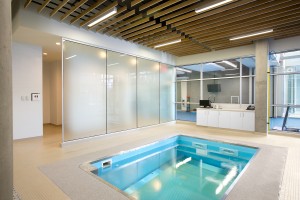 The defining aspect of Fortius Sport & Health is that its facility was funded and built by the charitable Fortius Foundation, founded and chaired by Scott Cousens of Vancouver. The Foundation owns the building and the land that it was built on. Fortius Sport & Health is inspired by the notion that sport & exercise medicine can play a leadership role not only in injury prevention and injury management, but preventative approaches to true health care. At its core, Fortius Sport & Health is an athlete development centre and was founded to fill gaps in the system and provide athletes of all levels with the resources and amenities they needed to optimize their performance; all under one roof.
Using the operating principles of integration (most notably an integrated team of practitioners), collaboration (both within the Fortius Institute practitioner team and externally with leading practitioners in the community, local, provincial, national and international) and innovation (using team-learning and research to push the boundaries on best practices), Fortius Sport & Health is committed to help transform sport and health by way of the most efficient and effective integration of sport & exercise medicine expertise. Our vision is to collaborate with like-minded individuals and organizations to help build a sport culture strengthened by athletes achieving their full potential and realizing the life-long benefits of sport.
Fortius Sport & Health is designed to serve a wide spectrum of clients. Our mantra is:
"Whether you are a six year old playing sport for the first time, a professional athlete or a senior wanting to be active and healthy, we have programs and services for you".
As one would expect, a strong component of our clientele in the early stages is coming from the performance sport communities, including NHL hockey players, MLS soccer players, NBA basketball players and Olympians. With each passing week, however, more parents are becoming aware of programs planned for their kids and existing amenities – including the HydroWorx 2000 – designed as much for weekend warriors and seniors wanting to stay healthy. We expect performance athletes to make up an important but small part of the overall clientele, but the majority of our clients are youth and adults looking to make the most of their endeavours in sport and active living.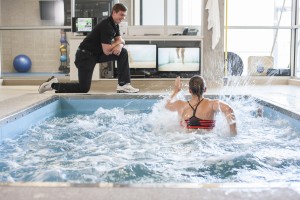 It was our view that if we were going to build a comprehensive athlete development and sport medicine, science and training centre that offered whatever athletes and other individuals needed to optimize their performance, a top-of-class feature such as the HydroWorx 2000 Series with an integrated underwater treadmill would be a valuable signature element. We were looking for points of differentiation in the marketplace and to help fill gaps in the system. HydroWorx technology was recognized as the leader in the field and a natural fit for our aspirations as to what level of service we were going to provide our clients. As far as hydrotherapy overall is concerned, our practitioner team saw the growth in the field and believed it was essential to offer as part of our recovery therapy and training services.
When it comes to "wow" moments for those touring and using Fortius Sport & Health, many of them come from Fortius Hydrotherapy and our HydroWorx equipment. We've had remarkable success stories of Major League Soccer players returning to play months earlier than expected and crediting that in large part to their use of the HydroWorx 2000 underwater treadmill. We've also had inspirational stories of how stroke victims are now beginning to move beyond bed rest, again with much of the reason for this being their response to hydrotherapy and the HydroWorx system.
We are excited to see what great stories Fortius will have in the coming year!
HydroWorx Customers:
In the world of healthcare and sports today, many of the top hospitals, clinics, and professional and collegiate sports teams use HydroWorx to rehabilitate and train patients and athletes. Our hydrotherapy products have been indispensable in orthopedic, pediatric, geriatric, weight-loss, fitness, military and even NASA-based applications. Please view the customer profiles to see how HydroWorx products have impacted clinicians in your industry.