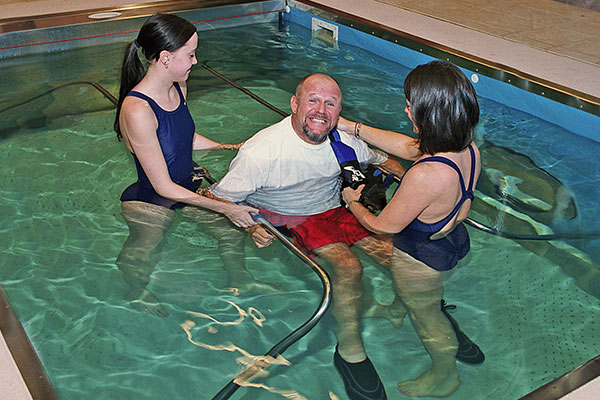 Recovery from a brain or spinal cord injury can be a long and difficult process. There is substantial clinical evidence that expertly applied aquatic therapy improves recovery times and patient outcomes. Rehabilitation in an aquatic environment provides patients with a unique medium for neuromuscular reeducation and strengthening. The water's buoyancy allows freedom of movement that is ideal for individuals who have restricted mobility due to weakness and paralysis. Increased muscular strength occurs quicker as movements are performed against the resistance of the water. This combination of freedom and resistance is very difficult to duplicate in any land-based therapy environment.
Jump to Sections:
The water environment permits earlier detection of small neuromuscular movement and responses. The anti-gravity effect of water makes it easier to work with these movements to increase range of motion and strength.
Spasticity is a common issue with neurological injury that can be exacerbated by cold. A warm water therapy setting minimizes spasticity, facilitates movement and increases patient comfort.
Core strength and balance are key components of neurological restoration and functional ability. The increased viscosity and buoyancy of the water provides support in both the sitting and standing positions. Wave action can be utilized to challenge and strengthen core muscles and balance mechanisms. Off-balance falls are slowed due to the water resistance, which helps with protective response training. The patient's fear of falling is decreased thereby improving trial effort resulting in greater progress per session.
The clinician who understands and applies the principles of the aquatic environment will have an extremely useful neuro-rehabilitation tool. Patients appreciate the opportunity to work in a safe and comfortable environment that provides an opportunity for increased and more rapid progress.
Request a Free Info Kit     View Our Products     Find a Pool Near You
Traumatic Brain or Head Injury Background
According to the US Centers for Disease Control and Prevention:
Aside from aquatics' impact on the patient's mood, there is a rising amount of proven clinical evidence that points to the benefits of aqua rehab for hip replacement. This includes:
Traumatic brain injury (TBI) is one of the leading causes of disability worldwide, with more than 2.5 million Americans affected each year.
Of those 2.5 million, 280,000 required extended hospitalization.
Leading causes of traumatic brain injury include: falls (40%), blunt trauma (15%) and motor vehicle accidents (14%).1
5.3 million Americans are currently living with long-term disabilities as a result of severe TBI.2
Paralysis and Spinal Cord Injuries
According to the University of Alabama National Spinal Cord Injury Statistical Center:
Over 270,000 Americans are living with a spinal cord injury (SCI). Each year, an estimated 12,000 new injuries adds to that number.
Almost half of all spinal cord injuries occur in patients between the ages of 16 and 30.
Of those who survive major spinal trauma, 52.2% suffer complete or incomplete tetraplegia; 36.7% suffer incomplete or complete paraplegia.
Spinal cord injuries are most commonly caused by motor vehicle accidents (36.5%), falls (28.5%), violence (14.3%) and sports injuries (9.2%).
Spinal cord injuries require an average of 11 days of hospitalization followed by 36 days of disability therapy.3
Clinical Studies — Therapy for TBI and Spinal Cord Injuries
A number of clinical studies support the efficacy of aquatic therapy as part of a rehabilitation program following traumatic brain injury or a spinal cord injury. In a 2010 paper, Dr. Kurt A. Mossberg and associates analyzed the effects of various training and exercise modalities on the physical work capacity of patients with TBI. They found that the aquatics group showed improvements in strength, body composition, and cycle ergometry peak wattage and time compared to the control group.4
Drs. Jung, Narasaki and Vrongistinos of California State University, Northridge point specifically to the added buoyancy of water as an important component of traumatic brain injury aquatic therapy, writing that "specific outcomes in spatiotemporal and kinematic gait variables can be explained by employing hydrodynamics and water properties, such as buoyancy, water resistance and drag force." They conclude that "aquatic gait training can benefit individuals with TBI or similar neuromuscular disorders mostly due to its weight support effects from buoyancy."5
Spasticity is a persistent problem encountered in spinal cord injury patients. Research by Dr. Kesikta and associates has demonstrated that spinal cord injury aquatic therapy can lead to reduced spasticity; in a study of twenty spinal cord injury patients, it was found that compared to the control group, the use of hydrotherapy produced a significant decrease in spasm severity.6 The authors conclude that this is especially beneficial when weaning spastic patients off habit-forming muscle relaxants since hydrotherapy rehabilitation programs can be a viable option to help decrease the amount of medicine a patient needs to take.
Aquatic Therapy for Children With Chronic Spinal Conditions
Alina, a child that suffers from Medulloblastoma Tumor in the posterior part of her brain, went to aquatic therapy after going through chemotherapy and a tumor recurrence. Cindy Jarosch, a physical therapist at St. Paul's Children's Hospital, helped Alina regain some lost skills such as strength, balance and coordination.
Children with physical conditions affecting neurological and spinal function — including cerebral palsy and spinal bifida — face significant barriers to participation in community sports and other forms of exercise. As a result, they frequently suffer from lower cardiovascular endurance, decreased muscle strength, poor balance and coordination, and overall diminished motor skills. Regular exercise in a disability pool can be useful when combating this – anecdotal evidence suggests that most children find aquatics more fun than land-based exercise. When children are excited about exercise, they participate more willingly and make more of an effort, which leads to improved therapeutic outcomes in the long run.
One study by investigators Fragala-Pinkham, Haley and O'Neil looked at the effects of regular aquatics on 20 children between the ages of 6 and 12 with a range of chronic conditions, including CP, myelomeningocele and autism spectrum disorder. The authors found that the "aquatic aerobic exercise program was effective in improving cardiorespiratory endurance" and exercise capacity, concluding that "aquatic exercise may provide a safe and beneficial alternative low-impact exercise for children with disabilities." 7
Neurological Pool Therapy: Potential Uses for Clinicians
Gait training: Reeducating muscles to stand and walk is an important part of water therapy for paralysis from a brain injury. Gait training can help patients regain balance, movement and strength and reduce spasticity. Because water can support up to 90% of an individual's body weight in an exercise pool, clinicians can increase resistance and/or move the client partially out of water to gently increase the intensity of the training.
Activities of daily living training: During neurological aquatic rehabilitation, recovering a normal gait is an important long-term therapy goal. Additionally, aquatics can also be used to focus on specific areas of concern relative to other daily activities — HydroWorx aquatic therapy pools for disabled and handicapped are an ideal environment to practice sit-to-stand, reach and balance training exercises.
Pain management: Warm water increases circulation and range of motion it also decreases perception of effort while exercising. It is often used to treat chronic pain conditions such as fibromyalgia. By the same logic, aquatics can also be useful for individuals recovering from TBI or spinal cord injury and dealing with the effects of acute pain.
Resistance and toning: Patients at an advanced stage of recovery can benefit from the higher viscosity of water, which helps muscles work harder without risking injury or strain. In most handicap pools, resistance can be adjusted precisely to accommodate the patient's recovery and prepare them for further land-based strength training.
HydroWorx Pools and Neurological Aquatic Therapy
Designed to meet the needs of today's physical therapy professionals, HydroWorx pools for disabled and handicap clients include a number of unique features that make them well-suited for promoting recovery from paralysis and brain/spine injuries. These include:
Underwater Treadmill: Invaluable for gait training, underwater treadmills are available as a standard feature on all HydroWorx pools. As opposed to gait training in a standard pool, the underwater treadmill allows individuals to practice gait patterns that closely mimic land patterns. The speed of the underwater treadmill starts at .2 mph and increases in .2 mph increments allowing patients to safely progress at their own speed.
Underwater Cameras: The ability for the patient and the clinician to monitor and visually see gait patterns without looking down is essential to regaining normal function. Clinicians can instruct patients on how to correct their movements immediately. The ability for a TBI or spinal cord injury patient to see their legs moving underwater also does wonders for their mental outlook.
Mechanized Floor with Adjustable Depth: Patients recovering from brain or spine injuries frequently have mobility issues that make getting into and out of a therapy pool difficult. HydroWorx pools are available with moveable floors that allow for zero depth entry and can be raised or lowered in just 30 seconds, making them safe and easily accessible for all patients; eliminating the need for ladders or steps.
Resistance Jets: Variable speed resistance jets allow clinicians to adjust the level of water pressure and vary the intensity of the workout accordingly.
Deep-tissue Massage: Every HydroWorx pool comes with an attachable massage hose. A deep-tissue massage post-therapy strips lactic acid from muscles, reducing the amount of soreness and promoting a faster recovery.
T4 Vertebral Damage and Paralysis
In this video, Matt from Neuroworx explains how aquatic therapy helped Brock Butterfield. Brock sustained a T4 compaction fracture while dirt biking that paralyzed his legs. After weeks of training in a HydroWorx pool, Brock has made significant strives to walking independently once again.
HydroWorx products are the result of significant research and development, leading to a superior product that is more effective for treating major conditions such as TBI and spinal cord injury.
Investing in a therapy pool can help you grow your facility by expanding the range of services and improving the quality of care you offer your clients. To find out more about aquatic therapy for TBI and SCI in general — or about the specific benefits of HydroWorx products for recovery — contact our team today or visit our video library to see HydroWorx pools in action treating a variety of neurological and mobility conditions.
Request a Free Info Kit     View Our Products     Find a Pool Near You
Page Updated on: November 10, 2020
Sources
1 https://www.cdc.gov/traumaticbraininjury/get_the_facts.html
2 https://www.cdc.gov/TraumaticBrainInjury/severe.html
3 https://www.nscisc.uab.edu/PublicDocuments/fact_figures_docs/Facts 2013.pdf
4 "Endurance Training and Cardiorespiratory Conditioning after Traumatic Brain Injury." Journal of Head Trauma Rehabilitation (2010 May-Jun; 25(3): 173-183). Article Link
5 "Kinematic Analysis of Aquatic Treadmill Walking at Three Water Depths in Individuals with Traumatic Brain Injury." Podium Presentation at Annual Gait and Clinical Movement Analysis Society at Richmond, VA (2008). Article Link
6 "The use of hydrotherapy for the management of spasticity." Neurorehabilitation and Neural Repair (2004 Dec; 18(4): 268-273). Article Link
7 "Group aquatic aerobic exercise for children with disabilities." Developmental Medicine & Child Neurology (2008 Nov; 50(11): 822-827). Article Link