Neurological Pool Therapy With HydroWorx Pools' Anti-gravity Treadmills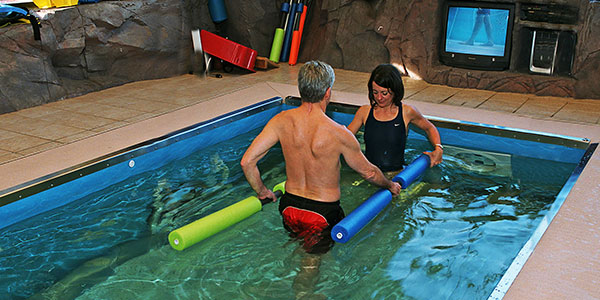 The warm water of a HydroWorx therapy pool provides sensory stimulation to the entire body, providing pain management for those with conditions such as multiple sclerosis and muscular dystrophy. The buoyancy of the water also helps with balance, lumbar stabilization, mobility and personal confidence. For those re-learning how to walk, our underwater cameras make it easy to watch and adjust movements in real time, speeding up the learning process.
The ideal complement to neurological aquatic therapy, our hydro massage system produces a focused, deep, penetrating massage can help reduce overall discomfort by localizing the areas of pain. The massage hose allows you to adjust the position and strength of the massage for your optimal level of comfort.
Paralysis therapy and aquatic rehabilitation for neurological conditions can be complicated by the fact that getting in and out of the pool can be difficult. The adjustable floor of the HydroWorx 2000 and 1200 Series pools solves this problem by moving the pool floor directly to the patient. A person can walk or wheel right onto the floor and is then safely submersed into the water at the desired depth in only 30 seconds.
During neurological pool therapy, at about 60% weightless, therapists can focus on re-teaching lost motor skills. The variable speed underwater treadmill facilitates gait training at any water level with speeds from 0 to 8.5 mph in .2 mph increments.
Benefits of Aquatic Therapy for Neurological Patients
Promotes functional mobility
Improves balance and proprioception
Promotes lumbar stabilization
Improves gait training
Helps to regain trunk balance, range of motion, strength and endurance
Promotes ambulation, sitting and standing balance
Encourages safety and confidence
Additional Resources
Multiple Sclerosis Health Center (by WebMd) Multiple sclerosis affects 2.5 million people worldwide, including 400,000 Americans. Get in-depth information here on multiple sclerosis symptoms and treatments. Plus, find daily help in our online support group.
Parkinson's Disease Health Center (by WebMd) Parkinson's disease is diagnosed in more than 50,000 Americans each year. Find information here on Parkinson's disease symptoms and treatments — from medication to surgery. Plus, find daily help in our online support group.
For online stroke support and other resources visit The Stroke Network.