Underwater Training Keeps Boston Marathon a Possibility for Michigan Woman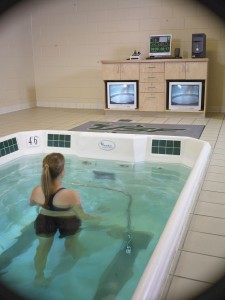 The 2014 Boston Marathon is fast approaching and runners are moving out of training mode and into pre-race preparation. Many have worked hard to qualify for the oldest and biggest marathon and to be a part of such an historic event. Running the race means so many different things to many different people. Some are setting out to set a marathon record, some a personal record, some just have a goal to finish. For some it is their first time running, and for others it might be their 10th time. The beauty of running is that amateurs and professionals alike can participate.
For one runner, Adriane Agria-Halford, her first Boston Marathon is very different than previous races that she's run. According to the article, "Battling back: Petoskey's Agria-Halford training for her first Boston Marathon," on petoskeynews.com, she began running 5ks in 2009. Agria-Halford worked her way up through half-marathons and then ran the full Detroit Marathon in 2012, which unexpectedly qualified her for this upcoming Boston Marathon. But for this race, she is working her way back from two fractures in her pelvis. Agria-Halford started noticing the pain in September of 2013. When she finally discovered the source, she was in the middle of training for Boston and told her doctor she did not want to take the 6-weeks off from running, as prescribed.
Thanks to an open-minded doctor, she discovered she could continue her training during those weeks without hindering her healing. He suggested she try some cross-training modalities that remove the effects of gravity but mimic land-running, such as HydroWorx aquatic therapy. Agria-Halford started training in the HydroWorx 500 Series pool at Tim Bondy Physical Therapy over the winter and has worked up to an hour per session while continually increasing her speed.
"It feels like running and the resistance jets in front make it feel as if you're running into the wind," Agria-Halford said. "It makes it harder than running on land and you don't have the jarring of running. It really does feel like running, I'm impressed." – Adriane Agria-Halford
She is now cleared to run on land and has begun adding in some outdoor training to get herself fully ready for the Boston Marathon next week. She feels extremely honored to be a part of the marathon and is focused solely on finishing. Considering the obstacles she overcame, that's a mighty goal that not everyone could do!
We wish Adriane and everyone else who is competing in the 2014 Boston Marathon the best of luck!
Alberto Salazar, 1982 Boston Marathon winner, details in this video why even healthy runners should train using an underwater treadmill: