The latest on the Underwater Run to London!
The latest additions to the wonderful HydroWorx Underwater Run to London site are insider videos from the Oregon Project team!
      The first video is an insider look at Mo Farah and Galen Rupp running on the HydroWorx X80 on location of their training ground in Albuquerque, NM—a garage! Both Olympic hopefuls make use of HydroWorx underwater treadmill after intense training sessions. Using HydroWorx post-workout reduces the risk of injury and allows for an easy recovery. The buoyancy of the water takes the runners weight off, allowing them to run more gracefully and easily underwater. In addition to simply running, they make use of the Hydromassage to eliminate lactic acid build-up and to massage any sore muscles.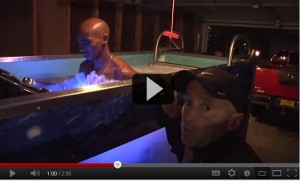 Many people ask American marathon winner and Oregon Project coach, Alberto Salazar what his training program is like for the two London hopefuls. Specifically for Mo, he wanted to increase the amount of mileage run on the HydroWorx treadmill.
"In my mind, it's [running on HydroWorx] the safest and surest way to allow him to improve without any risk of injury; in fact I think it lessens his chance of injury from his outdoor running because it helps you recover better. "- Salazar
        The second video is a day in the life of the two runners. You will be along for the ride as they travel to the Albuquerque Convention Center to run on the indoor track and then travel over to the University of New Mexico to get an outdoor sprint workout. In this particular video Salazar has Mo run 1600 meters (approx. a mile) 6 times at a 4:45 mile pace with a 500 meter jog in between each one. A pretty grueling and exhausting workout, but when you have a goal in mind, like these two runners, you'll do whatever it takes.
       All in all, at the end of their tiring days, these two training partners enjoy spending time together, having fun and keeping their mind focused on London 2012. Be sure to watch the latest videos and stay tuned for more!