Post-Op Rehab of a Division I Swimmer Webinar is now On-Demand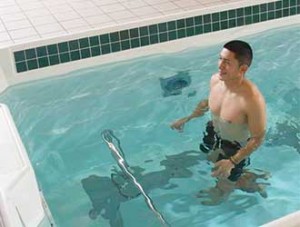 On September 3, 2015, Collin Francis, from Indiana University in Bloomington, IN, presented a webinar about the functional post-operative rehab of a Division I swimmer. The rehab took place in a HydroWorx 1200 Series poo while Collin was at Clemson University in Clemson, SC. Collin shared details and video of the protocols used during the rehabilitation and the results of their efforts.
The case study was of a 21 year old male breast stroke swimmer who started to have bilateral knee pain. He was diagnosed with bilateral knee synovitis and a conservative treatment plan was implemented to keep him competing through the season.
After the season, he had arthroscopic surgery to remove scar tissue and excise the synovial lining of the joint on both knees. For the first four days after surgery, the focus of the athletic training staff was to limit pain and swelling. On the fifth day, functional rehab began with a goal of returning the athlete to swimming without limitations.
The key to the success of the rehab was to make it as functional and sport-specific as possible. As soon his wounds healed and he was cleared by his doctors to get in the water, he began aquatic therapy. They started with freestyle the first week, then progressed to breast stroke and eventually butterfly.
A few key areas of focus during rehabilitation included:
increasing the jet speed to strengthen the swimmer
monitoring the swimmer's form with underwater cameras
performing upper extremity work including arm walking exercises on the underwater treadmill
progressing with knee flexion work in deep water
Following his complete rehabilitation, the swimmer, who was initially nervous about returning to the water after surgery, went on to become a NCAA qualifier and an Olympic trial participant.
To learn more about the exercises used in his rehabilitation with video and images, watch the webinar on-demand!


About Indiana Univerity's Sports Medicine Program: The mission of the Indiana University Sports Medicine department is to provide the highest quality medical care to Indiana University student-athletes through education, prevention, assessment, treatment, and rehabilitation of athletic injuries and illnesses. The Sports Medicine team, consisting of Certified Athletic Trainers, Physical Therapists, Team Physicians, Orthopedic Specialists, Sports Psychologists and Registered Dieticians is committed to providing quality healthcare and treatment in a safe environment to all athletes representing 24 sports at Indiana University in Bloomington, IN.