Southern Retirement Community Receives an Upgrade
The following post is adapted from the recent article, Carolina Village adds 'Main Street' for residents, from Blue Ridge Now online. 
Carolina Village, a nonprofit retirement community, has brought "downtown" inside. Recently they have added a few new amenities inside, which allows their residents to have all of their needs met under one roof.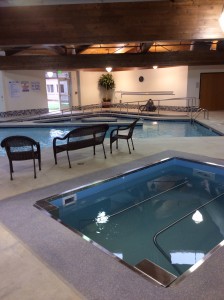 These new amenities are all a part of the new "Main Street" which is complete with a movie theater, education center, indoor pool, pharmacy, and a bistro-style sports bar that will open next year. The new workout facility is the first stop on the street which is stocked with HUR exercise machines that adjust automatically to a resident's ability level after the user swipes a smart card. The next room on Main Street is their hydrotherapy room. They have both an indoor lap pool and a HydroWorx 2000 Series pool (which will open to residents on June 1). With the fully adjustable floor that doubles as the underwater treadmill, residents are able to walk on the floor of the pool and hold the railing as they are lowered into the water.
"The reason we got this is mostly for physical therapy. We've got five cameras throughout underneath that show up on these TVs so you can do a lot of gait training. If somebody had a broken hip, legs- all kinds of different things we can do in here."- Laura Husak, Enhancement Coach
In addition to utilizing this therapy pool for physical therapy, Husak has plans to host walking classes, which she is really excited about! "The purpose of the water in this age group is, they've got all kinds of arthritis and meniscus tears and their knees are bone on bone and they've got all kinds of pain issues, but when they get in the water, everything is relieved because they're not weight-bearing anymore- so they can move in a pain-free way."
Next to the hydrotherapy room is the aerobics room which has been created with flooring that protects residents from hurting themselves.
Lastly, this state-of-the-art senior living community has created an education committee with an education center on Main Street. The committee has partnered with Blue Ridge Community College to offer classes for residents interested in keeping up with technological changes!
It's exciting that Carolina Village is providing such advanced services to their residents. Not only will they be able to remain physically active and healthy, but they will be able to stay mentally active by keeping up with the latest technology!
Free Webcast: Balance Training For Seniors:  Using Aquatics for Improving and Maintaining ADLs
Join us on June 4th from 4:00pm – 5:00pm EDT for a free webcast streaming live from the HydroWorx 2000 Series pool at Stonehill Care Center. Our presenters, Rachel McDermott, PTA, Director of Rehabilitation at Stonehill Care Center and Afton Osterberger, PT, will provide treatment ideas for seniors that suffer from balance deficits and subsequent difficulties with their activities of daily living (ADL). It will include a case study of a 76 y.o. female who has undergone several surgeries including bilateral total knee replacements and bilateral foot reconstruction. The demonstration will take place in a HydroWorx 2000 Series pool where they will utilize the underwater treadmill, aquatic jets, and varying depths of water in addition to use of external props to challenge and enhance the patient's balance.