Quadriplegic Works on Walking in the Water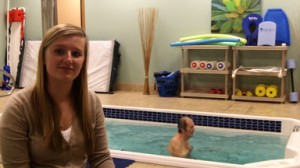 A spinal cord injury is known as any damage or trauma that impairs, damages, or inhibits function of the spine. Alex Guizzetti was in a car accident in November of 2010, that resulted in an life-changing spinal injury. Following the accident, Alex was labeled as a quadriplegic; he was unable to walk and had to relearn tasks and activities in order to function independently on a daily basis. Since then, Alex has worked tirelessly to regain his mobility.
In July of 2012 Alex began working with Marquette General Therapies, Managed by UP Rehab Services and their dual land and aquatic therapy services. Currently, he is seen by Katie Bowlby, PTA, multiple days a week for both occupational and physical therapy.
Today, Alex walks into therapy with the assistance of lofstrand crutches and relentlessly fights for his growing stability, endurance and independence. His personal goal is to be able to walk for longer amounts of time, and without rests on his own treadmill at home. Bowlby utilizes the HydroWorx 500 Series pool in Alex's recovery process because the resistance of the water in combination with the decreased amount of pressure and weight on his joints allows him to work on increasing endurance as well as core, hip, leg and foot strength without the high risk of injury, pain and discomfort that he experiences on land.
Some of the protocols that Alex focuses on are:
Walking on the treadmill to re-train his muscles and work on endurance
Side-stepping on the treadmill to strengthen abductors in his hips
Squats and single leg squats, which help with neuromuscular re-education for coordination and strength
Floating exercises such as flutter kicks, scissors and bicycles
Marching in place
Heel/toe raises
Some of the advantages that Alex has identified, in addition to the lessening of pressure on his spine, are overall muscle strengthening and an increase in his general comfort and endurance. These improvements, partnered with land therapy and home exercises, are noticeably improving Alex's ability to tackle more daily activities each week.
Learn more about Alex and his recovery process by watching the videos below: