Presbyterian Village North: Where Water Nurtures Healthier Aging
Every senior living community strives to cater to its population in a variety of ways.  This includes offering rehabilitation and fitness options that aren't available elsewhere.  After all, chances are good that as residents age, they will need some kind of physical or occupational therapy, as well as the desire to stay in shape.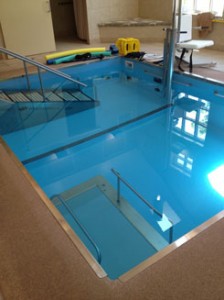 Statistics support these realities of getting older:
20-30 percent of seniors ages 65+ suffer from moderate to severe injuries as a result of falls, and recovering from those injuries will generally require physical therapy.
Knee and hip replacements are expected to rise anywhere from 174 to 673 percent in the next two decades thanks to Baby Boomers wanting to stay active as long as possible.
Aging adults are being encouraged by their doctors to remain active by engaging in wellness programs and following recommended healthy living guidelines.
Sources: Centers for Disease Control and Prevention, WebMD, National Institute on Aging
At Presbyterian Village North in Dallas, Texas, a faith-based non-profit assisted living community, Godwin Dixon, President and CEO, and Keith McCrate, Director of Rehabilitation, follow a focused path to effectively treat their 600 independent, assisted living and skilled nursing residents as well as outpatient community members.  One service that is truly making a difference in their community is aquatic therapy.
Using an Aquatic Therapy Pool to Address Medical Considerations
There are numerous conditions that the team at Presbyterian Village North treat with aquatic therapy. These include, but are not limited to, Alzheimer's, dementia, knee replacement surgery, pelvic fractures, back fractures, COPD, osteoarthritis, stroke, orthopedic problems and Parkinson's.
In order to ensure these residents and community members get the best care, the staff members put in place mechanisms to improve the likelihood of long-term success, such as:
Strong nursing programs that understand how to deal with residents with bowel and bladder issues.  In the therapy pool, incontinence in physical therapy patients must be addressed or rehab cannot take place.
The ability to get a wheelchair- or bed-bound resident into the water so rehabilitation can take place comfortably and safely.
The opportunity to use an underwater camera attached to an external TV to show immediate bio-feedback on gait, movement, hand placement and foot placement.
Trained personnel who understand how to creatively and effectively use the therapy pool to get the most out of each session for the patients.
When the right people are brought together with a high-end therapy pool, magic can happen for individuals who thought they could not progress because of physical or mental disabilities or setbacks.
A Day in the Life of the Presbyterian Village North Therapy Pool
A normal day for the team at Presbyterian Village North involves a great deal of activity. However this bustle, was not achieved overnight or by chance. It is the result of a number of factors, one largely being the effective day-to-day schedule and organized routine the team at Presbyterian Village North has in place.
They maintain a daily and weekly pool schedule that allots times for pool appointments.  When the physical therapists arrive onsite at 7 a.m., they immediately get their schedules, and then call patients to remind them to be at the pool or tell them when a staff member will pick them up to transport them to their aquatic therapy session.
As each patient comes for their appointment, he or she gets dressed in the appropriate underwater rehabilitation or fitness outfit, bathes and then proceeds to start the session. At the end of approximately 45 minutes in the water, the patient then showers again and dresses for their daily activities.
During the daily routine, the staff members, including the physical therapists and a full-time certified aquatic therapist who runs the program, may or may not be in the water.  Some physical therapists prefer to be in the pool with their patients while others feel more comfortable directing the residents' movements from an out-of-pool position.
By the end of each weekday, about 12-16 patients have been seen. The patients are given priority by their connection to the organization.  Thus, residents get first priority before patients who are part of the surrounding community outside the campus. This means in a week's time, up to 80 people who call Presbyterian Village North home have likely been touched by this piece of high-tech equipment.  It's a rhythm that keeps the therapy pool in high use, and that brings stimulation, relaxation, fitness and enjoyment to everyone who has the opportunity to get in the pool.
Moving Forward, Changing Lives
Presbyterian Village North is dedicated to changing lives every day. With the tremendous growth they've seen since the therapy pool's opening and implementation, as well as incredibly high patient satisfaction scores from 100 percent of the rehab patients they've served, they're ready to tackle anything the future has to offer.
As Dixon says with a smile, he and his team "love being able to reference that this is the same pool that the Dallas Mavericks have. We may not be able to get your jump shot better, but we'll get you walking again."  He's quick to note that many miracles have happened in the pool at the facility; no doubt many more will occur thanks to the dedication of every person who stands behind the Presbyterian Village North mission.
Watch the video below to hear from Dixon and McCrate on the impact that the therapy pool has had on their community: