Osteoarthritis, Aquatic Therapy and the VA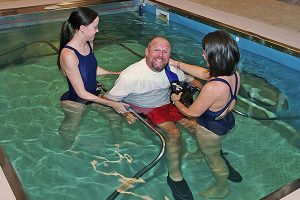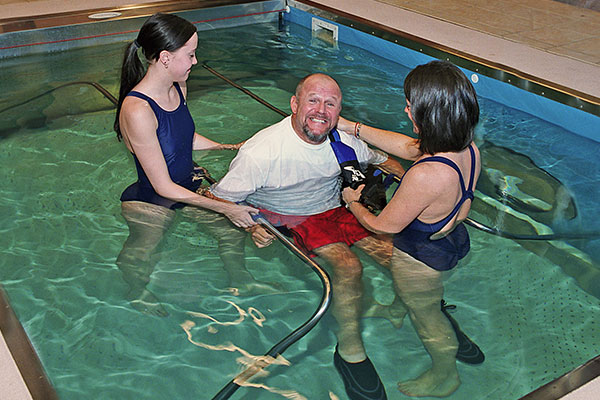 According to the Arthritis Foundation, one in five Americans suffers from arthritis, while one in four American soldiers suffers from this disease. Osteoarthritis (OA) is the second leading reason for a soldier's discharge from service.
From the very beginning of training, soldiers' joints are tested. They carry packs weighing up to 100 lbs and run many miles each day. In combat, shock waves from bomb blasts can cause early joint deterioration, and these events generally occur at an early age , resulting in many years of joint-related concerns.
How does widespread OA among our nation's veterans affect our VA hospitals?
"Our chronic pain programs must be very comprehensive to serve our veterans," says Cory Keirn, DPT, OCS, CSCS, ATRIC and head physical therapist for aquatics at the James A. Haley VA Medical Center in Tampa, FL.
In 2015, Keirn and his staff invested in a HydroWorx 2000 Series pool as part of an aquatics program that integrates with all other hospital programs.
"Many vets have multiple muscular impairments, and as they go through life, those really start to flare up. We incorporate PT, OT and Kinesiotherapy to get people moving and feeling better. The concept of our aquatic clinic is to work with all of our other programs. For example, patients in our Chronic Pain Program are treated in the pool when possible. We integrate aquatic treatment with the other care they are receiving so we can make the most of their time here. We've seen OA patients really benefitting from the water."
Research from Utah State University and University of Florida backs this up. Recently, they conducted a study to determine how acute aquatic treadmill exercise improves gait and pain in people with knee osteoarthritis. (See summary below.)
Acute Aquatic Treadmill Exercise Improves Gait and Pain in People with Knee Osteoarthritis
Roper, JA, Bressel, E, Tillman, MD, John Worley Sports Medicine Research Center, Utah State University, Logan, UT: Department of Applied Physiology and Kinesiology, University of Florida, Gainesville, FL.
Purpose: To examine the acute effects of aquatic and land treadmill exercise on gait kinematics as well as the level of disease specific and movement related pain for individuals with osteoarthritis.
Method: Participants had to be over 35 years of age, able to walk a city block (without the use of an ambulatory assistive device), and walk upstairs in a reciprocal manner.  Each participant completed three exercise sessions on an aquatic treadmill and on a land treadmill. The three exercise sessions in each condition were separated by at least 24 hours and completed within one week.  The order of exercise mode was randomly assigned and separated by one rest week.  The amount of walking for each exercise bout was 20 minutes and consisted of four 5-minute stages at 0" incline.  Each of the four stages required differing increments of speeds.  These increments in speed were intended to achieve a moderate to somewhat hard rating of perceived exertion as evidenced in previous work using aquatic treadmills.  Participants performed the aquatic treadmill exercise at a water depth equal to the xiphoid process. The same protocol was completed for the land treadmill exercise in the same room.
Results: The angular velocity gain score during stance for left knee extension was improved by 38% after aquatic treadmill exercise. Similarly, during swing the gain scores for angular velocity were also greater for left knee internal rotation and extension by 65% and 20%, respectively. During stance, the joint angle gain score for left hip flexion was 7.23% greater after land exercise. During swing the angular velocity gain score for right hip extension was significantly greater for aquatic exercise by 28%.  Only the joint angle gain score for left ankle abduction during stance was significantly higher after land exercise.  No other joint angle gain scores for either stance or swing were significantly different for either condition.  Perceived pain was 100% greater following land than aquatic treadmill exercise.  Step rate and step length were not different between conditions.
Conclusion:  An acute training period on an aquatic treadmill positively influenced joint angular velocity and arthritis related joint pain.  Acute aquatic treadmill exercise may be useful as a conservative treatment to improve angular speed of the lower extremity joints and pain related to OA.
Helping our nation's veterans is a quest for Keirn.
"I fell in love early in my career with bio mechanics and movement patterns," stated Keirn. "We have a great population of patients here in Tampa and we enjoy serving them every day."
View a webinar from Cory on his use of aquatics on veterans>>