NFL Prospect Shocks All with Outstanding Recovery Gains
From Adrian Peterson to Derek Jeter, Robert Griffin III, Jamal Charles and Ryan Broyles we're having a hard time keeping track of the growing list of elite athletes using the pool to accelerate their rehab process. The latest to be added to this list is NFL draft prospect, Marcus Lattimore! His rehab was featured on the front page of USA TODAY Sports in the HydroWorx pool!
Pieces of the following post have been summarized from the recent article, "Marcus Lattimore way ahead of schedule in bid to play this year", written by Robert Klemko in USA TODAY Sports. To read the full article, click here. 
Marcus Lattimore, South Carolina running back, suffered a horrific knee injury on October 27, 2012 and just six days later he was wheeled through the front doors of The Andrew's Institute. That day, world-renown surgeon, Dr. Andrew's, who performed Robert Griffin III's reconstructive knee surgery, began rebuilding this NFL prospect's knee. Two and a half hours later, the ACL, LCL and PCL were repaired and this athlete knew it was time to get to work.
Unfortunately, this was not Lattimore's first knee injury or first rehabilitation. Having been through a similar recovery experience before, Lattimore has a new found motivation and determination to come back faster and stronger. Lattimore, 21 years old, is determined to turn this second knee injury of his career into the next great NFL comeback story. A stunned Dr. Andrews tells USA Today that Lattimore is already three months ahead of schedule in his recovery and has gained 20 pounds of muscle! Both Lattimore and Dr. Andrews believe he can play in 2013.
Three months ahead of schedule and 20 pounds of muscle gained. How can this be?
Lattimore has armed himself with an unstoppable combination of  state-of-the-art equipment, world-class therapists, the motivation of the upcoming NFL draft, and an unwavering attitude and belief that he will not only come back but be stronger than before.
"I want to be an inspiration," Lattimore tells USA TODAY Sports. "To let people know that with hard work, and when you trust in God, you can come back from anything and do anything."
A key portion of Lattimore's rehabilitation process has been the HydroWorx 2000 Series pool at the Andrews Institute in Gulf Breeze, FL.  The healing properties of water made integrating the HydroWorx into his rehab a natural fit.  It also allowed Lattimore to begin rehab sooner than he would have been afforded with land-based rehab.  Allowing a non or partial weight bearing athlete like Lattimore a way to move and begin rehab before they thought possible can do amazing things for their body and their spirit.  Early intervention with aquatic therapy can also reduce inflammation, minimize the loss of range of motion and help to speed the recovery process.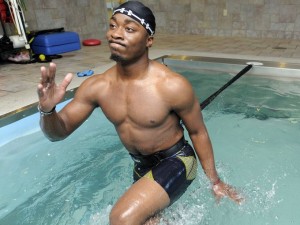 News posts like the USA Today Sports and NFL.com are reporting on Lattimore's 'impossible muscle gains'.  Some of these gains in lean muscle mass can be attributed as an added benefit of  his training in the HydroWorx therapy pool. In the water, your legs and body are forced to work harder due to the increased resistance of the water.  A 12 week research study conducted at Texas A&M University showed that individuals who exercised on an underwater treadmill saw lean muscle mass increases primarily in the legs while lean body mass did not increase in the land treadmill workouts.   These increases were examined in a separate study, also conducted by research scientists at Texas A&M, that focused on the effects of strength training in conjunction with underwater treadmill exercise.  When compared to strength training alone or strength training with land running, the combination of strength training and underwater treadmill running elicited greater increases in lean mass with the added benefit of improved cardiovascular capacity.   Based on this research, it is possible that Lattimore's use of underwater treadmill and resistance training has helped to accelerate his gains in muscle mass and strength.
State-of-the-art technology or not, Lattimore's success is ultimately contributed to his unwavering determination and positive mental attitude.  These qualities have garnered him support and encouragement not only from family and teammates, but from a few fellow ACL surgery victims including Washington Redskins Robert Griffin III. In fact RGIII and Lattimore have been in the hydrotherapy room at the Andrews Institute rehabbing together, one in the hot tub while the other is in the pool. "The NFL offensive rookie of the year teasingly urges on Lattimore: "Flex, Marcus, flex!"
Lattimore, whom Dr. Andrew's says has been a joy to work with, describes his time in Pensacola at the Andrew's Institute as "the best experience ever."
But wait, there's more! Dr. Andrews states that Lattimore's work ethic has been in line with another Andrews' patient and outstanding recovery story, Adrian Peterson, this year's NFL MVP. In the word's of USA TODAY Sport's writer Robert Klemko, "Watch out Adrian Peterson, there's a new rehabilitation stud." This may be true. The progress Lattimore is making with his rehab is nearly supernatural, it is only a matter of time before we find out if he can surpass Peterson's remarkable recovery. "He's twice as far along as we ever expected him to be. He's so self-motivated," Andrews says of Lattimore. "This weight he's put on has been all muscle, which is absolutely impossible in most cases."
However, a lot of things still remain unknown. Will Lattimore go in the draft? Will he be the 'next biggest rehab story? Will he play in the 2013 season?
Well, one thing is for certain, continuing with his rigid aquatic and land rehabilitation program while maintaining his impressive level of dedication, Lattimore is striving each day to make each of those answers, YES.