World Class Technology and Therapy for World Class Soldiers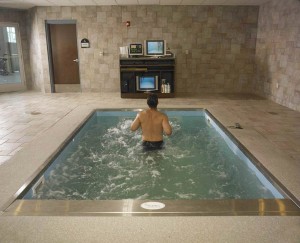 The following information has been summarized from the recent article in Government Recreation and Fitness titled, "Tactical Athletes…Naval Special Warfare Building More Resilient Warriors."
For those who are completing some of the most challenging and dangerous missions in the military, it is essential that they receive the best training, equipment and resources.
"Our mission is to provide optimum sports medicine, rehabilitative care and medical material support to all active duty personnel of Naval Special Warfare Group One," said Mark Rogow, who is the Sports Medicine program manager for Naval Special Warfare Group One (NSWGI), NAB Coronado, Calif. "We provide musculoskeletal support to those who sustain injuries of any kind by providing clinical evaluation, diagnosis, treatment and rehabilitation by a highly trained and specialized team of experts. The plan of care is designed to achieve the maximum level of function in a minimum amount of time, taking into account the safety of the individuals and operations commitments of the NSW population."
The Sports Medicine Clinic is part of the Tactical Athlete Program (TAP) and the Logistics Support Unit Medical Department. The Human Performance staff, which includes strength coaches, a performance dietician and sports-psych professional works within the TAP. "TAP is a Special Operations Command-funded program that provides the collegiate and professional sports medicine/human performance model across all of SpecOps."
Additionally, they have created The Bridge Gym which serves as the link between rehab and the human performance team. This creates a smooth transition from rehab back to either their teams or the facilities, which is where the human performance staff is located. The Bridge Gym is home to the Bridge program "which is designed to augment the NSW operators overall conditioning, both following injury and/or surgical intervention, as well as those who have not suffered an injury."
There are numerous other programs and processes instituted on this base to create the best possible care for their recovering soldiers. In addition, the facilities hosts an abundance of top-of-the-line equipment and modalities. These include: LightForce Class IV Laser; HydroWorx Therapeutic Pool with underwater treadmill; OptoGait; Total Gym; Game Ready/Quad 7 devices; Shuttle 2000; Keiser Iso-trainer and so many more. (The full list is on page 21 of the article).
A recent key area of focus is hydrotherapy with their newly installed HydroWorx aquatic therapy pool.
"It has taken over two years to make this dream a reality, and we anticipate the pool to be up and running within the next month," said Rogow. "One of the reasons we are looking forward to using the hydrotherapy pool is so we can initiate treatment and intervention sooner with many different types of acute injuries, post-op patients and chronic pain patients. With the underwater treadmill, we will be able to go forward or backwards or sideways, as well as do rotational movements so we are looking forward to increasing our capability here with hydrotherapy."
Rogow along with the staff of athletic trainers, physical therapists and strength coaches are enthusiastic about implementing this technology into the overall recovery process. Rogow said his experience in professional and collegiate athletics has taught him that hydrotherapy "is an incredible modality for so many athletes….pre-hab, post-surgical, chronic pain, acute injury, recovery and much more."
HydroWorx is truly honored to be able to be a part of this facility.
Download the "5 Ways Aquatic Therapy Impacts Rehabilitation" Tip Sheet
Aquatic therapy has been used for years by progressive physical therapists and athletic trainers. The use of physical therapy pools has decreased recovery times allowing clinicians to rewrite protocols for common injuries.Find out what makes water such a key component of their rehabilitation programming. Download this tip sheet today>>
Building Positive Psychological Benefits Through Hydrotherapy
A Soldier's Case Study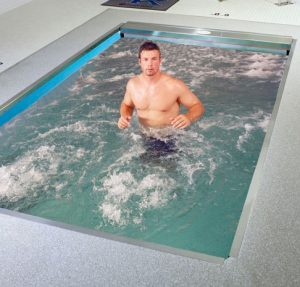 The following information has been summarized from the recent article, "The Buoyancy of Healing" by Leif Nelson, DPT, ATP, CSCS on page 22 of the InMotion Magazine September and October 2016 Issue: Volume 26, Issue 5 edition.
An inspirational story from Physical Medicine and Rehabilitation Services at James A. Haley Veterans Hospital in Tampa, FL started with Mr. Guillermo Rodriguez, a 12-year veteran in the United States Army 2nd Airborne Division who envisioned life differently after his time in the service. After complications with diabetes, he had both legs amputated below the knees. He desired the ability to walk again and to be more independent.
When Rodriguez first met with Cory Keirn, DPT, OCS, CSCS, ATRIC, and his partner, Therese Odell, PTA, ATRIC at James A. Haley Veterans Hospital he was skeptical about aquatic therapy. Dr. Keirn described to his client how aquatic therapy could help him reach his personal goals by:
Promoting early range of motion
Initiating gait training in a low impact environment
Replicating the proper biomechanics of land-based movements to improve gait patterns
Improving cardiovascular stamina
Increasing healing and strengthening of injured tissues
Impacting muscle strengthening
Rodriguez is seeing great success with aquatic therapy thanks to his self-motivation and work ethic. Dr. Keirn works with many veterans who were once highly active and would like to get back to an active lifestyle, even if it is modified. He notes that the underwater cameras provide instant feedback to the patient and provide a large psychological benefit to keeping patients motivated.
"I was weak. I'm now able to do things again. I have more strength than before, and everything I do is getting easier." – Guillermo Rodriguez, bilateral amputee
This story shared by InMotion Magazine provides a sense of awareness about hydrotherapy and decreases the fear of trying new technologies. The positive results that are achieved by using water can increase mobilization in your patients.
Hydrotherapy has provided amazing results for sometimes unexpected patient types and can be valuable for those that don't tolerate land therapy as well as would be desired. To learn more about how Dr. Keirn is using aquatic therapy to impact veterans, watch this webinar>>