Meet Chuck, A HydroWorx Hero
We know you don't take the word "hero" lightly.  Neither do we.  To us, a hero is someone who overcomes great odds, perseveres in the face of challenges and gives hope to everyone who hears his story.  In other words, a person like Chuck.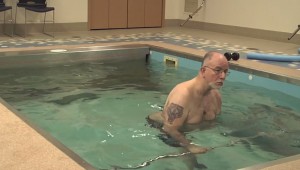 Chuck regularly exercises his lower and upper extremities in the HydroWorx therapy pool at Pieters Family Life Center in Rochester, NY.  A gregarious, likeable man in his late 50s, he's fast on the draw with groan-worthy jokes.  To see him walking in the pool against the resistance jets, you'd never know that he was once told to expect a lifetime in a vegetative state.
His life took a sudden, horrifying turn several years ago when a massive stroke left him paralyzed. Despite warnings from physicians that he could never expect to regain his quality of life, he and his family believed otherwise. Motivated by the goal to one day walk his daughter down the aisle during her wedding, Chuck tackled the formidable challenge of intense rehabilitation. It paid off, especially when he was able to give away his child just like he imagined.
Chuck's heroism extends to his willingness to share his story with others and to show them that when the odds are against you, it's a good time to fight. As a very active community volunteer, he's certainly not a shrinking violet! His life continues to touch others' in truly inspirational and important ways. Although he may never run a marathon on land, he can walk comfortably for half a mile underwater, which translates to improved strength and balance on land. Riding his four-wheeler again and mowing the lawn are just some of the skills he's able to comfortably and safely engage in thanks to his hydrotherapy sessions.
A stroke may seem like the end of the road to many people, but Chuck illustrates that a little patience and a lot of family, medical and therapeutic support can sometimes help overcome even the direst of predictions. We're thrilled to name Chuck one of our HydroWorx heroes and encourage you to hear his story in his own words here:
If you know someone who should be named a HydroWorx hero, please contact us today. We are actively seeking men, women and children who are rising up and showing the world that they can do amazing things with the assistance of aquatic therapy. To see other amazing HydroWorx stories, visit our video library today>>