Increasing Client Satisfaction through a New Approach
The following blog post has been summarized from the recent blog article, "Want a Better Bottom Line? Think Like a Client," published on Provider Nation, written by Peg Black, Development Director, Cerenity Senior Care.
When Cerenity Senior Care began their massive five-year renovation planning process, they decided to take a different approach, which turned out to be the best and most successful approach.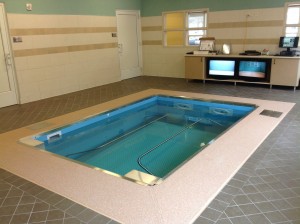 Peg Black, Development Director for Cerenity Senior Care, knows that there are many individuals who are going to need inpatient and outpatient rehab, home health options, transitional patient options, nursing facilities and other services in the coming years. However the biggest catch is that they all have a choice in where they will go. This is why "taking a walk in their shoes" is so important to better understand their needs. This is what Peg and others did at Cerenity Health Care in order to put together the best facility in the area.
She states, "We knew we owed it to both our clients and to our bottom line to start thinking about what future residents and visitors would want and need." They talked through every big and little detail in order to truly see the world from their client's eyes. Many opportunities and areas of improvement surfaced by way of this approach.
We knew we wanted a warm water therapy pool and looked at many styles. We ruled out pools that required patients to walk down steps or to be lifted above the water in slings or contraptions that might be scary to them. A pool with a movable floor for zero-depth entry made the most sense, especially to bariatric patients who face daily living challenges such as exercise.
In addition to integrating a warm water therapy pool with an underwater treadmill, they also upgraded all of their technology with flat screen TVs in each room and having facility wide Wi-Fi accessibility. In order to create the best facility possible, a great amount of financial assistance is needed. This is why Cerenity Senior Care collaborated with their residents, their family members, community and corporations regarding fundraising. As a non-profit they relied heavily on this campaign. They used online donation "calls-to-action" on their website as well as the mailed paper requests and ultimately this hard work paid off.
Peg Black knows this type of approach to a facility re-design is time consuming and tedious, but it she stands by it 100%. In a competitive marketplace, it's essential.
View this FREE On-Demand Webinar: Create a Successful Aquatics Program Through Staff Engagement
View this on-demand webinar sponsored by HydroWorx entitled, "Create a Successful Aquatics Program Through Staff Engagement," by Keith McCrate, PT, Director of Rehabilitation and Wellness Services at Presbyterian Village North. Keith, being a Director of Rehab and Wellness understands that there are many techniques and best practices you can use to establish high-quality aquatics programming that leads to patient and client outcomes. In this webinar attendees will learn how the therapists and wellness staff work together at Presbyterian Village North as a dynamic team that is highly trained and focused on improving the lives of everyone they serve. View this on-demand webinar here.