HydroWorx Track Club
The HydroWorx Track Club was formed in the summer of 2013, just in time for the team of local Central Pennsylvania runners to get suited up for the Harrisburg Mile, the area's biggest road race.  The team won 3 of the 4 elite categories that evening, and has not looked back since.  HydroWorx's support of the local running community has allowed this team of now seven runners to compete, not only locally, but all over the world.  In the past year team members have won races locally, but also in Washington DC, Delaware, New York, Maryland, and even as far away as Budapest, Hungary.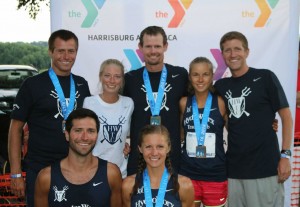 The team members range in age from 23 to 45, and all have collegiate running experience.  Mary Dell, the team's leading female runner, is a 9-time All-American runner from Shippensburg University.  She has won the female elite championship at the Harrisburg Mile for 5 straight years, more than any other woman in race history, and late last year just missed qualifying for the 2016 Olympic Trials in the marathon.  Brian Fuller, a former Penn State track and cross-country captain, recently placed 22nd in the USA national 10-mile championships.  And masters runner Nick Berra kicked off the 2014 indoor track season by breaking the M45-49 world record in the 800m, and finished it by winning gold in both the 800m and 1500m at the World Masters Athletics Indoor Championships in Budapest, Hungary.
The HydroWorx Track Club members have the luxury of training and rehabbing on the HydroWorx underwater treadmills. "The underwater treadmill allows me to augment my weekly mileage in a way that I can now attain the higher totals [mileage] I am looking for without subjecting my body to the rigors normally associated with those bigger totals," said Mary. "The miles run underwater are almost 'free' when it comes to adding up the wear-and-tear on your legs and joints."
Nick Berra has been using the underwater treadmill for several years now, and attributes much of his success to its ability to keep him on the track and out of the physical therapy offices.
"As an over-40 runner, I don't think there is any way that I could train like I want to train and not break down half-way through the season.  I find myself doing more and more of my work in the water as I have gotten older – knock on wood- and I've managed to stay healthy and my times are actually getting better."
The clubs training and efforts have been paying off.  Mary Dell and Emily Dubs placed first and third respectively on the women's side at this year's Harrisburg Mile, and on the men's side Mark Fuller, Nick Berra, and Kevin Fuller placed third, fifth, and sixth, with Nick winning the Masters division.  Mary added the mile title to her recent victory in the 2,500 runner Hershey 10k and hopes to defend her title in October in the Hershey Half-Marathon.  Nick just returned from the USATF Masters National meet in Winston Salem NC, where he defended his indoor title in the 800m with an outdoor crown as well.  Now that the club has grown to 7 members it has become one of the most competitive teams in the area.  "We started out just trying to represent HydroWorx and spread the word about the power of training underwater" said Kevin Fuller, "but we have slowly but surely grown as a team to the point now where we are starting to seriously compete with larger, more mature clubs in the area.  The goal going forward now is to not only being able to compete against the other teams, but to become the premier club in the Central Pennsylvania area."
Read more from Nick Berra and the HydroWorx Track Club at Berra's Blog>>