HydroWorx Customer Helps Out a Tennis Star
Over the years, we have heard many stories about athletes from all levels and sports who have had success performing rehabilitation in a HydroWorx pool. Athletes may not always have access to a pool at their facility, but many times will go to a physical therapy clinic or sports performance facility to receive aquatic therapy for rehab from an injury.  This story is particularly unique, in that an Olympic champion tennis player is receiving his rehabilitation at a world-renowned soccer organization's training facility.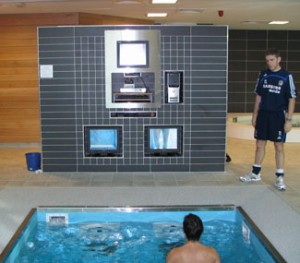 Adapted from the article Chelsea football club put Andy Murray on the road to recovery
Andy Murray has an impressive tennis record, most recently including 2012 Olympic tennis men's singles champion and 2013 Wimbledon Championship singles title holder. But lately, Murray has been working hard at Chelsea FC's training ground.  He hasn't taken up professional soccer yet, but he has been given access to Chelsea's facilities in order to accelerate his recovery from back surgery. He had back surgery in September and has been working most specifically on the underwater treadmill in the HydroWorx pool.
"It's sped up the recovery a lot. I've been doing anti-gravity running in the swimming pool. Most of what I do is straight-line running in the pool. It's basically like an underwater treadmill. It's been a massive help for me to be able to do that, because there aren't many of them around."
Using the HydroWorx 2000 Series pool allows Murray to continue to maintain cardiovascular fitness while removing stress from his recovering back. Additionally, it gives him the ability to strengthen his back with reduced pain and decreased risk of re-injury.
Murray has also been doing some rehab work at home and as well as doing some pilates.  But he's thankful for being allowed to use Chelsea's facility since he is doing most of his training there. Since he is a football fan, speaking with club manager, Jose Mourinho, was a highlight because Murray thinks its great to have Mourinho back at Chelsea and respects what he's doing at the club.
Although Murray refuses to return to play before he's ready, he is still planning on attending an exhibition tournament at the end of November. He would like to be fully ready to play in competition in January.  So far, his physiotherapists and surgeon have been pleased with his progress in his rehab.
Learn more about the five ways aquatic therapy impacts rehabilitation>>