HydroWorx Athletes Summer Recap
HydroWorx was honored to have a number of elite athletes, who have used our products for training, rehabilitation and recovery, represent their respective countries in Rio. We proudly cheered them on in early August and continue to do so as they compete elsewhere. In case you missed the live events, here is a recap of how these stellar athletes performed.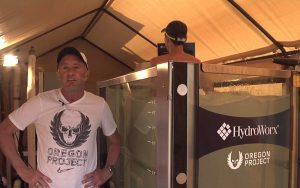 The Oregon Project has been using underwater treadmill running as an integral part of all of their athletes' training for over 10 years as a key element in the mission to win more long distance running medals for the American team. They had a number of their athletes compete in Rio in a multitude of events.
"We couldn't do what we do without HydroWorx and that's why we have it here in Park City. It is as valuable as a pair of running shoes or our track, we have to have this [HydroWorx underwater treadmill]."- Pete Julian, Oregon Project Coach.
The dynamic duo consisting of Galen Rupp and Mo Farah were back in action! Mo Farah is well-known for his steady performance and now his amazing, "quadruple-double," winning both the 5,000M and 10,000M on four different international stages. In a shocking come from behind move, after a fall early in the race, Mo left our jaws dropped as he won Gold in the 10,000M in addition to his 5,000M win! He finished the race with his signature "Mobot" pose. Farah joined the Oregon Project in 2011.
Galen Rupp wowed audiences around the world in competing in two, long to mid-distance, running events. Rupp took on the challenge and made Americans proud by placing 5th in the 10,000M and winning Bronze in the Marathon. Doubling up in events is nothing new to Rupp, who competed in both the 5,000M and 10,000M in 2012, placing 2nd behind training partner Mo Farah in the 10,000M. Replacing the 5,000M with the marathon required a slightly different training plan. Endurance and pacing were a focus for the marathon, while finishing speed was the focus for the 10,000M.
Rupp's training kept him on pace with his international competition without increasing his risk of injury. He did this by running approximately 115 miles per week on land and an additional 30 miles per week on an underwater treadmill. This provided the ability to maintain endurance without the pounding on his joints.
What an amazing 1,500M race Matthew Centrowitz ("Centro") ran and won Gold!  Centro joined the Oregon Project in 2011, this was his second games he competed in, matching his father's claim to fame. Centro made his dad, and many Americans, very proud. This was a huge accomplishment coming from his 4th place finish in the prior games. The last time an American won the Men's 1,500M race was in 1908.
Shannon Rowbury joined the Oregon Project in 2013 and is a three-time Olympian. She represented the US in the 1,500M where she placed a close fourth. Shannon's Oregon Project training was vital to her beating out four other runners. Her redemption came last weekend where she won the final Diamond League meet of the year in Zurich beating out strong competitors.
Suguru Osako is off to a great start as a newcomer to the Oregon Project. He joined the team about a year ago and represented Japan. He is a Japanese record-holder in the 3,000M and 5,000M and was recently the 10,000M National Champion. Osako placed twenty-eighth in the first round of the 5,000M and seventeenth place in the final of the 10,000M.
Although they didn't make it to the finals, #15th ranked Canada's valiant efforts ended in a draw against the #5 ranked team, India. They trained with Nick Held at Fortius Sport and Health Centre in Vancouver, BC and spent some time doing conditioning and recovery work in the HydroWorx 2000 Series, Thermal and PolarPlunge pools. Additionally, two athletes did some rehabilitation work in the pools. Watch out for them in years to come!
HydroWorx would like to congratulate all these athletes for their hard work and determination! Job well done!
To learn more about underwater treadmill running, click here and download a free copy of our underwater treadmill running book.