HydroWorx and Active Aging Week: A Perfect Fit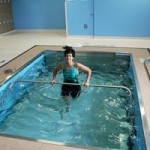 Middletown, PA−Thanks to improved nutrition, healthcare and living conditions, people around the globe are living longer, fuller lives. They're also committed to staying as fit as possible despite the normal physical responses to getting older. In 2011, Active Aging Week (September 26-30) encouraged HydroWorx to remind older adults of the many ways that mature individuals can stay strong and fit.
HydroWorx has spent more than a decade working with "Baby Boomers" like world-renowned Alberto Salazar who are interested in keeping their bodies and minds healthy through aquatic exercise, rehabilitation and conditioning.
Salazar, a three-time New York City Marathon winner, currently coaches the ultra successful Oregon Project, a team of elite runners that includes American Galen Rupp and Brit Mo Farah. Committed to innovative training and rehab methods, Salazar uses a HydroWorx X80 underwater treadmill with his athletes; he also uses the unit himself.
Explains Salazar, "The HydroWorx unit is one of the most valuable pieces of equipment I use… This is the closest thing to running outside on the land that there is."
Anson Flake, president and co-founder, HydroWorx, knows how important regular activity is to people of all ages, including those who are over 50. "Since our company's inception, we've been inundated with stories of dynamic adults like Alberto who have used HydroWorx equipment to keep their bodies in first-rate shape regardless of the natural aging processes."
Active Aging Week is observed every autumn by the International Council of Active Aging (ICAA) and their supporting partners like HydroWorx.
About HydroWorx®
HydroWorx, based in Middletown, Pennsylvania, offers a wide range of underwater treadmill pools, underwater treadmills, and peripheral products and services. Every day, more than 15,000 athletes and patients use HydroWorx technology to recover from injuries and health conditions.