Take A Swing With Aquatic Therapy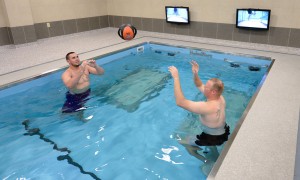 If you like to golf at all, then you know that golf season is upon us. Athletes that are gearing up for competition are already in full swing preparing and training for their season. In order for a golfer to perform to the best of their ability, maintaining fitness levels and perfecting their golf mechanics are some keys to success. Aquatic therapy, when combined with land-based strength and gait training, can be a valuable tool for increasing an athlete's muscle strength, cardiovascular fitness levels as well as perfecting sport-specific movements. Using instant feedback from underwater cameras, a physical therapist or athletic trainer can also correct any errors in the athlete's gait pattern or mechanics (i.e. a golf swing) in real time.
Request a Free Info Kit     View Our Products     Find a Pool Near You
Tim DiFrancesco, PT, DPT, ATC, CSCS, Head Strength and Conditioning Coach for the Los Angeles Lakers and co-founder of TD Athletes Edge, LLC., demonstrates in the video below, an intense and effective aquatic training session for a golfer. The session is performed in a HydroWorx 500 Series pool at Peak Performance Physical Therapy in Swampscott, Massachusetts.  
During this particular session, the athlete starts by running on the underwater treadmill against the resistance jets to create the environment suitable for practicing explosive movements as well as increasing leg strength and stamina.
The most important part of the body for a golfer to focus on strengthening is the core. One way to do this is by performing specific exercises in the pool. In fact, due to the properties of water, the individual will naturally work on balance and core strength while doing protocols in the pool because of water's instability in a contained location. Additional perturbance can be created with resistance jets, to further engage the core. 
With resistance being one of the key components to strengthening a golfer and truly any athlete, Tim offers a multitude of exercises to get the individual ready for their season. Focusing on the fundamentals and mechanics during the off season and all the way until day 1 of competition will make a significant impact on their performance.  
Some specific exercises Tim offers for strengthening a golfer's core include:
Split squat jumps, while keeping the hands behind the head and core engaged.
Rotational twists, beginning in a squat and then exploding up and to the right/left to imitate the golf swing.
Full rotational twists against the resistance jets or the physical therapists' resistance.
Forward moving squat jumps with a ball above the head.
Performing golf specific movements with the use of a resistance band or an actual golf club in the water. Not only will the athlete work on the mechanics of their swing, but core stability and balance as well.
Request a Free Info Kit     View Our Products     Find a Pool Near You
Watch these and more sport-specific exercises in the full golf training session below!