Ellsworth, Maine Boasts New Senior Living Community
The following blog post has been summarized from the recent press release, "Innovation in Ellsworth," published on February 26, 2015.
Seaport Village, located in Ellsworth, ME, is a brand new, 63,600-square-foot, two-story facility that holds 91 beds — 61 for nursing care, including rehabilitation services, and the other 30 for assisted living.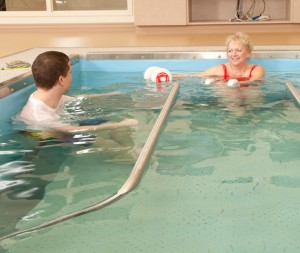 The project had been in the works for a long time as the city has had a long-standing goal of providing more services to their seniors. Ellsworth's city manager, Michelle Beal, shares that, "Through collaboration with First Atlantic and a focused and creative development team, we've brought something to Ellsworth that is truly special."
First Atlantic Healthcare, operates 16 senior living communities throughout Maine, was looking to upgrade their position in Ellsworth, a market they'd entered two decades earlier by purchasing Collier's Rehab and Nursing Center. The location they purchased was initially somewhat of a challenge. The property was next to an empty elementary school, which underwent a major renovation to become the beautiful multi-functional community center.
"Seaport Village offers the very best in high-quality senior living and senior care—including a high tech therapy pool with underwater treadmill.  We're so excited to be able to offer such advanced care in our rural community. It's fabulous for our people and adds value to our city," added Beal.
The press release also features a short interview with Rebecca LaBrie, Program Director, OTR/L, with Rehabcare, Seaport Village's contracted rehab provider. LaBrie enthusiastically shares how the newly installed state-of-the-art therapy pool has quickly become a  hit. On the day of the open house, LaBrie had blisters from pushing the buttons so many times to demonstrate the therapy pool's features.
The new community is nothing short of comforting, enjoyable and functional. First Atlantic truly made a point to make the environment feel more like a home than a hospital. The interior is very open and filled with areas created for socializing and relaxing.
In addition to the benefits this facility will provide for its residents, the city itself will certainly benefit too. Craig G. Coffin, First Atlantic COO, affirmed, "Developing this facility with the help of the City of Ellsworth was a gratifying process. We are truly excited about the future of healthcare in Ellsworth and the partnerships we have created. When you work together to provide the best possible care, great things happen."
We are certainly excited for what is in store for Seaport Village as well as the City of Ellsworth, and we couldn't be happier to be featured in this beautiful location.
View this FREE On-Demand Webinar: Strategies for Treating Low Back Injuries with Aquatic Therapy
View this on-demand webinar by Murphy Grant, MS, LAT, PES Assistant Athletic Director – Sports Medicine and Head Football Athletic Trainer at The University of Kansas, presents the webinar, "Strategies for Treating Low Back Injuries with Aquatic Therapy." This webinar will provide treatment ideas for using the benefits of hydrotherapy for low back injuries such as Lumbar Sprain, Muscular Strains, Contusions, Sciatica, Herniated Disks, Spondylosis and Spondylolisthesis. The webinar will also offer strategies to develop rehabilitation programs and progressions using aquatic therapy as a medium.