Designing the Ideal Athletic Hydrotherapy Space
Tips for designing the ideal athletic hydrotherapy space from NFL PT/ATC Aaron Borgmann
Aaron Borgmann, from Borgmann Rehab Solutions, shares his lessons learned about how to design an optimal hydrotherapy space based on his experience as an NFL physical therapist and athletic trainer for the Philadelphia Eagles and the Kansas City Chiefs.
Room Spacing Tips
Hydrotherapy has come a long way. No matter how big or small your facility is there is a hydrotherapy solution that can work for your space. When you're designing your space make sure you decide how much space you'll want around the perimeter of your pool or unit, that will help you decide which unit is best. Your design and construction team can help you get creative to make sure you're optimizing your space.
Whether you are installing an in-ground pool or an above ground freestanding system, you'll want some room around or in front of the unit so you can comfortably demonstrate exercises to your athlete. It's uncomfortable if you are too close to the edge of the pool to stand and demonstrate the exercise or drill.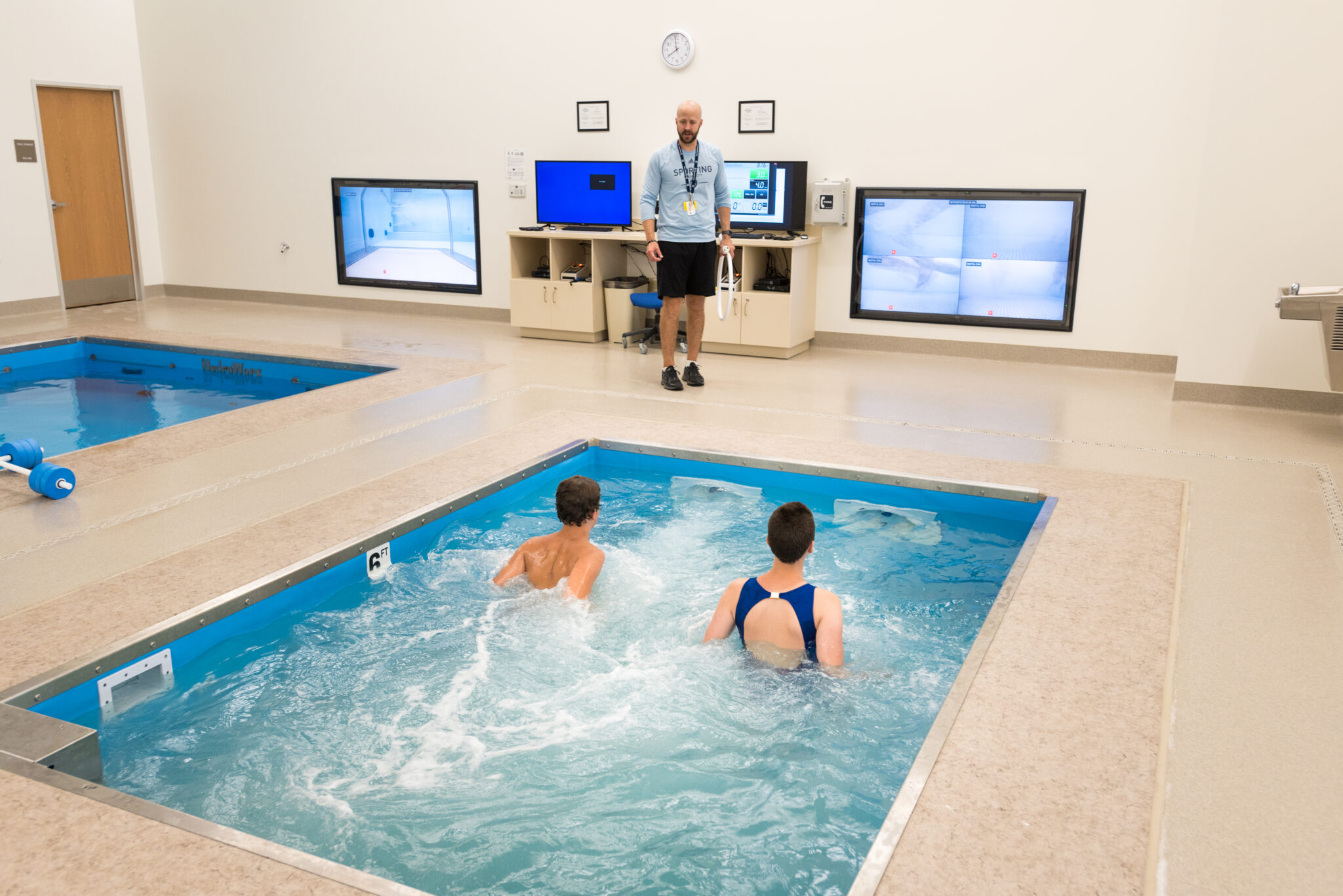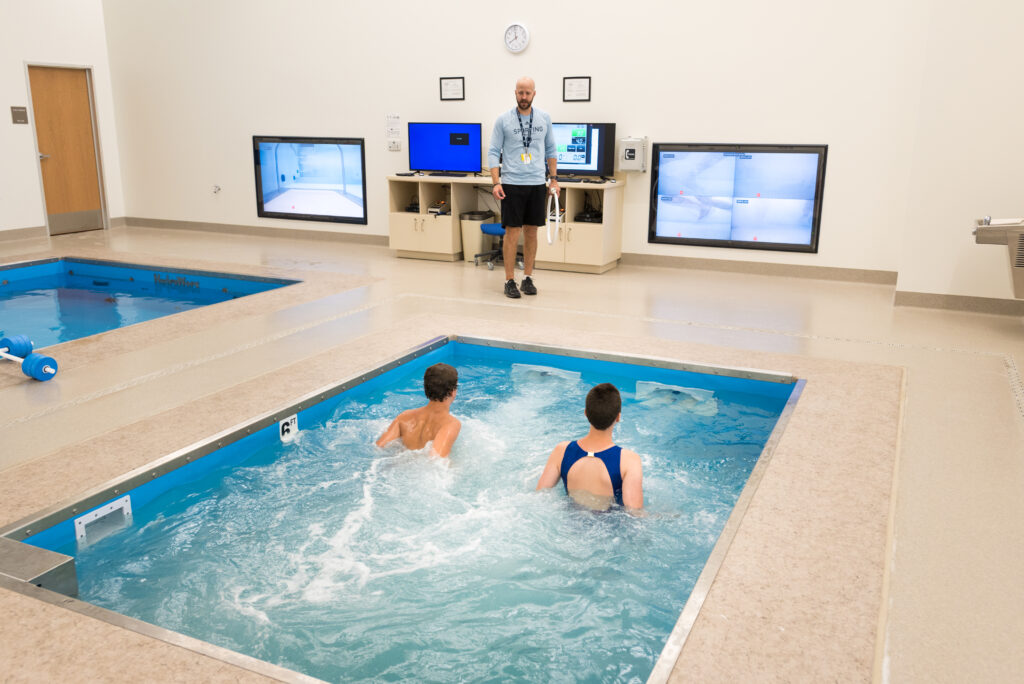 You'll also want to make sure you have some dedicated space to store equipment that you'll need for hydrotherapy sessions, such as a cabinet, shelving or a trunk. It's unfortunate when you have to go to a different room to retrieve equipment. It's even worse when you have to return it dripping down the hallway.
If you're building a space for your hydrotherapy unit make sure you consult with your construction partner to ensure you're planning for enough space around your unit. Additionally, as a clinician it is important to be involved in the planning process. We understand that space is a challenge at times and you may not be able to have a lot of it, but by working with your architects and construction managers, hopefully you can come up with some creative solutions.
Monitors are Important for Feedback
HydroWorx pools come standard with 2 monitors because of how critical they are for feedback. Monitors integrate with an underwater camera system (more on that later) to make sure you can see what's going on. If the hydrotherapy system you have, or are shopping for, does not have high-quality monitors–upgrade them stat!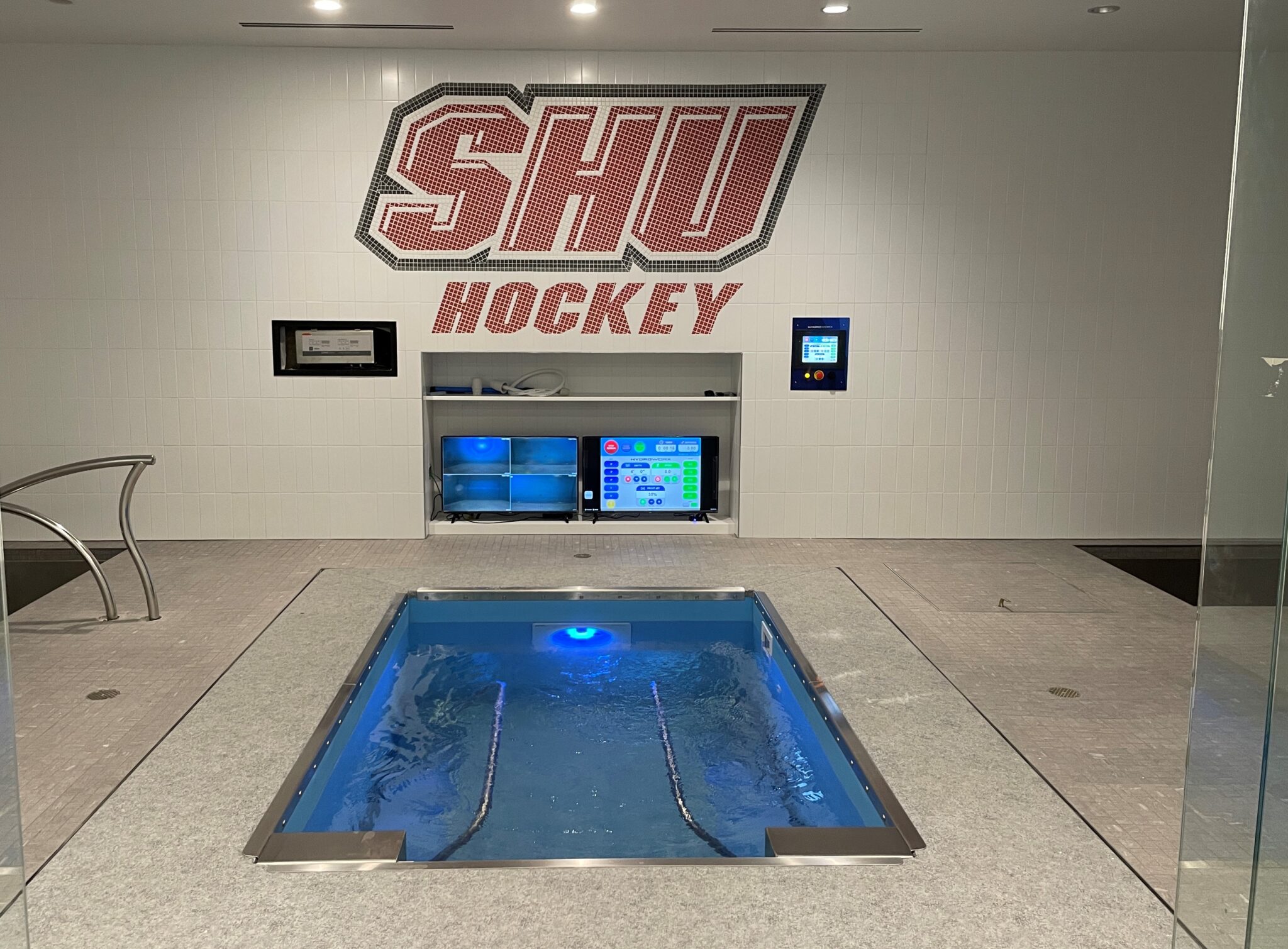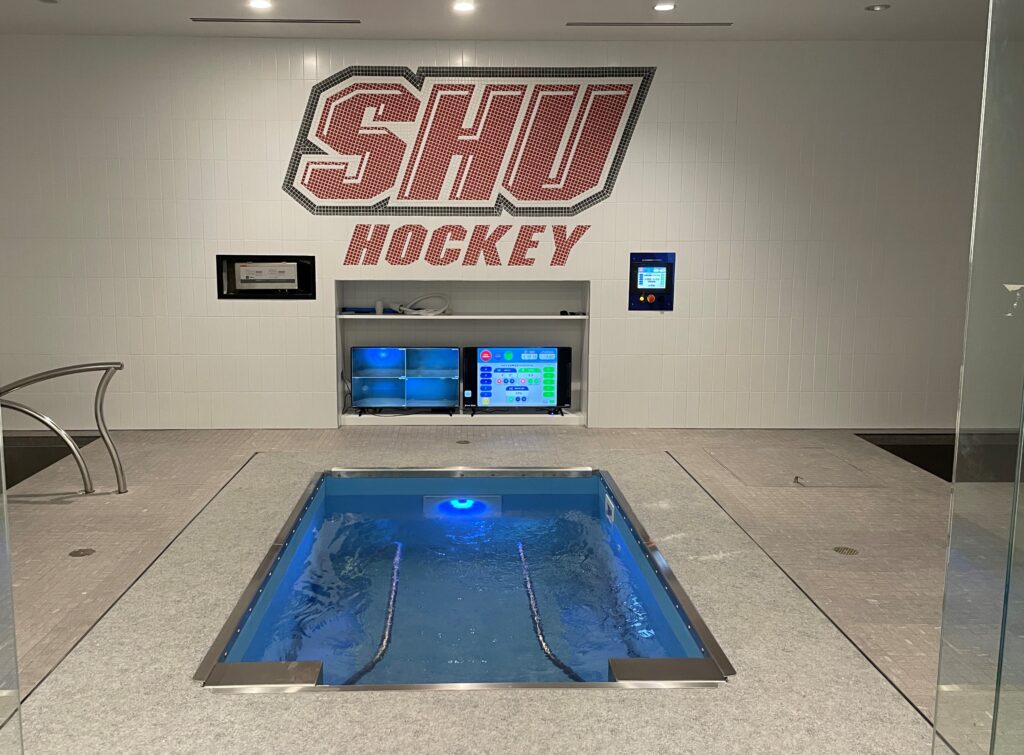 When the individual is moving up and down it can be challenging to see what's going on if the monitor is too small. Individuals learn best when they can clearly see the visual feedback real time so they can adjust their form to optimize their exercises.
Underwater Cameras
Stay away from a fixed view camera. They don't enable you to have the flexibility you need to capture your athlete on the move at different angles to visualize what's going on under the water. Cameras that showcase all sides and angles are great.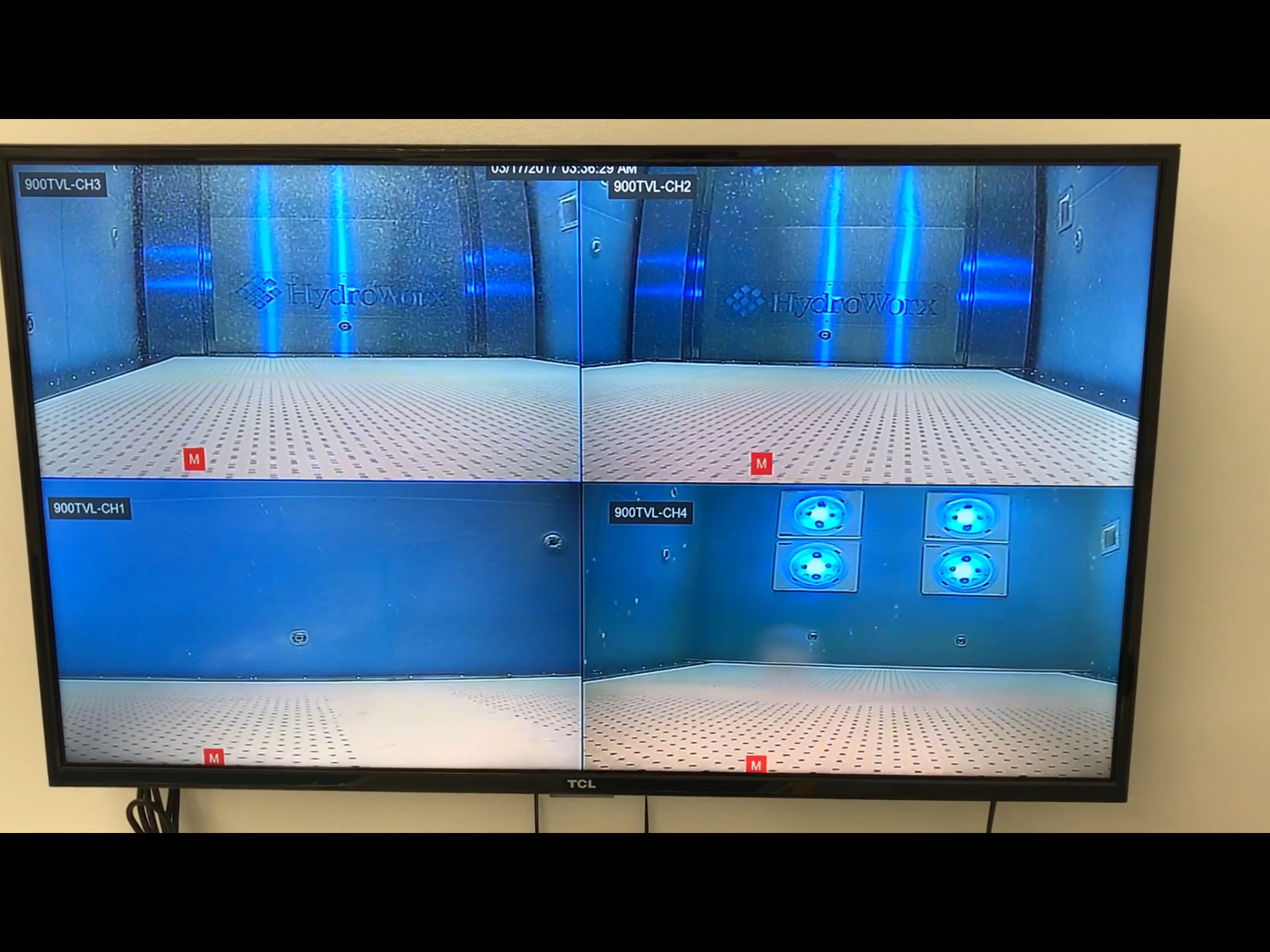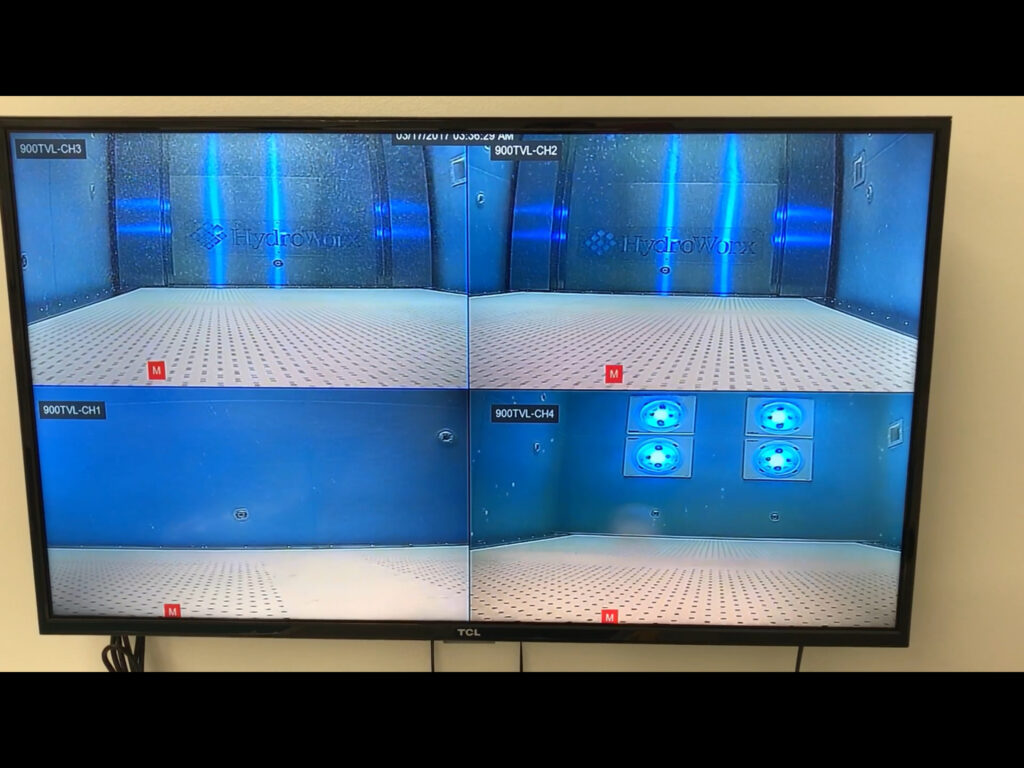 Location, Location, Location
When designing your athletic hydrotherapy facility be sure to think through the flow of practice and game schedules. You'll likely want to keep the hydrotherapy area close to the team locker rooms and the main athletic training room to ensure smooth transitions for pre and post practices. This will allow your athletes to receive comprehensive care as quickly and comfortably as possible. Additionally, be sure there is close access to a shower nearby if possible. This will make using the aquatic facilities easier for your athletes and will increase your utilization of your hydrotherapy unit.
Get Dedicated
If you're serious about aquatic therapy go all in on a dedicated aquatic physical therapist or athletic trainer. Someone who is focused on developing hydrotherapy recovery and conditioning programs is a surefire way to make sure you're getting good mileage out of your investment–and top notch care for your athletes and patients.
Keep an Open Mind
It's a common misconception that hydrotherapy is just for walking/running. It's not. Any workout you do on land can be adapted for water. Many people also don't know that you can fit multiple athletes in large pools at the same time to maximize time with your athletes, and the utility of your pool.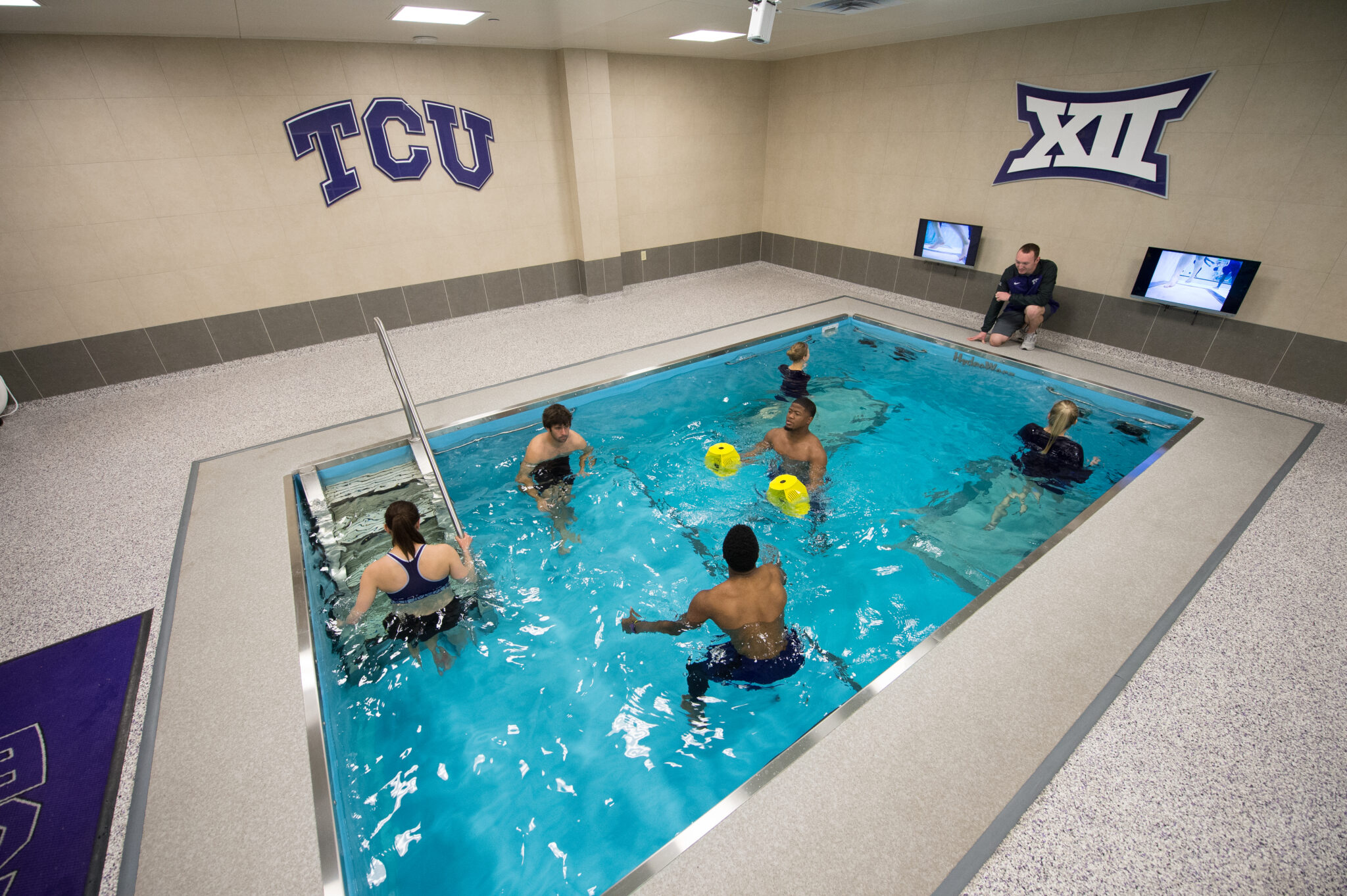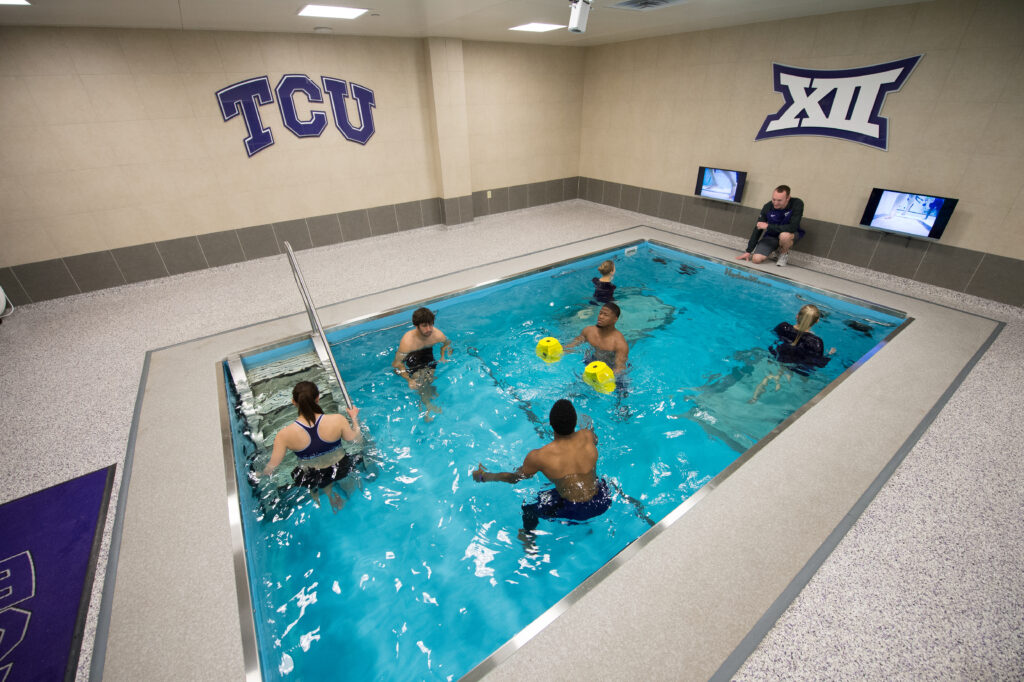 Thank you Aaron Borgmann for sharing your time and insights. Visit Aaron's website for more information about Borgmann Rehab Solutions.

Get Started Designing Your Hydrotherapy Space
Contact us to discuss which hydrotherapy unit is right for you.
About Aaron Borgmann
​​Former NFL Physical Therapist and Athletic Trainer, and Borgmann Rehab Solutions Founder, Aaron Borgmann spent years putting injured players back together and back onto the field.
After growing up in St. Louis, Aaron worked as an intern with the St. Louis Cardinals and St. Louis Rams before moving on to NFL Europe, then was hired away by the Philadelphia Eagles. He spent 7 years in Philadelphia with the Philadelphia Eagles and NovaCare before relocating to Kansas City to be the physical therapist/athletic trainer for the Kansas City Chiefs.
He has worked with professional athletes from NFL, MLB, MLS, WTA (Professional Tennis), WUSA (Women's Professional Soccer) as well as countless amateurs and active adults.
In addition to sports injuries, Aaron enjoys taking care of all orthopedic conditions including joint replacements, spinal injuries and those looking to continue an active lifestyle.