Alzheimer's disease can be a devastating illness for both those struggling with the disease and their loved ones. The disease robs patients of their memories, critical thinking skills and even the ability to carry out simple tasks in later stages.
Although there's no cure for the condition, many treatments can help prevent and delay the symptoms of Alzheimer's — aquatic therapy is one of them.
Jump to Sections:
What Is Alzheimer's Disease?
Alzheimer's disease is a condition that attacks the brain and affects nearly five million Americans, according to the National Institute on Aging. It begins slowly and the symptoms may be unrecognizable for years. Some symptoms of Alzheimer's only become recognizable as signs as the condition progresses and affects the patient's memory, language and thoughts.
Symptoms of Alzheimer's disease worsen as the disease advances. In later stages, patients may be unable to talk, read, write or even dress themselves. Signs typically begin to appear when patients are in their mid-60s, though symptoms of early-onset Alzheimer's disease can occur anytime between a person's 30s and 60s.
Some symptoms of Alzheimer's are quite familiar to the public, including:
Challenges completing mundane or familiar tasks
Changes in personality or mood swings
Confusing times and places
Decreasing judgement
Difficulty planning things
Diminished problem-solving capabilities
Forgetfulness
Loss of balance
Frequent falls
Hygienic changes
Inability to retrace steps
Losing things frequently
Memory loss
Problems judging spatial relations
Challenges when walking
Struggling to speak or write
Withdrawing from social encounters
In addition to physical changes, Alzheimer's patients can exhibit behavioral changes that can impact their quality of life. Treating the behavioral changes associated with Alzheimer's disease can be equally important for patients, their families and caregivers.
Early behavior changes may include irritability, anxiety and depression. As the disease progresses, though, other behavioral changes may occur, including:
Sleep disturbances
Anger
Aggression
Extreme agitation
Restlessness
Emotional distress
Verbal outbursts
Physical outbursts
Delusions
Hallucinations
Behavioral changes like anxiety, depression and sleep problems can be treated using medications. For physical symptoms, determining the right treatment plan for a patient with Alzheimer's can be more difficult. Though it's recommended that exercise can help with the progression of physical symptoms, treating these patients can be difficult as they have trouble communicate discomfort and pain during their treatment.
Hydrotherapy is a great alternative to traditional physical therapy for Alzheimer's patients.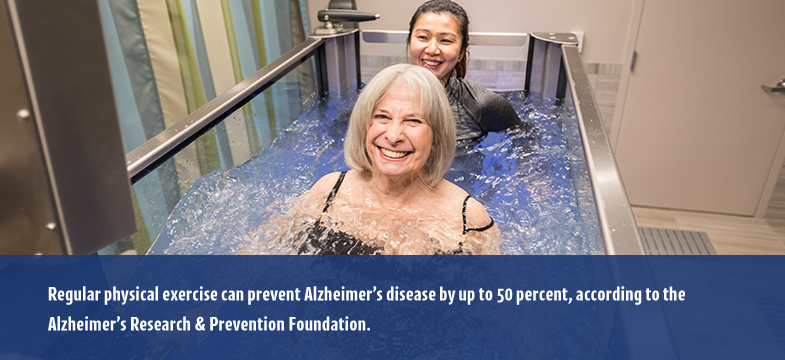 Treating Alzheimer's Disease with Aquatic Therapy
Aquatic therapy is one of the beneficial treatments available to assist practitioners and clinicians like you in treating patients who have Alzheimer's. Aquatic therapy is known by a variety of other names, including:
Pool therapy
Aqua therapy
Hydrotherapy
Aquatic rehabilitation
Therapeutic aquatics
Water therapy
Conducted by highly trained healthcare professionals, aquatic therapy takes place in a pool or other aquatic environment. Most doctors of patients with Alzheimer's disease pursue aquatic therapy with specific goals in mind, including:
Aiding locomotion
Bettering balance and coordination
Building muscle strength
Improving gait
Enhancing aerobic capacity
Improving flexibility
Promoting of relaxation
Reducing stress
Strengthening endurance
Request a Free Info Kit     View Our Products     Find a Pool Near You
This is only the beginning of what can be accomplished when hydrotherapy is added to an Alzheimer's patient's treatment plan. As new research is compiled, the number of benefits of using aquatic therapy to treat Alzheimer's disease continues to expand.
Regular physical exercise can prevent Alzheimer's disease by up to 50 percent, according to the Alzheimer's Research & Prevention Foundation. This is because it helps to stimulate the brain's capacity for maintaining memories while making new ones.
New evidence suggests exercise is an ideal therapy for treating Alzheimer's, as well. For those who have already started to develop cognitive problems, exercise may slow further deterioration. While exercise isn't always the first thing coming to mind when considering treatments for neurological patients, it offers many benefits worth considering.
How Aquatic Therapy Helps to Manage Alzheimer's Symptoms
Most patients will require treatment with a multitude of methods as the disease and its symptoms progress. Aquatic therapy is one tool you have at your disposal to aid in various stages of the disease, and you can use it with other treatment protocols, like medications and music therapy.

Five Ways Aquatic Therapy Helps Alzheimer's Patients
Aquatic therapy offers the perfect means for Alzheimer's patients to get the exercise they need to reduce the progression of their symptoms. Here are five ways hydrotherapy aids Alzheimer's patients.
1. Helps Them Remain Active
Remaining physically active is often a challenge for Alzheimer's patients who may have difficulty in larger exercise classes, suffer from a fear of falling or experience pain when engaging in non-aquatic fitness activities. Hydrotherapy provides an outlet where they can get the exercise they need to maintain strength and balance while reducing the progression of their Alzheimer's symptoms. It's a low-impact exercise routine, which eliminates concerns over loss of balance or fears of falling.
2. Encourages Greater Functional Mobility
Not only does hydrotherapy propel greater functional movement outside of the water, but it also helps to improve balance and gait among Alzheimer's patients. Patients going through aquatic therapy may also recognize improvements in trunk balance, range of motion and stamina, along with better balance when transitioning from sitting to standing and vice versa.
3. Provides Socialization Opportunities
Aquatic therapy can be conducted one-on-one or in group sessions. Group sessions give Alzheimer's patients the chance to socialize with others while getting valuable exercise.
4. Aids in Developing a Routine
Routines are essential for Alzheimer's patients, which is one reason aquatics for dementia is beneficial. Daily or habitually scheduled aquatic therapy sessions can promote a sense of routine, allowing patients to enjoy the many benefits of a regular schedule. Even patients with advanced stages of Alzheimer's benefit from the consistency routinely scheduled activities and outings provide, helping to reduce the frequency and duration of outbursts.
5. Soothes the Mind and Body
Finally, aquatic therapy is naturally soothing. Not only does it ease the body by diminishing the stress on joints, but the warmth and buoyancy of the water also calms the mind. This helps to relieve the tension many Alzheimer's patients experience throughout the day.
Aquatic therapy for Alzheimer's patients can be combined with music therapy to enhance the positive improvements these treatments offer.
Adding Aqua Therapy to Your Patients' Treatments
Not only does aquatic therapy improve Alzheimer's patients' overall physical conditions, but it also aids in the physical rehabilitation process for patients who are recovering from illnesses, reducing stress on joints while strengthening muscles at the same time.
Because it's often less painful for patients to exercise in an aquatic environment, it improves compliance in rehabilitation exercises for individuals who are recovering from accidents, surgeries, injuries and illnesses, as well as patients living with Alzheimer's disease.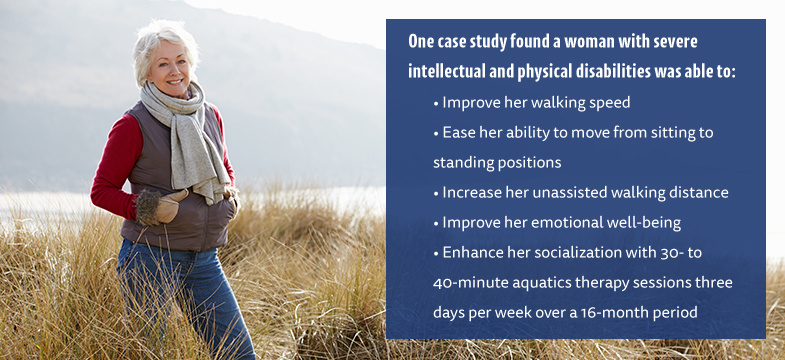 Is Aquatic Therapy Safe for Alzheimer's Patients?
Water therapy is ideal for older patients suffering from Alzheimer's disease, as it allows them to perform exercises absent the fear of falling or pain often accompanying exercises in traditional, non-aquatic environments. The resistance of the water aids in strengthening muscles and the body core, promoting better balance and strength outside of an aquatic situation. It also provides conditions naturally soothing for achy joints and muscles.
One case study found a woman with severe intellectual and physical disabilities was able to:
Improve her walking speed
Ease her ability to move from sitting to standing positions
Increase her unassisted walking distance
Improve her emotional well-being
Enhance her socialization with 30- to 40-minute aquatics therapy sessions three days per week over a 16-month period
Aquatic Therapy for Other Uses
Hydrotherapy can also be used to aid in weight loss among obese men and women, as well as older adults who are physically inactive. By realizing positive enhancements in the below areas with aquatic therapy, aging patients can improve their balance and reduce their likelihood of falls.
A clinical case study showing participation in underwater treadmill exercise training resulted in positive changes in participants':
Body composition
Physical fitness
Lean muscle mass
Muscle strength
Body mass index (BMI)
Body fat percentage
Another patient who was treated with the HydroWorx pool on the underwater treadmill was able to stand and function more symmetrically by focusing on:
Walking re-education and exercises
Backward walking
Squatting
Various studies examined the effectiveness of treatment with aquatic therapy, including one conducted by Dr. Kurt A. Mossberg. Dr. Mossberg that concluded patients participating in aquatics therapies enjoyed improvements in body composition, strength and "cycle ergometry peak wattage and time" when compared to control groups.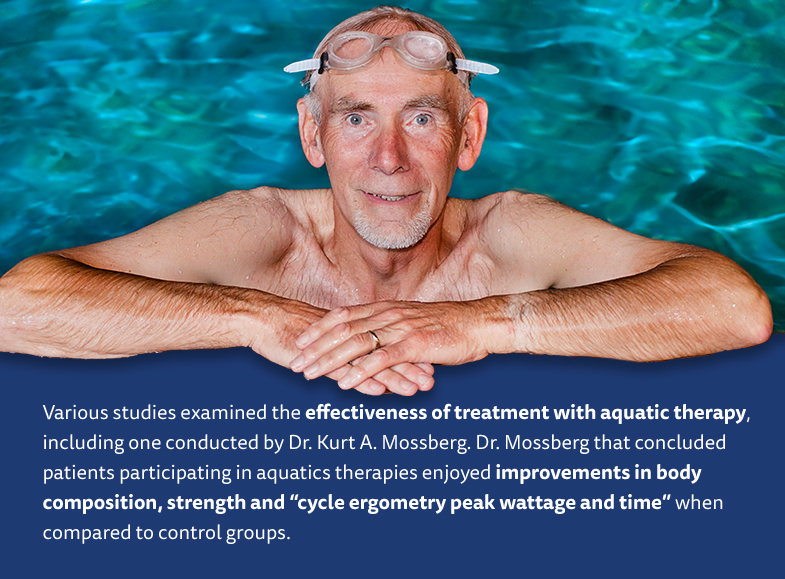 Alzheimer's Hydrotherapy Solutions from HydroWorx
HydroWorx offers all the tools you need to bring an effective hydrotherapy solution into your facility to aid in the treatment of patients with Alzheimer's disease, including:
The HydroWorx 2000, for instance, features a variable depth pool, an underwater treadmill and resistance jet technology to aid you in working with your Alzheimer's patients to improve balance build strength and reduce tension.
The HydroWorx 3500 is ideally suited for larger groups. If you're interested in accommodating larger groups and creating socialization experiences for Alzheimer's patients as an added therapeutic tool, consider the HydroWorx 3500 for your facility.
Make Your Facility More Competitive by Offering an Aquatic Therapy Program
Aquatic therapy is a highly useful service for physical therapy facilities to offer patients. Whether your patients are individuals in physical rehabilitation, Alzheimer's patients or have other illnesses and conditions that make exercise through traditional means painful or risky, having aquatic therapy options gives you an edge over your local competitors. It can even attract patients from nearby areas who are interested in the low-impact benefits hydrotherapy has to offer, thereby increasing your clinic's potential revenue.
Now is the time to make the transition toward the future for your business by incorporating aquatic therapy into the list of valuable services you offer.
Have questions? Our design services team can help. Contact us today by calling 800-753-9633, or request product information kit to learn more about our exciting offerings or specific HydroWorx solutions that may interest you.
Request a Free Info Kit     View Our Products     Find a Pool Near You
Page Updated on: November 23, 2020