Your Questions on Aquatic Therapy Answered by Private Practice Clinician
Recently, HydroWorx hosted a live informal Q&A session on the topic of using aquatic therapy in a physical therapy clinic setting. Host, Mike Foster, PTA, Regional Clinical Manager at Peak Performance Physical Therapy located in New York, shared his experiences with aquatic therapy, offered at two clinic locations with the HydroWorx 300 and 500 Series.
28 years ago, the owners wanted to differentiate their clinics from the competition. They were interested in branching off from the traditional land-based therapy by adding a modality that would make patients happy with their progress. After research and education, they decided to incorporate aquatics into their existing programs.
Mike answered common questions that come up from customers and prospects looking to add aquatics into their clinic. Some of the questions and the answers are stated below:
How do you offer variety in aquatic therapy (e.g. equipment)?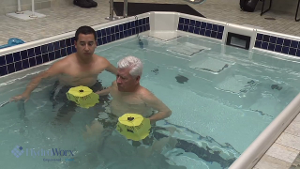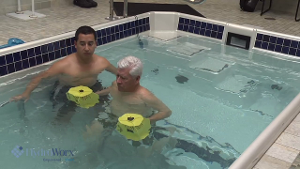 We experience different populations at our clinics such as an eight-year-old with an ankle fracture to a 98-year-old gentlemen using aquatics. You can expand in whichever direction you want to go. Begin by monitoring the patient's progress and craft the program based around their tolerance. You're always able to add equipment into the mix such as kick boards, noodles, and one of my favorites, a floatation device around the patient to engage the core while doing general walking and conditioning.
It is all about the experience while they're at the clinic because it is more than just the actual treatment approach. We play music and make it a fun environment for the patients. There is not one patient that wouldn't enjoy their experience in the pool. They go back to their doctors and tell their friends about the experience in the pool.
What metrics do you use to decide what percentage weight-bearing to start a patient at and when to progress the patient?
We base our metrics off the report from the physical therapist and the patient's overall tolerance on land. Once we create the program for the patient, we get them in the pool and set the weight-bearing percentage around their tolerance. It is always awesome to see the patient gain confidence at this point. As the patient progresses, we continue to increase weight-bearing and continually document and evaluate the patient. After more weight-bearing exercises, we can gradually progress over the next couple of visits and lower the water.
Download "Building a Successful Aquatic Therapy Program."
What is the treatment plan?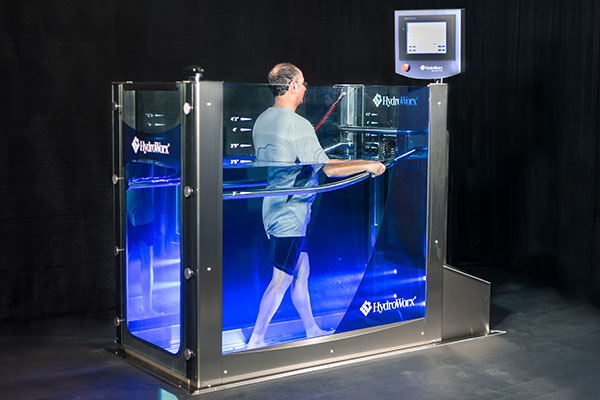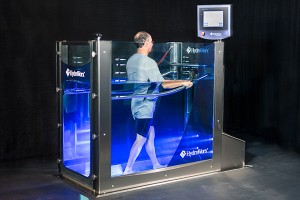 The plan for the 300 is 30 minutes for the best quality of care and maximizing ROI. We offer manual treatment, TherEx (therapeutic exercise) and aquatics during a patient visit. For example: 30 minutes in the pool, 10 – 15 minutes of manual and 15 minutes of TherEx. Keep in mind, it depends on the patient.
Our outpatient approach is one to two days on land and then one to two days in the pool, implemented from the start.
What is the maintenance with a HydroWorx 300?
There is little maintenance with the 300. We had to get used to bromine, but we were surprised by the lack of maintenance needs. The 300 has a holding tank with water and if needed, you can empty the tank and refill in a few hours with fresh water. So, you don't lose a lot of time.
A lot of people ask me if it effects the water bill. No, but it doesn't because the water tank is very similar to a standing pool. The only difference is the water just goes back and forth from the unit to the water reservoir tank.
How are your patients responding to get in a bathing suit and getting in? Are there issues getting compliance with that?
Sometimes, it is difficult to initially convince patients to get in but we got creative by putting a partition to block the audience from seeing in the 300. Always remind patients that they don't have to get into a bathing suit, they can wear standard gym clothes rather than a bathing suit.
Do you offer a cash component post rehab for those that still want to come in? Is this something you market to doctors?
Honestly, it sells itself 75% of the time. The patients like that they're by themselves, see fancy lights in the 300 and the overall benefits of raising different levels of the water are big enough reasons.
The doctors we have good relationships with only refer to us because we have the pool. We receive 60% of our referrals from doctors. We offer a gait and balance stability program in-order to differentiate ourselves. Doctors want to see positive results and a happy patient and 95% of our patients leave happy.
Where can I find more resources?
Adding aquatics to the clinic allowed Mike and his team to eliminate some of the boundaries that patients run into with weight-bearing issues and separate themselves from the competition.
Are you interested in adding aquatic therapy in your clinic? Download "Building a Successful Aquatic Therapy Program" to learn more.