Still Looking for a New Year's Resolution? Start An Aquatic Wellness Program.
As we enter into a new year, you may find that new business opportunities lie with the health and wellness of your local community.
A key factor in whether or not to introduce any health and wellness program in your clinic rests with the interest among clients within your community. As community members actively seek health and wellness opportunities, these programs are likely to become an increasingly important part of any physical therapy clinic's growth strategy.
Tips for Implementing Health & Wellness Programs in Your Clinic
With a bit of research and creative programming there are many things you can do to keep clients healthy and happy and returning to your facility.
Here are a few tips to help you get started:
Survey the Audience. Find out what aspects of a health and wellness plan that your patients would find the most value in. Survey patients to find out what health and wellness concerns they have. Combined with your knowledge of patient health histories, build the wellness program from resources you have at your disposal. Place a modern twist to the program to boost popularity.
Assemble a Team. A good starting place for a successful wellness program is to establish a team to oversee the development and implementation. Use existing employees or hire a wellness director to champion the new offerings. Make sure the goals and objectives of each team member align to improve the program.
Set Goals. Success is based on customizing programs to your specific population's needs and interests. Determine the goal of the program with these needs and your financial goals in mind. Identify how many participants you would need at what fee in order to see a return on the program.
Create Manageable Steps and Achievable Timelines. A timeline that is either too short or too long can either stall participation or create undue stress. Be cautious when putting together timelines. Give yourself time to ramp up and then weigh the positives and negatives for the future.
Marketing the Program. It is very important to market the wellness program to make clients and your local community aware that the program exists and to motivate them to take advantage of it. The planning process itself can be a powerful marketing tool. Launch the program on all social media networks, create tangible copies of flyers to hand out or mail to the community and utilize the resources in your backyard to advertise by partnering together.
When implementing a wellness program, The National Wellness Institute devised three questions that can help assess the degree to which wellness is incorporated into the particular program:
Does this help people achieve their full potential?
Does this recognize and address the whole person (multi-dimensional approach)?
Does this affirm and mobilize peoples' positive qualities and strengths?
Invest in Your Patients by Enhancing the Program with Aquatic Therapy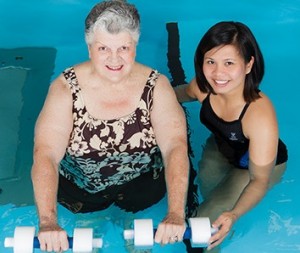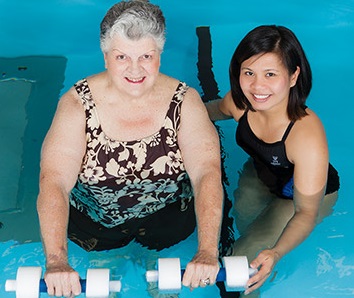 Aquatic exercise continues to grow in popularity as a safe complement or alternative to traditional land-based wellness that is suitable for children and adults of all ages and fitness levels. Aquatic wellness programs are often offered as a fee-based service either as group programs or individual sessions to supplement revenue sources. An aquatic wellness program can be used to help a variety of individuals reach their goals, whether they are to run a marathon, or simply to feel more independent while performing activities of daily living. Here are a few types of individuals that can benefit from aquatic exercise:
Overweight individuals who find it painful to exercise on land
Deconditioned individuals who want to be healthier and improve their cardiovascular conditioning
Individuals prehabbing or rehabbing from a hip or knee replacement
Individuals suffering with chronic pain, osteoarthritis, fibromyalgia or arthritis
Individuals with limited mobility such as a traumatic brain injury or stroke
Elite athletes or weekend warriors looking to recover or supplement land mileage
Water's natural properties create an ideal environment for wellness and fitness. The following properties of water are extremely helpful:
Warm water provides a relaxing and soothing environment for aching joints and muscles. For many individuals, fitness goals feel unattainable due to pain.
Water's natural viscosity or resistance can be used for muscle strengthening and increasing the difficulty of a workout.
Buoyancy allows for flotation and reduces the effects of gravity on injured or aching joints and muscles. For individuals that have an injury or are overweight, the unweighting offers relief and an opportunity to do more than they are able to on land.
Hydrostatic pressure supports and stabilizes the client, allowing people with balance deficits to perform exercises without a fear of falling, decreasing pain and improving cardiovascular return.
The respiratory muscles are forced to work harder in the water, allowing for a natural strengthening that benefits the client long after the therapy session has ended.
Barb Cacia, BS Ed., Wellness Coordinator at Pieters Family Life Center, offers many successful aquatic wellness programs at her facility and shares some creative ways for structuring a class as well as engaging participants. Prior to implementing a new aquatic wellness program, it is important to understand how many wellness dimensions can be incorporated. Engaging participants in conversations, jokes and trivia are ways to incorporate the intellectual, social and emotional dimensions of wellness into the physical exercise program.
"Wellness is so much more than moving your muscles, eating veggies and doing yoga! It's the inter connection of body, mind and spirit! The warm pool temperature provides the participant with comfort, buoyancy and ease of movement. Which in turn decreases the stress on the participant, so physically and emotionally people are more open to wellness suggestions and lifestyle changes! After a few weeks of water exercise people leave the program with a positive outlook, increased abilities and feeling good about themselves and their bodies!" – Barb Cacia, BE Ed. Wellness Coordinator at Pieters Family Life Center.
To learn more about the benefits of aquatic wellness programs, download our whitepaper, "Why Water Worx for Wellness Whitepaper."