Increase Medicare Revenue with Aquatic Therapy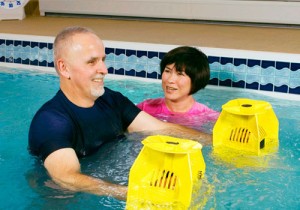 The following blog post has been summarized from the recent article, "Expanding Medicare With Aquatic Therapy," written by David Panteleakos, administrator for Westview Health Care Center in Dayville, CT and published on December 17, 2015 online for Provider Magazine.
Senior-focused health care centers such as skilled nursing centers must continue to grow and expand their revenue in this increasingly competitive market. When looking for ways to attract additional inpatient and outpatient Medicare populations, Westview Health Care Center looked at aquatic therapy as a way to positively impact their brand image and revenue.
In this article, David Panteleakos discussed the ways that aquatic therapy is beneficial for Medicare patients:
Warm water therapy is rare in many markets. While aquatic therapy is offered in many places, it is often in a colder water, public swimming pool with lower water temperature. Offering a warm-water therapy pool with advanced technology makes the facility very attractive to those looking for top-notch services that offer innovative ways to stay healthier longer.
Aquatic therapy benefits a multitude of conditions. It is a great modality for active aging, recovery from surgery and gait and balance improvement. Westview considers it a "reinvestment in a population that is dealing with the natural process of aging."
Doctors begin to refer patients. Once doctors begin to the see the positive effects that aquatic therapy is having on their patients, they become a valuable referral source. As the cycle of positive feedback and increased referrals continues, revenue continues to grow.
"Aquatic therapy and exercise is a refreshing, appealing, fall-proof way to safely combat the problems that come with aging." – David Panteleakos
As bundled care continues to change the healthcare environment with changing reimbursement, regulations and patient expectations, aquatic therapy can provide a solution to improve outcomes, increase revenue and exceed patients' goals.
To learn more about Westview Health Care Center and the impact aquatic therapy has had on their facility, download this program profile>>