Is Underwater Treadmill Training Valuable for Athletes?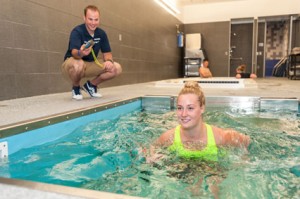 Numerous studies have shown the benefits of running underwater and using an underwater treadmill.
University Of Idaho Study
One study, in particular, done by the Division of Health, Physical Education, Recreation and Dance from the University of Idaho 'investigated the cardio-respiratory responses elicited during maximal-effort runs' using an underwater treadmill and a land treadmill.
There were 23 'recreationally competitive male and female runners' used as the participants for the study. Each individual performed 'two maximal-exertion runs', one on the land treadmill and the other on a HydroWorx underwater treadmill.
The researchers measured cardio respiratory rates, perceived exertion and blood lactate after each run (measured breathing, tiredness and oxygen/lactic acid levels in blood).
The runs were separated by 48 hours to allow proper recovery.
The results of the test demonstrated similar outcomes for land treadmills and underwater treadmills. However, 'heart rate decreased during underwater treadmill exercise.' The researchers concluded that the underwater treadmill is a viable training alternative to maintain or improve fitness levels for injured and healthy athletes.
Additional Resources
To see a full overview of all of the research on a HydroWorx underwater treadmill, download our free Research Studies Book here>>