Aquatic Therapy For Rotator Cuff Patients | Case Study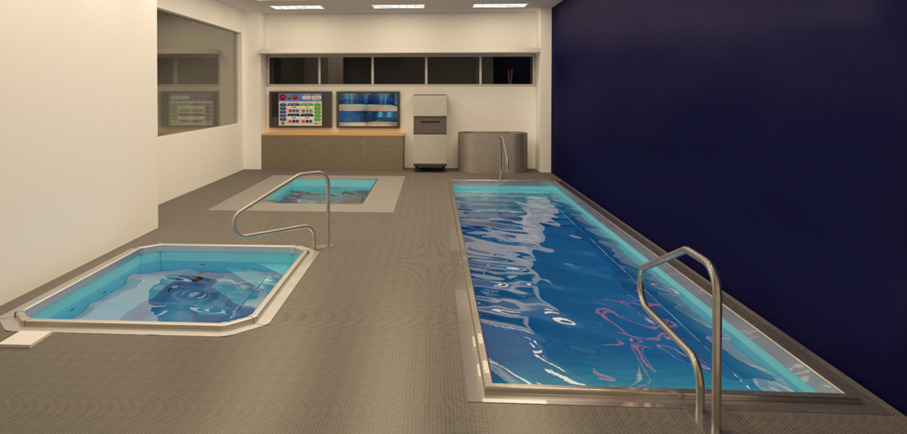 Rotator cuff injuries can occur while playing a sport, participating in an activity, or even from simple wear and tear. For sixty-nine year old Charles, a patient at Peak Performance in Lynbrook, NY, wear and tear of his rotator cuff weakened the joint and eventually required him to undergo surgery. Four weeks after his surgery, Charles was able to start his rehabilitation by participating in aqua therapy with an Aquatic Therapist from Peak Performance, Olmer Cruz, in the HydroWorx 500 Series Pool.
Cruz sums it up by stating there are two motions that the muscle makes when attempting to rotate the shoulder. The first motion that takes place is the muscle being placed inside the socket. Once the muscle is placed, the arm is then able to be lifted up. When performing aqua therapy the water eliminates the need for the first step. As the patient enters the pool, the water is able to guide the muscle into the socket. Therefore, all the patient needs to do is develop the strength to lift their arm in an upward and downward motion.
"If I see somebody's shoulder not progressing, their getting that stiffness, pain, really can't move, the pool is a perfect solution for that" -Olmer Cruz
Throughout the therapy, Cruz offers multiple exercises and tips for faster and healthier rehabilitation. One of the many benefits of rehabilitation in water is how the warm water actually relaxes the muscles, while decreasing the pain. An important factor to remember for the patient is to keep the shoulder underwater while performing the exercises to allow for faster healing and proper procedure. The beauty of performing these exercises underwater is that Charles is able to do any exercise he would on land but without the pain and discomfort to his shoulder. Protocols that couldn't be performed on land due to pain levels or inabilities are done in water with much greater ease.
Request a Free Info Kit     View Our Products
Aquatic Therapy Exercises For Rotator Cuff Injuries
Forward and backward circle motions
Utilizing paddles for upward and downward motions at 90 degree angle with resistance
Standing patients at an angle to perform exercises, allowing for 120 degree motion
Bicep and tricep curls with resistance
Wall push-ups
Benefits Of Aquatic Therapy On Rotator Cuffs
Another advantage to using aquatic therapy technology is deep tissue massage. For a rotator cuff rehabilitation in the pool, Cruz looks to accomplish four things with the underwater massage using the resistance jets and massage hose:
1. Take away the pain from the patient.
2. Increase the patient's range of motion.
3. Increase the patient's strength.
4. Get the patient back into a normal life