One Month into the New Year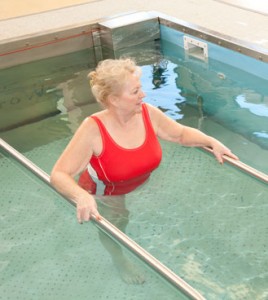 Don't let your residents lose focus on healthy goals. Try These 25 Awesome Aquatic Exercises Perfect for Aging Adults!
Aquatic exercising in a HydroWorx therapy pool might just be the best kept secret to keeping people active and healthy throughout their lifetimes. It can even be done by individuals with limited mobility, without fear of falling. Of course you want to ensure that your residents, patients and community memebers are getting the most from their underwater workouts. That's why we're sharing with you our 25 best aquatic exercises perfect for aging adults! These exercises are ideal in a HydroWorx pool, but can be adapted for any pool. Use them to increase cardiovascular endurance, improve balance and increase strength
Basic Aquatic Warm-Up Exercises – with Underwater Treadmill Floor Off
Hold onto the handrail in the middle of the HydroWorx pool and swing one leg backward and forward slowly, like a pendulum. After several repetitions, repeat with the other leg. Maintain posture throughout the exercise by looking ahead.
Hold onto the bar and step first to the left side, and then to the right side. Make the steps comfortable, but slightly challenging. Repeat several times.
Standing in place, lift one knee as high as is comfortable, and then slowly let it come down. Repeat with the other leg. Alternate between legs to loosen muscles and joints.
Hold onto the bar and curl one leg behind, working the hamstring. Lower it, and then repeat with the other leg. Repeat.
With fingertips on the safety bar, sweep one arm out to the side, and then the other arm to the side.
Stand up tall and use the bar if needed. Move hips in a circular direction, like a hula dancer. Then, change the direction.
Putting hands on the bar, do a squat or deep knee bend. It should not feel uncomfortable but should give a bit of a stretch in the legs and buttocks.
Keep hands on the bar and conduct a modified standing push-up. You can increase the difficulty by moving your feet closer together. This can also be achieved along the wall of the pool.
Hold the bar and pick up the back foot, then rock to the front and pick up the front knee.
Bend knees and get shoulders in the warm water. Rise up slowly and with good posture.
Rotate trunk with arms wide open to take advantage of the warm water.
Basic Aquatic Exercises – with Underwater Treadmill Floor On
Begin walking at a comfortable pace on the underwater treadmill. Swing arms, if able. Use bar for control and stability, if needed.
Lift knees while walking, creating a marching cadence and stride.
While walking, look to the left and then to the right.
Turn to the side and walk backwards. This retro walk can be made safer with use of the handrail.
Walk backwards and turn the head from side to side.
Walk in an aerobic V-step pattern right leg out, left leg out, right leg in and left leg in. Repeat.
Return to a regular walk and increase the treadmill speed.
Advanced Aquatic Exercises – with Underwater Treadmill Floor On
Stay close to the bar and start to track sideways while still moving with the treadmill. Go back and forth across the width of the HydroWorx therapy pool.
Try a sideways side-step while moving backward and then forward in the water.
While walking, take a regular item like a colander or small plastic laundry basket and use it to provide arm resistance.
Use the colander or small plastic laundry basket to try to control a pool ball while walking on the underwater treadmill.
Turn the jets on in the HydroWorx therapy pool for added resistance.
With the jets turned on, try to pass the small laundry basket from one hip to another while maintaining a normal walking gait.
Turn the jets off and try more complicated walking patterns, such as diagonal patterns without the use of the bar.
Want to see these aquatic therapy exercises in action? Check out our exclusive webcast on-demand with Kim Eichinger, the Executive Director of Fitness and Theresa at Country Meadows Retirement Communities in central Pennsylvania.
How to Keep Aging Adults Active in and out of the Pool
Arrange regular field trips for groups to keep their socialization high when they aren't exercising together in the HydroWorx pool.
Have baby powder on hand to help make dressing after the pool much easier.
In a group setting, make sure all older adults are first comfortable in the water. Do this by giving them one-on-one sessions or sessions with one of their trusted buddies before including them in a larger group class.
Show off the HydroWorx to residents and prospective residents. The new technology attracts plenty of people who want to stay fit as long as possible!
Keep the underwater treadmill speeds at appropriate levels for the aging adults. Most of the population over 70 years of age will be challenged with speeds between one and two miles per hour.
View this FREE on-demand webinar: "Road Map to Creating a Successful Aquatics Program for Seniors" presented by Rachel McDermott, PTA, former Director of Rehabilitation and Paula Osterberger, Wellness Director at Stonehill Care Center. View this on-demand webinar here.