What it Means to be a HydroWorx Customer
When you invest your time, energy and finances to integrate a HydroWorx pool into your facility, you don't just get a pool.
We want you and your organization to succeed. We are committed to helping your aquatic therapy program thrive and could not be more delighted to have you join our ever-growing list of customers.
Services HydroWorx Customers Recieve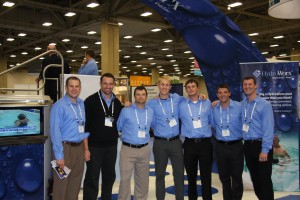 As a HydroWorx customer, we'd like to encourage you to take advantage of the following services:
Project Design
We have a design team on staff that is available to assist with your project design and planning needs.  They are equipped to provide pool room design ideas, drawings and suggestions throughout the installation and planning process.
Marketing
Nationally and Locally Released Press Releases. We are happy to disseminate press releases on the national wire on your behalf. We'll even help write the release if you need assistance doing so.
Facility Spotlight Feature on the HydroWorx Blog. We love promoting our clients on our blog.  This is a great way to drive awareness and traffic to your facility's website.  We also love promoting your milestones through social media. By tagging our clients, we have helped to increase their online engagement.
Free Use of Our Photos, Videos and Other Marketing Collateral. If we own it, you can use it! Want to create a brochure for your new aquatic therapy program but don't want to pay for a photographer? We'll gladly allow you to use any image we own for your brochure. This also applies for images or videos needed for your website.

World Class Service

Be Featured in HydroWorx Marketing Collateral. We are always looking for great content. Whether it is filming clinical case study videos, writing articles for our blog or for a trade publication and even speaking at trade shows or webinars, we are always looking for experts in the industry. We love promoting our customers who are doing amazing things in the water.
Customer Service
HydroWorx is unique in that we have our own in-house service team and technicians. These highly trained and specialized professionals are committed to meeting all of your customer service needs.  Our service technicians are HydroWorx employees who have detailed working knowledge of the intricacies of the HydroWorx pool systems. They are prepared to assist you on the phone or on-site 24 hours a day, seven days a week. Customer peace of mind is assured by our available extended service plans.
"Our HydroWorx service technician was very thorough and took time to explain what was done and potential concerns.  He even took the time to answer multiple questions that we had and remind us how to properly maintain our pool.  He appeared very passionate and competent with knowledge of the pool.  My team and I were very pleased."  — Tara M.
 Are you interested in learning more about the benefits of aquatic therapy? Download the "5 Ways Aquatic Therapy Impacts Rehabilitation" tip sheet today!