Making Waves from Rehabilitation to Recovery: Aquatic Therapy is a Versatile Modality for a Wide Patient Population
Discover how to unlock the versatility of aquatic therapy
Have you heard aquatic therapy is only for walking and running? Or, perhaps you've heard aquatic therapy is just for athletes? The truth is, aquatic therapy is a versatile treatment option that provides value for a wide range of conditions and patients.
We had a chance to sit down with Aaron Borgmann, from Borgmann Rehab Solutions, to talk about how he's translated his experience with aquatic therapy as a former NFL Athletic Trainer and current physical therapist to serve a wider patient population with his own rehabilitation practice.
Aaron commented that "I think it's an invaluable tool for obviously elite athletics, but also for any place." In this article we'll uncover the creative ways that Aaron is leveraging aquatic therapy in his new practice to make aquatic therapy accessible to all.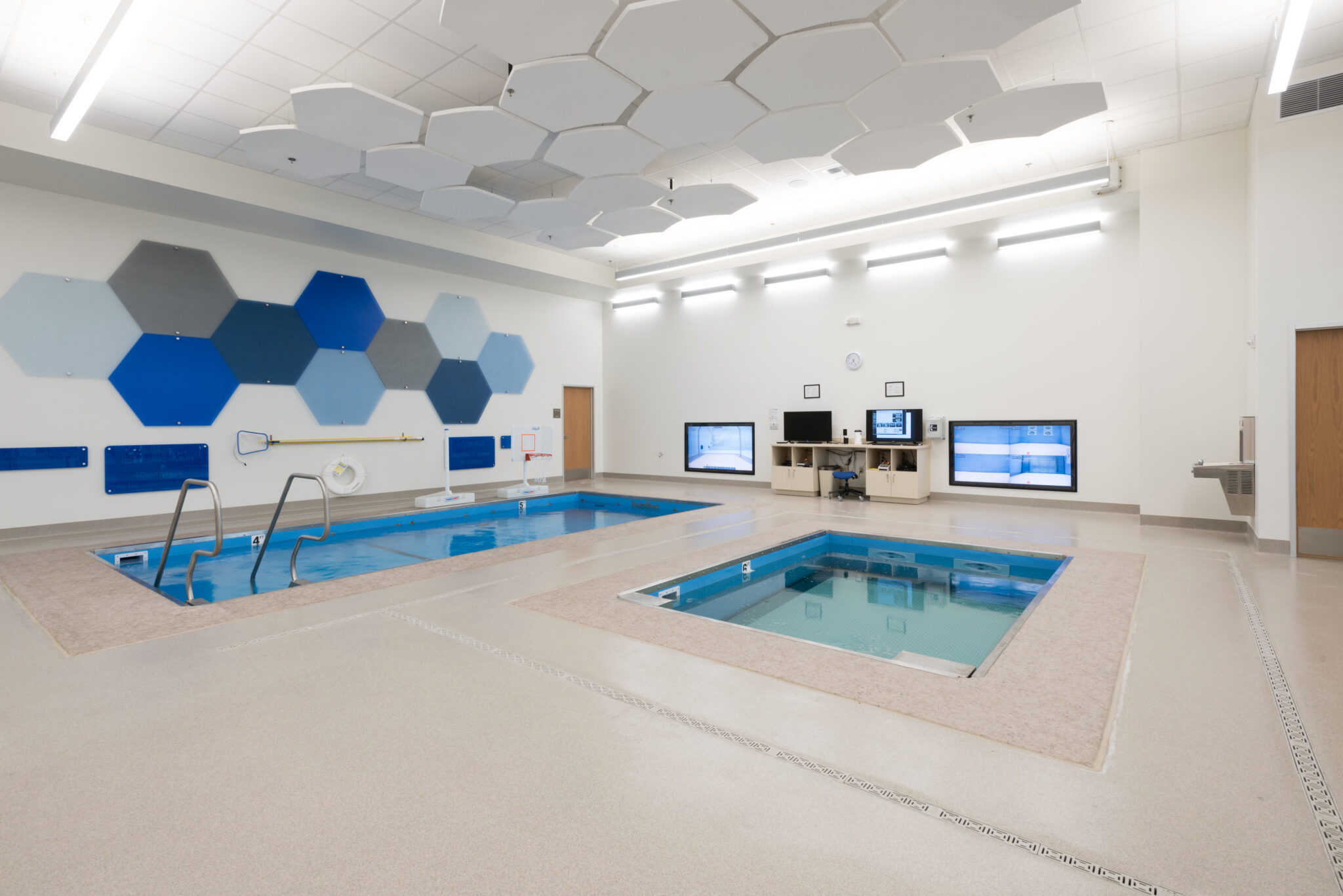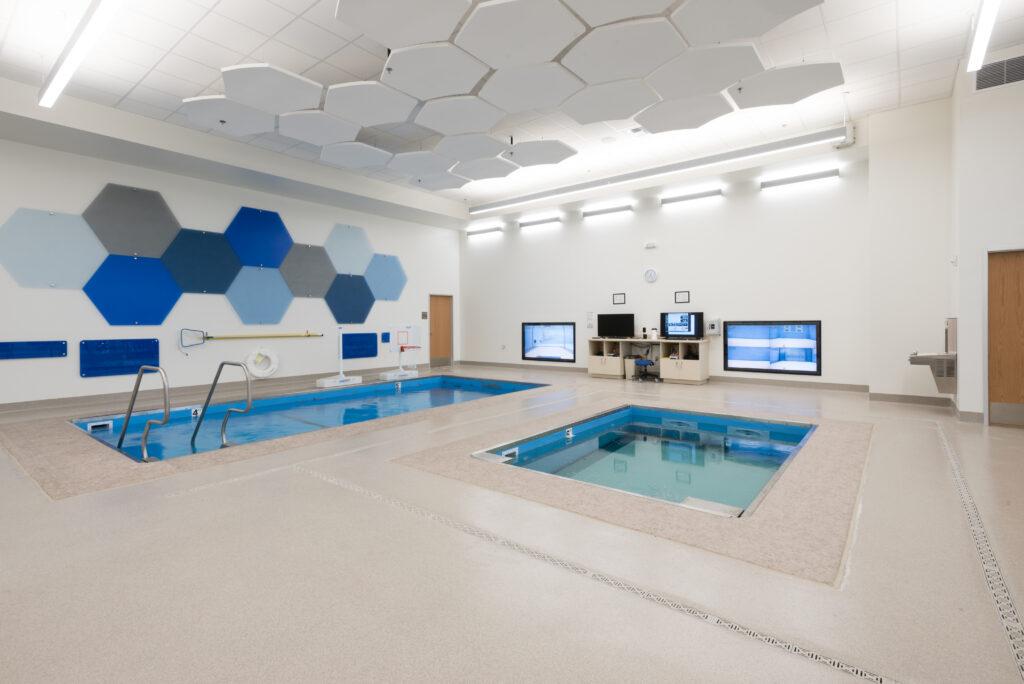 All Patient Types Benefit from Aquatic Therapy
When Aaron started his own practice his patient population changed overnight. Instead of treating 100% elite athletes he has expanded his scope to treat every type of patient–adolescents, seniors, weekend warriors, you name it and he sees it.
From post-surgical patients to retirees looking to get into better shape, he's using aquatic therapy to help people achieve their goals. Patients recovering from surgery have improved range of motion and accelerated healing times when they begin aquatic therapy soon after surgery. Aaron utilizes aqua socks on some of his patients to protect the surgical site and collaborates with the patient's doctor on a plan of care. Patients enjoy aquatic therapy because it's typically much more comfortable than walking on land during post-surgical and post-injury rehabilitation.
"A lot of times people are excited when I get them into a pool…they're like 'We get to do water rehab?!' and I'm like yeah let's go!"
For those experiencing aquatic therapy for the first time they're often amazed at how good they feel when they get out of the pool after a rehab session.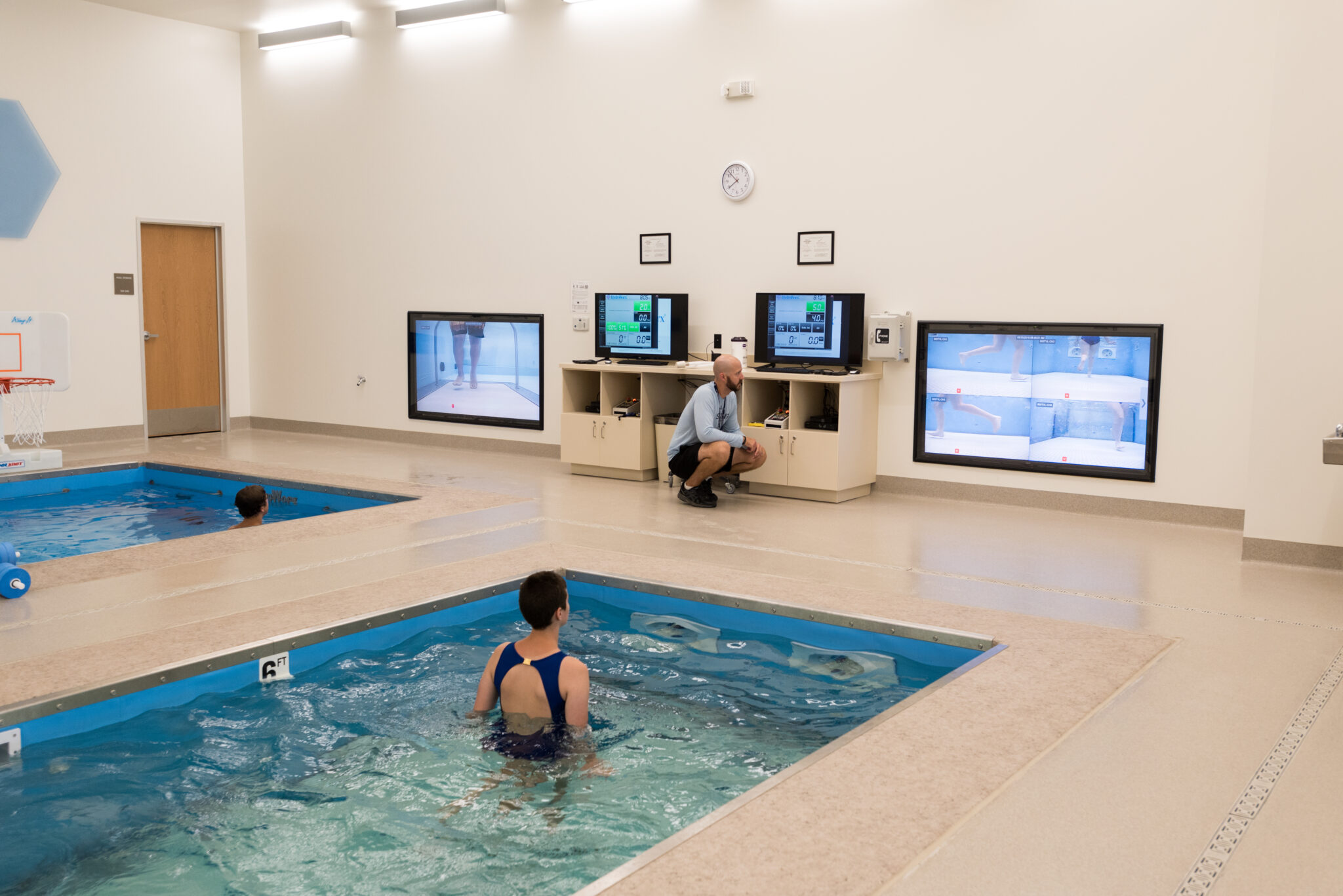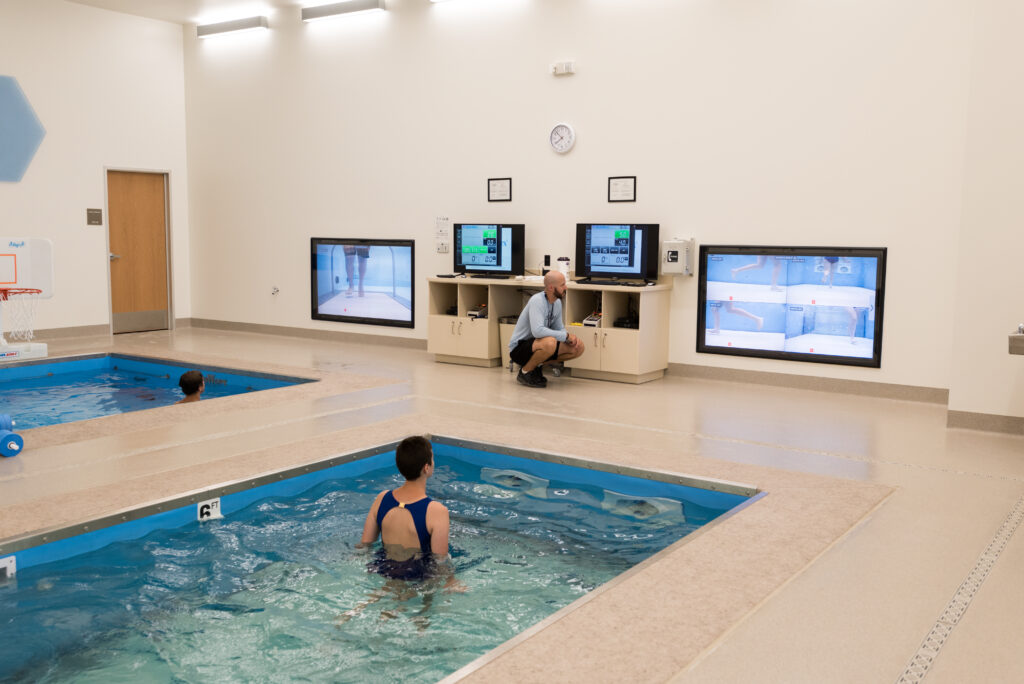 Aquatic Therapy as a Whole-Body Treatment
It's a common misconception that pools and treadmills are just for walking. Aaron shares a few ways he has maximizes utilization of aquatic therapy for a full body treatment:
Recovery. In his time in a professional sports setting, Aaron leaned heavily on aquatic therapy for recovery. Aaron notes "We could drop the floor all the way down and let guys float in there. We would turn the jets on with the massage hoses and strip out their lower back muscles and their glutes." Aaron also encouraged athletes to spend time in the pool the day after competition as a recovery treatment. The aquatic environment enabled deloading and movement after periods of high activity.

Rehabilitation. Aquatic therapy can help patients rehabbing from surgeries such as hip replacements by helping them retain balance and comfort walking forward, backward, and laterally.

Conditioning. When training professional athletes Aaron would place agility dots inside the treadmill for the athletes to practice footwork with touching the dot taps.

"You can do anything in the HydroWorx that you can do on land."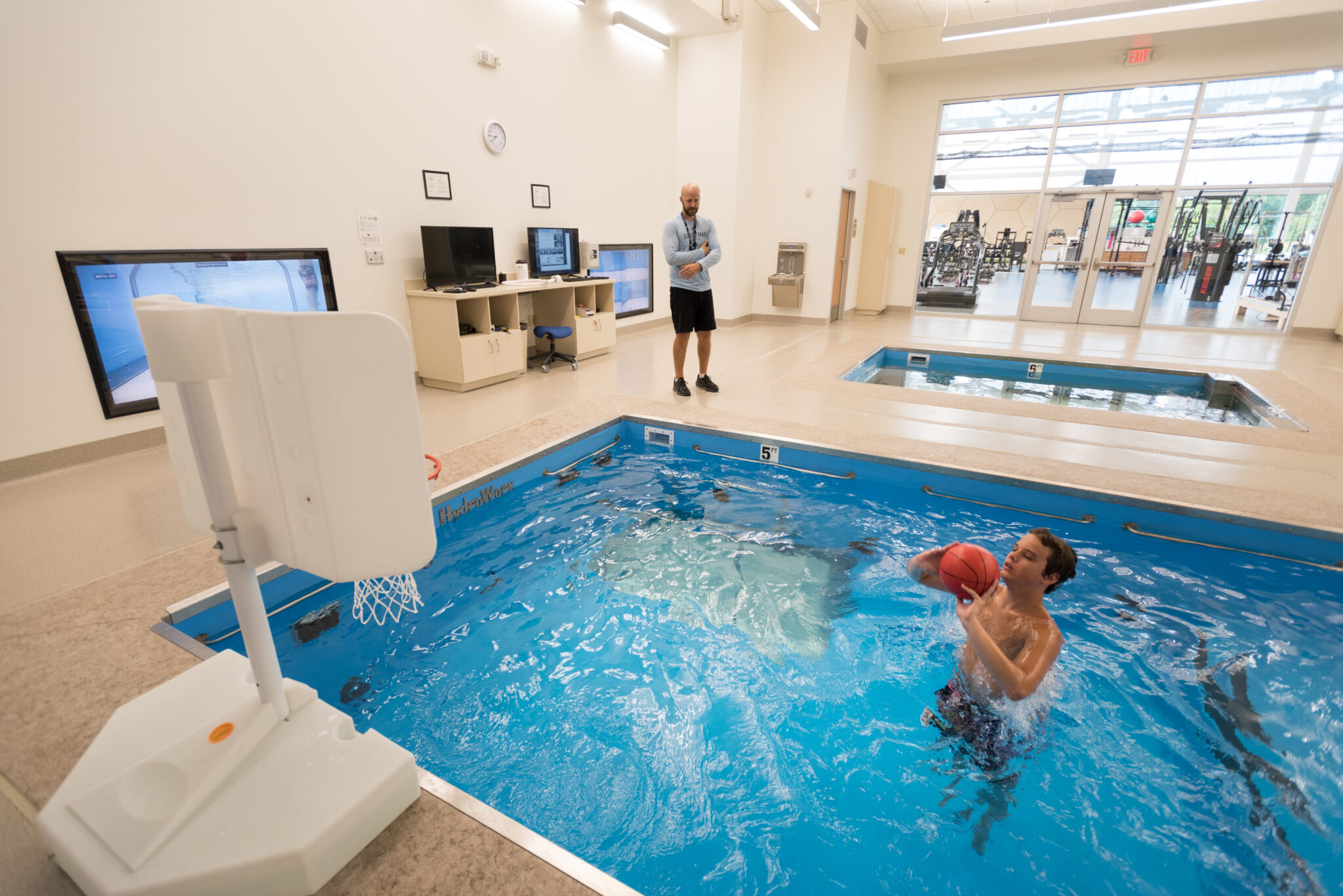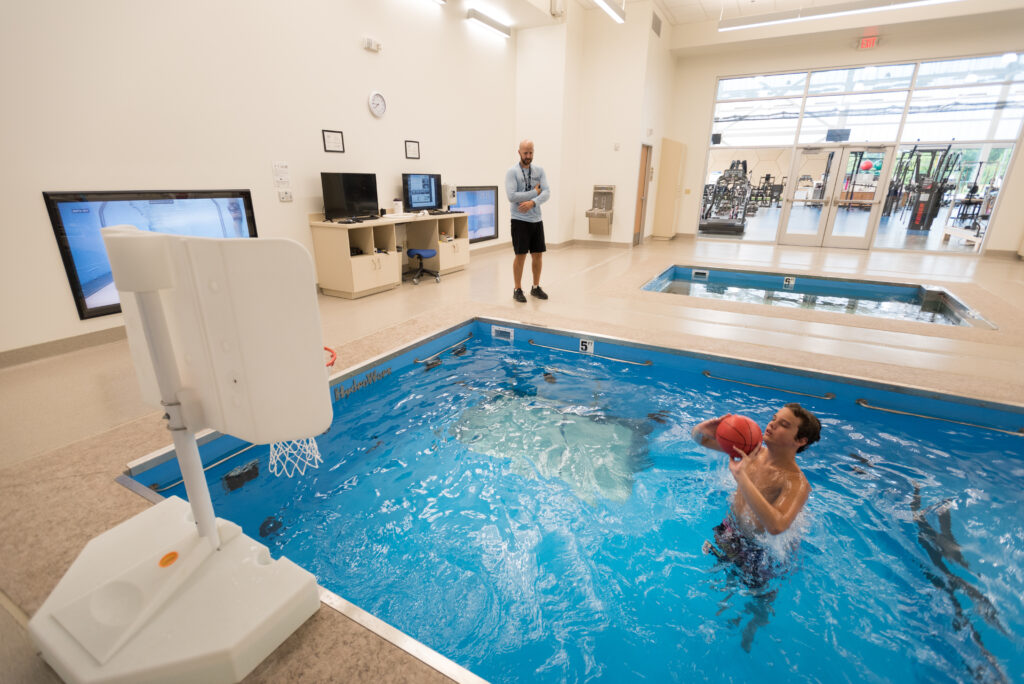 Creativity
The key to creating aquatic therapy programs is creativity. Don't be afraid to step outside of the box. It takes trial and error to find the right exercises that will work for your patients. Aaron comments that he's come up with his own games over the years to engage his patients, "You come up with a good idea and you realize, at waist height this will work, but not at shoulder height because you're too buoyant. Then you'll try it in a different position until you find something that works."
Adapting Land Workouts for the Water. Aaron had a NFL player who was recovering from surgery who was not permitted to do bodyweight plyometric exercises. Aaron adapted a full P90X plyometric workout for the pool to reduce the weight and enable him to keep up his workout schedule. Aaron also notes that another easy way to adapt land exercises is to place boxes into the water to do step-ups. Almost any exercise that can be done on land can be adapted to water to either make it easier for rehab patients, or more challenging for conditioning purposes by adding resistance and speed.
The More the Merrier. Aaron comments "I think people need to understand how much you can do with multiple people in the pool at the same time." He notes that he regularly treated 4 offensive linemen in the HydroWorx 1200 pool, which allowed him to make the most of his time with the players, and get maximum utility out of the pool.
"I have created rehab programs to literally do everything in a pool."
Patients Just Want to Have Fun. Rehabilitation is best when it's engaging. Leveraging toys and games is a great way to create effective therapy that patients actually want to do. Aaron mentions a drill he created where they placed 3 Swiss balls in the treadmill and cranked the speed up for the athlete to doge as they were moving through the treadmill while the trainers pushed the balls at the athlete from all different directions.
Thank you Aaron Borgman for sharing your time and insights. Visits Aaron's website for more information about Borgman Rehab Solutions.
Unlock the Versatility of Water
Contact us to find out how aquatic therapy can fit into your practice.
About Aaron Borgmann
​​Former NFL Physical Therapist and Athletic Trainer, and Borgmann Rehab Solutions Founder, Aaron Borgmann spent years putting injured players back together and back onto the field.
After growing up in St. Louis, Aaron worked as an intern with the St. Louis Cardinals and St. Louis Rams before moving on to NFL Europe, then was hired away by the Philadelphia Eagles. He spent 7 years in Philadelphia with the Philadelphia Eagles and NovaCare before relocating to Kansas City to be the physical therapist/athletic trainer for the Kansas City Chiefs.
He has worked with professional athletes from NFL, MLB, MLS, WTA (Professional Tennis), WUSA (Women's Professional Soccer) as well as countless amateurs and active adults.
In addition to sports injuries, Aaron enjoys taking care of all orthopedic conditions including joint replacements, spinal injuries and those looking to continue an active lifestyle.