Life-Long Maintenance of Thoracic Outlet Syndrome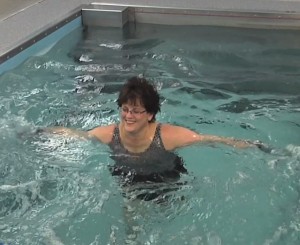 Lori Durenleau had worked as an Industrial sales representative until one day a 62 pound box of nuts and bolts fell, impacting her head, shoulder and leg. This injury triggered a life-long battle with Thoracic Outlet Syndrome (TOS). Thoracic outlet syndrome is a result of the compression of nerves and/or blood vessels between the base of the neck and the armpit.
Treatment for TOS can include physical therapy, adjusting one's stance and shoulder positioning, pain reducers, and in severe cases, surgery. The accident also caused long thoracic nerve palsy resulting in winging of the scapula as well as Phrenic nerve damage.
A long thoracic nerve injury can cause paralysis, pain, weakness, limitation of shoulder elevation and can be completely disabling. Lori woke up from her thoracic surgery unable to move her arm. Lori also experienced winging of the scapula, which meant that not only was Lori unable to move her arm of her own accord, but also that her scapula protruded at an awkward angle from her body. For the next two years, her dominant right arm hung lifeless at her side.
The phrenic nerve is responsible for the control of the diaphragm, the primary muscle involved in breathing. The damage to this nerve has caused a continued need for Lori to build and maintain the strength of her diaphragm muscle in order to maintain her respiratory function.
Lori searched relentlessly for answers to beat the odds in her recovery. In her search, she came across the aquatic therapy program at The Hetrick Center in Middletown, PA.
Request a Free Info Kit     View Our Products     Find a Pool Near You
Aquatic therapy has been a blessing for Lori. Today, she has regained almost all arm and shoulder function, and her aquatic therapy keeps not only her arm, but also her respiratory system functioning well. Although, she has been coming to The Hetrick Center for 15 years, the improvements are still obvious.
Over the years, Lori has tried to use only land therapy, but she has noticed that when her aquatic therapy is eliminated from her therapies, her medication intake increases, and her scapular winging returns. So, today Scott Colman works tirelessly with Lori in the HydroWorx 2000 Series pool to create new, creative and innovative exercises to continue to advance Lori. Even after all these years, the possibilities are endless because as Dr. Colman points out water allows you to be creative.
Here is what an average aquatic therapy session might entail for Lori today:
Running
Shoulder Abduction and Extension
Bicycles
Dumbbell Curl/Press
Narrow Dumbbell Fly
Abduction/Adduction
Lateral Dumbbell Raises
Shoulder Press and Core Stabilization
Watch videos of her case history and her pool session below:
Request a Free Info Kit     View Our Products     Find a Pool Near You