Increase Mobility After Lumbar Spinal Fusion Using Aqua Therapy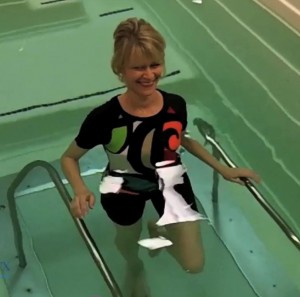 A lumbar spinal fusion is a major surgery that requires a lot patience for recovery. The purpose of this surgery is to join, or fuse, two or more vertebrae in the lower back using either bone grafts or metal implants. Once fully healed, the permanently joined vertebra act like a single, stable, and solid bone. The purpose of this procedure is to relieve pressure and pain and to restrict the movement of sensitive and aching joints.
During the months following a spinal fusion, patients must be very careful to avoid unnecessary motion and stress on the fused joints. This time is vital because it takes months for the vertebrae to fully fuse. During this post surgery fusion period patients must avoid bending, lifting, and twisting, due the stress these movements incite on the spine.
Request a Free Info Kit     View Our Products     Find a Pool Near You
Judy Bryan, age 55, came to Premier Rehab two and a half months after having surgery. She had suffered from scoliosis since early childhood, but the increasing pain had finally convinced her to look into surgery, something Judy was very wary of doing. Judy ended up having lumbar spinal fusion from T9 to sacrum, totaling nearly half of her back. When she began physical therapy at Premier Rehab she was still in a great deal of pain and could not even sit to complete her initial evaluation.
Brad Stucky, Physical Therapist at Premier Rehab, had Judy begin aqua therapy in their HydroWorx 500 Series pool during the first visit following her evaluation. The buoyancy and resistance of the pool allowed Brad to work with Judy to reeducate her muscles without the pain inhibition that prevents movement and causes muscle guarding.
Stucky instituted a core lumbar stabilization program focusing on muscle reeducation, scapular strengthening, and endurance. Some of the protocols he used included:
Marching in Place
Hip Abduction, Adduction, and Extensions
Squats
Step-Ups
Single Leg Balance
Single Leg Extensions
Shoulder Extensions
Alternating Shoulder Extensions
Dumbbell Fly
Shoulder Rotation
Walking on the Underwater Treadmill
Walking Backwards on the Underwater Treadmill
Side Stepping on the Underwater Treadmill
Through encouragement and direction form Brad Stucky, Judy Bryan has since been discharged and is able to perform daily functions on her own. She attributes much of her success to working with Stucky and using aquatic therapy. To learn more about Judy and her recovery process watch the two videos below:

Page Updated on: July 9, 2020