Hydrotherapy, a Key Component for the Premier League
One day it's a patient at a clinic, the next day it's a Duke basketball player and today, it's all about the Premier League Football Clubs. The stories of facilities, individuals and teams that are using and benefiting from the pools are continuing to grow. But what's even more interesting, is that each story is unique.
A recent article was published in the March 2013 issue of FCBusiness titled, "Revolutionary Aquatic Therapy Equipment Hastens Healing of Footballers' Injuries." This article discusses the effectiveness of the pool and underwater treadmill for these elite athletes. The most common body locations for football (soccer in USA) injuries were to the ankles, knees, thighs and calves, which does not come as much of a surprise. However, these athletes are now realizing that advanced aquatic therapy in a HydroWorx pool, with variable-depth underwater treadmill can speed the healing process.
John Davin, 1st Team Physiotherapist for Manchester United, has been and is using the pool for his athletes for recovery and as a rehabilitation tool. Manchester United's star winger, Antonio Valencia suffered a serious ankle injury in 2010, and Davin incorporated aquatic therapy sessions into Valencia's rehabilitation program.
"Pretty much all our injured players experience some time in the pool during their recovery. We've had everything from ankle strains, ACL tears and lumbar stress fractures, to shoulder dislocations. The pool treadmill affords the opportunity for the athlete to return to functional movement patterns in a reduced load environment. The pool certainly assists us in preparing our players to commence full weight bearing running following injury. It also allows us to implement a functional recovery strategy."-  John Davin
In addition to Davin at Manchester United, Chelsea Medical Department, another Premier League team, confirms that aquatic therapy is an essential part of their daily player management. The HydroWorx 2000 Series pool is utilized for the rehabilitation of athletes as well as recovery and regeneration.
The HydroWorx allows us to introduce high quality, functional multi-directional movement and conditioning work significantly earlier than we could normally introduce on land, which for us results in earlier return to training and playing.- Chelsea Medical Department
In American football, Adrian Peterson's story is one that become quite the topic of conversation. Peterson, similar to Manchester United and Chelsea, made use of the pool for his ACL and MCL surgery recovery. The standard recovery period for this type of knee rehabilitation is typically 9 to 12 months and Peterson was back in action at 100% within in 8.5 months.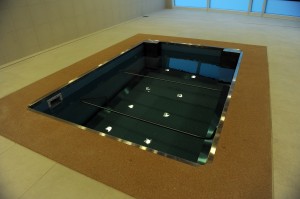 All three of these experiences with Peterson, Chelsea and Manchester United, emphasize the 'importance of early, pain-free movement for faster sports injury recovery than could be achieved in a land-based environment alone." Because of the fact that water eliminates up to 90% of an individuals body weight, 'footballers and experts have urged that the underwater treadmills also be utilized for sports enhancement with out the potential harm of overuse injuries.' Along with the Premier League's use of aquatic therapy, St. George's Park National Football Center installed a 2000 series unit as an athletic performance tool, not solely a therapeutic device. This pool is open to all English national football teams for coaching and development work.
Well known and respected athletic performance director, Lance Walker, Director of Performance for Michael Johnson Performance, is able to put all of this together in one statement. "Hydrotherapy has always been an invaluable part of my toolbox in both the performance training and therapy setting. HydroWorx has redefined hydrotherapy and its utility in training and therapy  and has indirectly caused a paradigm shift in the way practitioners in both field apply aquatic modalities towards improving their athletes."
Learn more about hydrotherapy and the benefits of aquatic therapy here.