10 Physical Therapist Facts for National Physical Therapy Month
This month is National Physical Therapy Month and we wanted to take a few minutes to recognize the dedication and commitment that many physical therapists show daily to their patients and practices.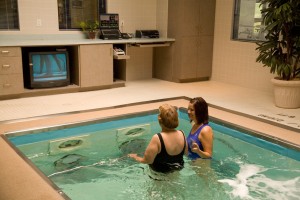 National Physical Therapy Month (NPTM) is a commemoration held each October by the American Physical Therapy Association (APTA). NPTM is designed to recognize the impact that physical therapists and physical therapist assistants make in restoring and improving motion in people's lives.
About Physical Therapists:
Physical therapists, whether on land or in the water, have an established history of helping individuals improve their quality of life regardless of the type of injury or rehabilitation. Physical therapists and Aquatic Physical Therapists, received specialized education in a variety of sciences, therefore they have a great understanding of how the body works and how to get you moving again. They have been educated on how to restore and maximize mobility for each individual patient with whom they are working.
Whether you are living with diabetes or recovering from a stroke, a fall or a sports injury, a physical therapist and/or an aquatic physical therapist can work closely with you to evaluate your condition and develop an effective plan of care, specific to each patient.
More about  Aquatic Physical Therapy from the Aquatic Physical Therapy Section of the APTA:
"Aquatic Physical Therapy is the evidence-based and skilled practice of physical therapy in an aquatic environment by a physical therapist, or a physical therapist assistant under the supervision of a physical therapist. Aquatic Physical Therapy includes but is not limited to treatment, rehabilitation, prevention, health, wellness and fitness of patient/client populations in an aquatic environment with or without the use of assistive, adaptive, orthotic, protective, or supportive devices and equipment.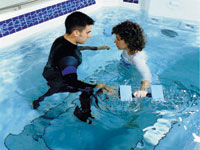 The unique properties of the aquatic environment enhance interventions for patients/clients across the age span with musculoskeletal, neuromuscular, cardiovascular/pulmonary, and integumentary diseases, disorders, or conditions."
Find a HydroWorx Aqua Therapy Pool Near You
Here are some interesting facts about Physical therapists:
According to the Bureau of Labor Statistics, there were about 185,440 physical therapists employed in 2011.
In 1921, Mary McMillian founded the first professional association called the American Women's Physical Therapeutic Association. This later became the APTA.
In addition to graduating from an accredited program, students must also pass a licensure exam to be certified as a physical therapist.
There are many different types of physical therapists. Many work for outpatient clinics, hospitals, schools, fitness centers, senior care centers, home health agencies, colleges & universities, and more!
During World War I, the army utilized "reconstruction aides," who were nurses tasked with rehabilitating wounded soldiers through occupational and physical therapy.
Although many people think physical therapists only rehabilitate injuries, they actually work to prevent injuries as well by educating patients on safer movements and motions.
Specially-trained physical therapists can aid with a variety of medical issues. From vestibular rehabilitation specialists who help minimize balance disorders to women's health specialists who perform pelvic floor rehabilitation, physical therapy encompasses a broad range of treatments.
There are many different types of physical therapy. These may include orthopedic, acute care, post-operative care, cardiovascular and pulmonary rehab, lymphedema management, wound care, and neurologic rehabilitation.
If you tell your physical therapist that an exercise is easy, they will make it harder. If you tell your physical therapist that you can't do an exercise, they can find a way to ensure that you can.
When a physical therapist tells you they are going to massage a muscle, it may not feel like the nice relaxing massage you get at the spa. Massage performed in therapy is to decrease tightness and tone and to improve tissue mobility of a specific muscle that may be very inflamed or the source of joint pain.
Personal Testimony from a patient:
"Barb [Barb Cacia, Physical Therapist at Pieters Family Life Center] is amazing. She's your cheerleader… she wants you to succeed and she wants you to get stronger and better. Her wish is my wish too.. we've got the same goal. And she pushes you just enough, but wants to make sure it's not too much." – Kim, Multiple Sclerosis Patient at Pieters Family Life Center in Rochester, NY
Learn more about aquatic therapy today. 
The above facts and information was derived from the following sites:
https://www.athletico.com/2011/09/27/the-top-10-things-you-did-not-know-about-physical-therapy/
https://www.atipt.com/blog/lets-celebrate-national-physical-therapy-month