When Growing an Aquatic Therapy Practice; Geography, Transportation and Social Customs Play Huge Roles
Our therapy pools have operated in some unusual locations.  They've been used at high altitude to help elite runners like Mo Farah train for Olympic-sized goals; they've even been seen outside of a Pennsylvania microbrewery and pub to provide the setting for the inaugural underwater marathon relay event.  But those settings are truly out of the norm.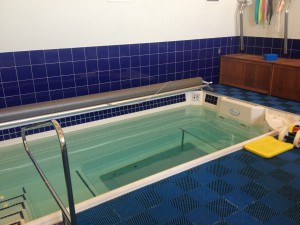 For aquatic therapy clinics that want to grow a following and operate in the black year-after-year, geography, transportation and societal habits play as much of a part as picking the perfect hydrotherapy pool partner.
Dr. Michael Velsmid, Director of Boston Sports Medicine Physical Therapy, knows this principle well.  Thanks to his practical, careful planning, his clinic has enjoyed continuous revenue production and even turned a profit in 2007, the year he installed two HydroWorx therapy pools at one of his seven facilities.  However, he didn't take the choice of facilities lightly; instead, he examined all his options before choosing to lease a space in Allston, a borough of Boston.
As Dr. Velsmid has explained, his criteria for finding the perfect therapy pools were just as critical as his criteria for choosing a place to house those pools.  Some of the considerations that led to the opening of the Allston Aquatic Therapy Center included:
Accessibility for patients.  This meant for patients who were driving themselves to appointments, were being driven to appointments or were using public transportation to get to appointments.  As physical therapy clinic owners know, even the slightest barrier, such as having to turn left in impossibly heavy traffic, can lead patients to cancel or "no show".  By selecting a locale that provided easy accessibility, Dr. Velsmid removed potential objections before they were ever voiced.
Densely populated and traveled area.  Even the most amazing therapy pool isn't going to produce much traffic if it's situated off the beaten path.  The pools at Boston Sports Medicine Physical Therapy are located in a part of Boston that's densely populated for a good reason: that's where many patients are likely to live, work or travel through.  In fact, Dr. Velsmid tried to ensure that no current aquatic therapy patients or staff members would have to travel too far from other Boston-area offices for appointments.
Great visibility.  Have you ever had to search and search to find a place of business, only to discover that their signage seemed to be hidden?  Dr. Velsmid wanted his physical therapy space signs to be obvious from the street so there was no confusion on where patients should go.  Great visibility equates to one more mode of marketing.
Affordable rent/lease.  Leasing a space in any major, attractive and safe market means making a significant investment.  Dr. Velsmid carefully explored all his lease options before signing on the dotted line.
After eight years, the Allston Aquatic Therapy Center is going strong and continues to attract patients, as well as emerging aquatic therapy leaders who want to work in the Boston region.
Thanks to the pragmatism that Dr. Velsmid and his trusted personnel and partners showed in the early stages of aquatic therapy clinic planning, there's no question that they all made the right decision when it came to location, location, location!
Are you interested in learning more about aquatic therapy? Download our free tip sheet today to learn 5 Ways Aquatic Therapy Impacts Rehabilitation>>