Getting Short-Stay Patients Better and Home Faster With Water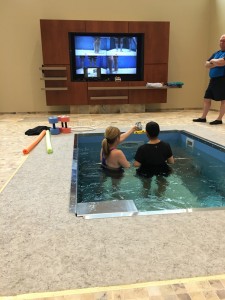 Short-stay rehab patients who require surgery due to injury, or have to undergo an operation because of a medical condition, generally have three major concerns:
Post-Op Recovery Speed. No one wants to spend a lot of time recovering – they are ready to get back to their normal daily lives quickly. The faster a person can get up and moving, the better he or she feels about life after an invasive procedure.
Time Spent in Medical Establishments. Many times, individuals who have had surgery cannot go home right away. This often happens to seniors who are unable to live independently immediately after surgery. For them, getting back to a regular routine in a familiar surrounding is essential to feeling well and "whole" again.
Out-of-Pocket Cost. Of course, medical expenses are always a primary consideration in today's ever-changing, confusing healthcare cost environment. In general, the longer someone takes to recover from surgery, the higher his or her out-of-pocket cost can be. This isn't just scary and stressful; it can also lead to serious financial problems.
In an effort to address all three of these issues, many facilities, particularly short-stay rehab, and patients are looking into the ways that aquatic therapy can be beneficial. Although no one piece of equipment can guarantee faster recovery, reduce hospitalization time and lessen healthcare costs, the advantages of HydroWorx equipment have been anecdotally documented for several years. Below, we've investigated some of the pertinent feedback that we've gotten from users of HydroWorx advanced therapy pools.
Improved Recovery Times Post-Operatively
One of the most exciting aspects of getting feedback from the HydroWorx-using community is hearing how early many physical therapists are being allowed to put patients in the water post-op. Some referring physicians and hospitals are quite open to allowing individuals to start aquatic therapy as little as a week or two after operations, as long as the post-op site is adequately waterproofed for patient security and safety.
To support this evidence, a study published in the Archives of Physical Medicine and Rehabilitation 2013;94:138-48 titled Early Aquatic Physical Therapy Improves Function and Does Not Increase Risk of Wound-Related Adverse Events for Adults after Orthopedic Surgery: A Systematic Review and Meta-Analysis found that there is no increased risk of infection after surgery when patients are placed in a therapy pool. The results from this systematic review provided evidence from 8 controlled trials, with 287 participants, that there was no increased risk of wound-related adverse events for subjects undertaking aquatic physical therapy in the early post-operative period after orthopedic surgery compared with land-based therapy.
In addition, getting patients into the water early gives them more than a physical boost. It also helps them psychologically. They can see and feel themselves getting stronger with every session, and they can actively work on range of motion, stabilization, muscle memory and gait training. In fact, patients of all ages have reported positive feedback based on their experiences being placed into water therapy very soon after an operation.
Reduction of Patient Length-of-Stay
Bundled payments. It's a topic that's much-discussed among rehab professionals and referring hospitals. Getting higher-functioning patients into home therapy isn't just good for the clients; it's also good for the facilities. This means that safer rehabilitation modalities for lower-functioning patients are essential to get them moving sooner and, ultimately, spending less time away from their homes.
At Stonehill Senior Care Center, Rachel McDermott, Director of Rehabilitation, has shortened her clientele's timeframes by taking advantage of Stonehill's warm-water therapy pool. Patients can tolerate longer periods of exercise, getting them stronger more rapidly. At the same time, the modality is safe for those who have balance issues or require a low-impact environment, especially in the earlier stages of rehabilitation.
Bob Bowles, Administrator, Saluda Nursing Center, agrees with McDermott's findings. "[The HydroWorx pool] has allowed individuals to leave the nursing center and return home faster than they might have before… They love that, and our team members enjoy seeing their excitement at the progress they can make." So does Keith McCrate, Director of Rehabilitation and Wellness Services at Presbyterian Village North who adds that water therapy "is much more forgiving" than land-based therapy. "Even people who are dependent on wheelchairs or other assistive devices can feel confident in the therapy pool."
Lessened Healthcare Costs
Accountable Care Organizations are always trying to deliver exceptional patient services while still being cognizant of costs. It's a challenging balancing act. However, with new technologies like HydroWorx therapy pools, it may be possible to successfully progress patients through the entire spectrum of care faster and with great outcomes, meaning lower costs for facilities.
Clinicians who use aquatic technologies like underwater treadmills and variable-force resistance therapy jets have found that their patients tend to comply with protocols and miss fewer appointments. Robert P. Cusick, MD at Kansas Joint & Spine Institute in Wichita, KS utilizes aquatic therapy with almost all of his total joint replacements. Says Dr. Cusick, "They become functional faster and they enjoy [rehab] much more with aquatic therapy." Again, this can lead to fewer costs associated with rehabilitation, and better overall experiences. As Dr. Cusick explains, "A patient's function is one of the most important results to payers. Utilizing land-based functional measurement tests like the Berg Balance Scale or the Lower Extremity Functional Scale, before, during and after aquatic therapy can help track your patients' improvements over time."
Final Thoughts on Hydrotherapy and Post-Op Patient/Short-Stay Rehab Considerations
While it's not possible to ensure that every post-op patient's top concerns will be addressed by water therapy, it's a good bet that having HydroWorx as a reliable modality can be an asset to both clients and facilities. And that's great news for anyone who works in the pre-hab/rehab realm, or is expecting to undergo a surgical procedure requiring post-operative rehabilitation.
To learn more about how aquatic therapy can benefit bundled care, download our tip sheet, "Why Water Worx for Accountable Care Organizations">>