Embrace Versatility with HydroWorx Above-Ground Hydrotherapy Units
When it comes to physical rehabilitation–whether in an OT, PT, or ATC setting, getting the most out of your rehabilitation tools is crucial. You've got a limited amount of time with your patients to maximize clinical outcomes. Many clinicians are turning to aquatic therapy as a versatile tool for rehabilitation, conditioning, and recovery.
From large underwater pools to above-ground free standing units, the HydroWorx lineup of hydrotherapy systems offers unparalleled versatility for any rehabilitation practitioner looking to add aquatic therapy.
In a recent interview with Aaron Borgmann, from Borgmann Rehab Solutions, Aaron commented "I think there's a lot of value in each HydroWorx unit, they each have their own pros and that the best thing to do is to make sure you're leveraging the full capability of your unit."
In this blog we'll dive into the versatile applications of the HydroWorx family of above-ground aquatic therapy units.
Free-Standing Units Make Hydrotherapy Accessible
HydroWorx freestanding units open new possibilities for physical therapists looking for a compact hydrotherapy solution. These units are carefully engineered to provide utility for a diverse patient population, from post-surgical rehabilitation and mobility improvement, to sports conditioning, and everything in between. The adaptable nature of HydroWorx freestanding units allows therapists to create personalized treatment programs that address each patient's unique needs, leading to better outcomes and faster recovery times.
HydroWorx 300
The HydroWorx 300 is a compact yet powerful above-ground hydrotherapy unit that brings the healing properties of water to a wide range of healthcare settings. Its sleek design allows for easy installation, making it an excellent choice for facilities with limited space. Don't be fooled by its size; this unit packs a punch with its adjustable water depth, fold-down seat, and resistance jet, enabling therapists to create customized treatment protocols tailored to each patient's needs.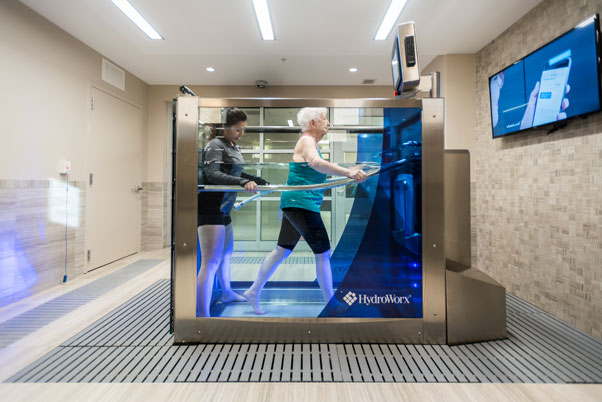 An New Way to Accelerate Post-Surgical Recovery
HydroWorx freestanding units are a game-changer for post-surgical recovery. Aquatic therapy provides a safe and comfortable environment that reduces strain and allows patients to ease into post-surgical exercises. Patients experience reduced stress on joints which enables them to increase their range of motion with less pain. The buoyancy of the water gently supports patients making exercises easier. Clinicians utilize aqua socks to protect surgical sites in collaboration with surgeons to customize plans of care.
HydroWorx 350
If you're looking for a versatile unit that takes your hydrotherapy offerings to the next level, the HydroWorx 350 is your ideal companion. For those searching for a construction-free option, the 350 offers more interior space and jet power than the standard 300 and boasts a small footprint while fitting through a standard 36" doorway. Whether it's post-surgical rehabilitation or sports injury recovery, the 350 can adapt to various treatment goals, helping patients regain strength and mobility faster.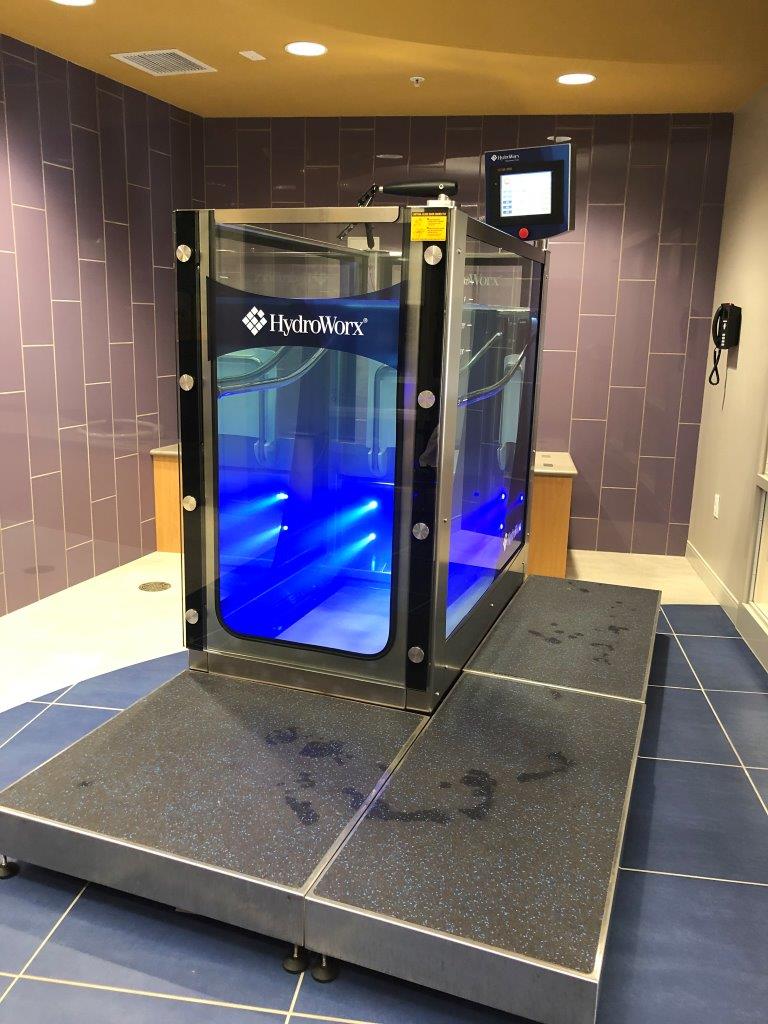 A Whole-Body Conditioning Oasis
HydroWorx freestanding units embrace the full-body conditioning potential of water-based exercises. With adjustable water depths, massage jets, and resistance capabilities, therapists can design comprehensive conditioning programs targeting specific muscle groups, improving strength, and enhancing overall athletic performance. From professional athletes to weekend warriors, HydroWorx freestanding units unleash the true potential of every individual.
NEW HydroWorx RISE
The new RISE sits at 3' by 9', providing a solution for even the smallest spaces. You have the ability to choose how the unit is configured for entry and touchscreen control panel placement. The modular design of the RISE makes it possible for installation in nearly any space. As with other HydroWorx units, the RISE caters to patients with diverse needs, from those requiring gentle aquatic exercises to athletes seeking high-intensity performance training.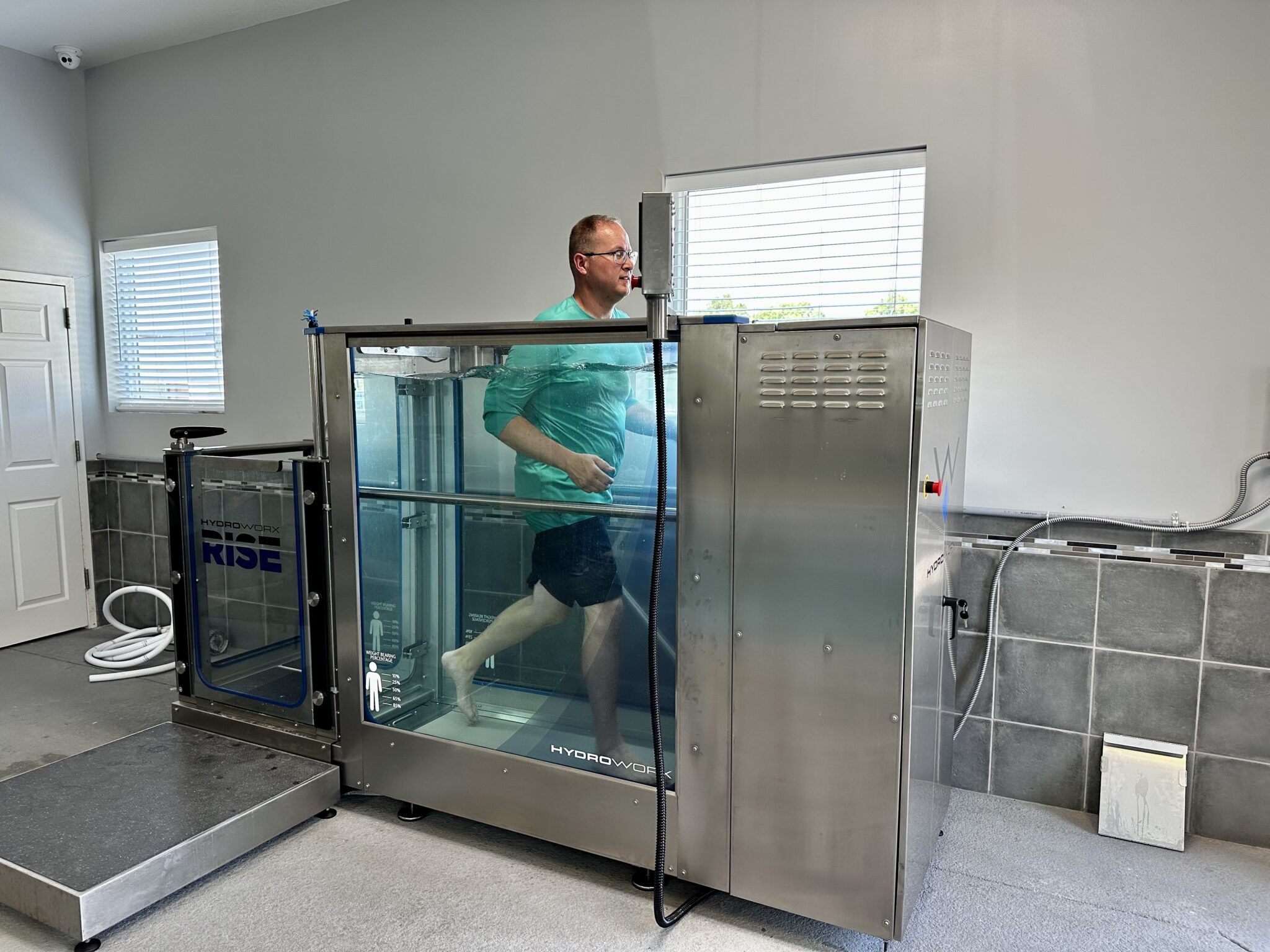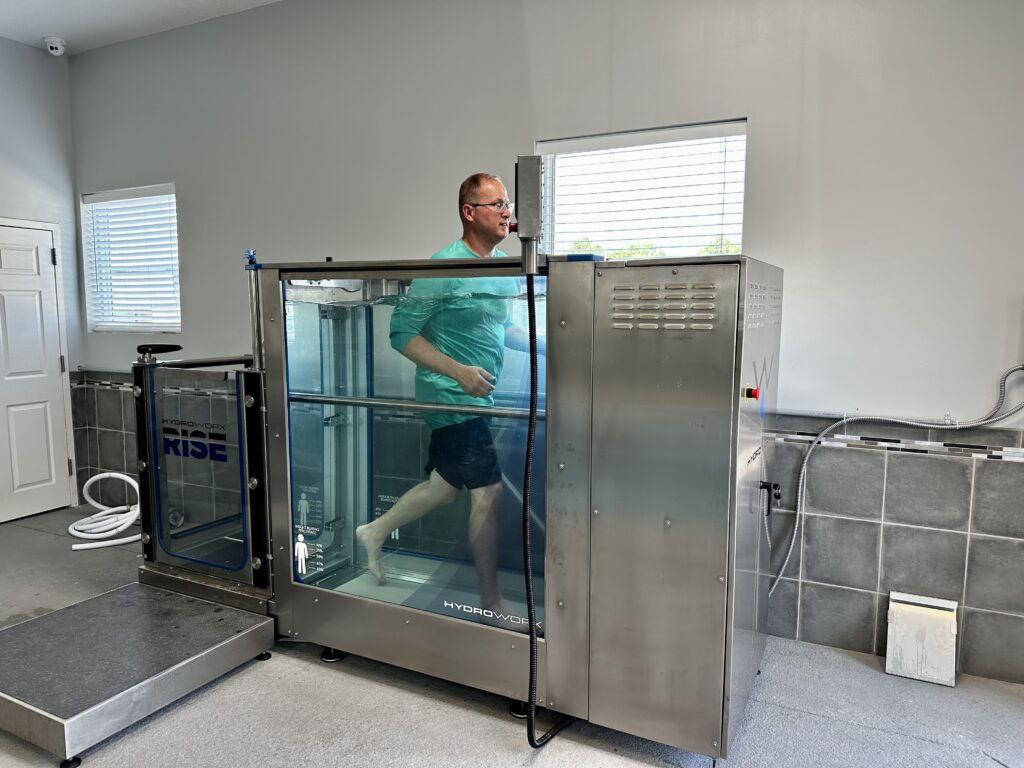 Get Creative with the HydroWorx
HydroWorx freestanding units are a canvas for creativity, empowering therapists to think outside the box and develop unique, engaging workouts and exercises. By adapting land-based exercises to the water, therapists can tailor programs for patients of all abilities, making rehabilitation an enjoyable and comfortable experience.
You can do anything in the HydroWorx that you can do on land.

– Aaron Borgmann
Features Fostering Versatility
HydroWorx free standing units include the ability to adjust water depth, temperature, and resistance levels enabling you to effectively tailor treatment sessions to target specific areas. Many clinicians leverage these units beyond rehabilitation for wellness programs, injury prevention, and even fitness training.
Boost Patient Engagement
The soothing properties of water and advanced technology allow you to create a dynamic and engaging therapeutic environment that motivates patients. Many clinicians create fun games and leverage pool toys to make rehabilitation fun.
Get Started with Above-Ground Hydrotherapy
Incorporating hydrotherapy into your practice using HydroWorx above-ground units will revolutionize the way you approach rehabilitation, training, and recovery.