A Business Plan for Success: 4 Potential Revenue Sources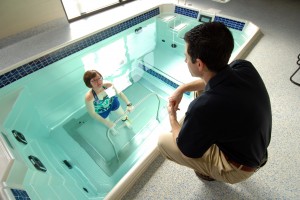 Opening a new facility, particularly with the integration of aquatic therapy, can be a large undertaking. Not only does it take a lot of work to get a business up and running, but there is a lot of unknowns once the facility is officially open. Taking steps to ensure that all of the equipment purchased will bring in revenue is important.
A lot of planning goes into opening a clinic. We recently hosted a webinar in which Keith Ori, PT and Patrick Gulick, MS, PT, Co-Owners of Orthopedic Rehab's Aquatic and Spine Center in Kalispell, MT shared a firsthand experience of opening their own clinic and what the ROI looked like with the addition of an aquatic therapy pool. Watch the webinar on-demand here.




Aquatic therapy can be a beneficial addition to a healthcare business and HydroWorx pools present multiple opportunities to provide superior service, high levels of care and additional sources of revenue. Although aquatic therapy as portion of a patient's physical therapy routine is the most common use of a HydroWorx pool in a healthcare setting, there are a few other uses of the pool that can benefit your business:
Physical Therapy – Aquatic therapy allows you to begin physical therapy sooner than on land and is reimbursed by insurance. It may be billed in an individual or group setting.
Personal Training – The low impact of running or walking on the underwater treadmill acts as a great supplement to land-based training and can be offered in 30 minute or hour sessions.
Sports Performance – Sports specific training can benefit athletes at all levels by improving running mechanics and cardiovascular endurance, while also increasing muscle strength and decreasing joint impact. Local athletes or teams can often benefit from your services during non-office hours.
Private Pay Wellness Treatments – Massage therapy in the HydroWorx pool can be used to treat chronic pain, joint replacements and other ailments. These sessions can be offered a la carte for those needing additional treatment.
The first step to offering this competitive advantage is being able to identify what the revenue potential is for the aquatic therapy pool you purchase. You can run a custom, interactive Return on Investment analysis for your business by downloading our profitability analyzer>>