A Business Plan for Success: 4 Opportunities for Generating Revenue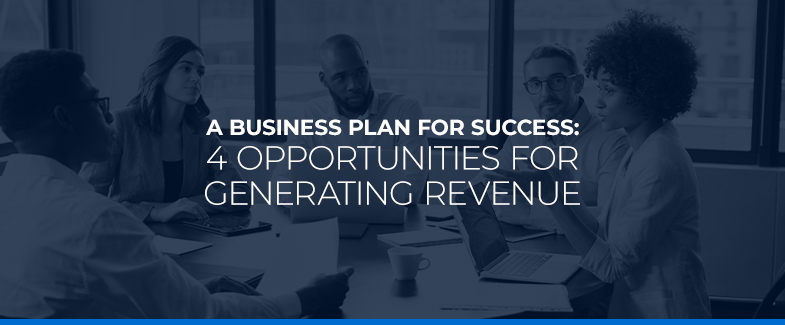 Committing to a big purchase can be an exciting but challenging decision. What if we told you that our team could offer a roadmap for your success before investing?
Since success looks different for everyone, we have compiled some great tips and information to help you create a unique success plan when purchasing an aquatic therapy pool for your hospital, spa or physical therapy or sports medicine training facility.
Download our Business Plan and ROI calculator to get a complete guide to growing your business with aquatic therapy.
The key to a successful aquatic program is to structure an effective usage plan so that your pool reaches its maximum potential at all times. The initial reason for purchasing an aquatic therapy pool is often to offer an additional treatment method for patients, clients and athletes. Luckily, there are many other ways a specialized pool can benefit different audiences while increasing your hydrotherapy revenue. Before making your pool purchase, it is crucial to think outside the box to maximize pool usage.
Strategies for Generating Additional Revenue With Hydrotherapy
The hydrotherapy equipment market has continued to increase in profit. This growth is due to the rising popularity of hydrotherapy and its health benefits. By 2027, the Compound Annual Growth Rate (CAGR) is estimated to reach a 4.2% increase and continue to rise as businesses around the globe learn about the perks of hydrotherapy.
While it is possible — and even probable — to fill your pool time daily with billable insurance rehabilitation hours, there are always more ways to generate additional revenue from a technologically advanced therapy pool. These strategies also benefit those using the pools, so everyone can enjoy the perks of using a HyroWorx pool. Here are four different ways to expand your offerings and generate additional revenue for your business:
Physical Therapy
Water relaxes the muscles and helps relieve stiffness in the joints, making exercise easier than it is on land. Aquatics allow older adults and those recovering from serious injuries to strengthen their bodies without gravity weighing them down. The water also provides automatic resistance, which helps burn calories and prevent fatigue after long physical therapy sessions.
Hydrotherapy helps several other health conditions as well, including:
Muscle disorders.
Joint aches and arthritis.
Headaches.
Nervous system disorders.
The physical therapy business is continually growing, with a projected 17% increased job market for trained physical therapists within the next decade. With this significant presence in businesses across the globe, the need for pools will increase each year these professionals are working their magic for their clients.
HydroWorx pools enable patients to begin physical therapy sooner than conventional rehabilitation techniques. With the pool's many features, you can market physical therapy in several different ways to maximize your billable hours in the pool.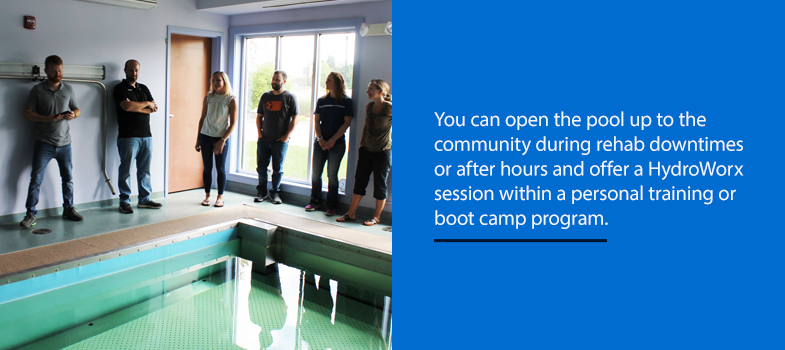 Personal Training and Boot Camps
Water resistance is excellent for building strength, endurance and activity levels for participants of all ages. Personal training in pools can help those looking to burn fat more quickly and comfortably than they could with standard exercise equipment. Athletic trainers and directors of boot camps enjoy letting their clients explore the benefits of aquatics.
You can open the pool up to the community during rehab downtimes or after hours and offer a HydroWorx session within a personal training or boot camp program. This option opens up a cash-pay opportunity to maximize the use of the pool while also increasing your presence in your community. Your business will reap dividends for the future as well.
Sports Performance
With powered underwater treadmills, resistance jets and adjustable water depths, athletes can improve their strength and endurance with a few simple sessions. Coaches can use underwater cameras to track movements to ensure that each athlete takes the correct strides and engages the proper muscles when working out.
Athletes at all levels can benefit from sport-specific HydroWorx training, but the key is to tailor the aquatics program to each athlete's particular sport. Consider reaching out to local high school or college teams to offer regular access to the pool for team strength and conditioning. Or find a local running club for additional cash-pay revenue.
Spa Treatments
The demand for spa treatments decreased during the pandemic due to close quarters between massage therapists and their clients. However, the spa business has recovered, potentially becoming one of the most booming industries, with a 17% increase in revenue from 2020 to 2025. This substantial incline in profit can benefit those who own spas or plan to incorporate pools into their gyms or wellness centers.
Services such as Watsu or Ai Chi are becoming increasingly popular as the unique properties of water continue to provide effective healing methods. These programs operate as an effective alternative to your main aquatics program to maximize the treatment potential of a HydroWorx pool.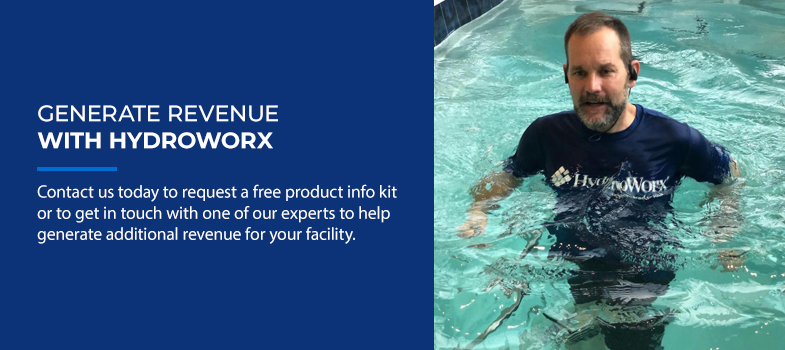 Generate Revenue With HydroWorx
However you choose to utilize a HydroWorx pool for your business, you can rest assured that the methods above will grow your popularity and hydrotherapy revenue. This list is simply to jumpstart your thinking about additional ways you can generate some income and goodwill in your community.
When you choose HydroWorx products, you can select from over ten pool options that fit your business's motives and goals. If you are unsure which choice is right for you, you can participate in our virtual showroom events to find the pool that works best in your facility and matches your intentions for future business ventures.
Contact us today to request a free product info kit or to get in touch with one of our experts to help generate additional revenue for your facility.